Stephan Bove still remembers Fire Prevention Day back in 2002, when he was five years old and a kindergartener at Attica Elementary School.
"From '02, I remember, it was mainly the Attica trucks and it was definitely a cool day because at that time when I was in kindergarten, they had a car parked out here and they burned it," recalled Bove, now 25 and an assistant chief with the Attica Fire Department. "We no longer do it this way because we don't want people smelling the smoke, but it was definitely a cool thing."
While burning cars is a thing of the past, Fire Prevention Day remains an Attica Elementary School tradition and one that returned Oct. 6 with members of the Attica, Cowlesville and Harris Corners fire departments on hand to teach students about how to stay safe in the event of a fire.
Representatives from the fire departments set up their vehicles in the school parking lot and students rotated through them, learning the ins and outs of a pumper truck, an ambulance and a rapid intervention truck.
An Attica firefighter gave a demonstration of the jaws of life, the hydraulic cutting tool emergency responders sometimes use to extricate crash victims from their motor vehicles, while
A member of the Harris Corners Fire Department helped students use a hand-held fire hose.
To cap things off, members of the Harris Corners Fire Department even "rescued" Teacher Assistant Chris Kelver and Elementary School Principal Kelly Beitz from the second floor of the elementary school.
"Fire Prevention is an important part of our curriculum and our students always look forward to Fire Prevention Day," said Beitz. "They are excited to learn about fire safety from all of our local fire departments as they view the fire equipment, participate in hands-on activities, and watch a rescue from the balcony at the end of the day. We appreciate the efforts of all the firemen and firewomen who took the time to come and speak with our students about such an important topic."
In addition to bringing students through the ins and outs of the equipment and vehicles firefighters typically use, Joe Lawton, a firefighter with Harris Corners in Sheldon, said they also strive to impress on students how important it is to have a plan at home in the event of an emergency.
"The biggest thing for kids is to have a plan and know what to do at home ," said Lawton. "Smoke alarm goes off, where do you go? What do you do? With my kids, it's get out of the house and go to the swingset. It's far away from the house and that's where you need to go."
Bove said it's also important for younger children to see firefighters decked out in their full set of gear so they're not scared at the sight of a fully-equipped firefighter if a fire were to occur.
"We know it can be scary," he said. "To be able to see us, see everything - they can kind of get some sense of what it would be like in a real emergency."
"We're not scary, we're just wearing something to protect ourselves," added Troy Hubbard, a Harris Corners firefighter. "To me, one of the reasons I think this is so important is because if we can prevent one fire, we've done our job."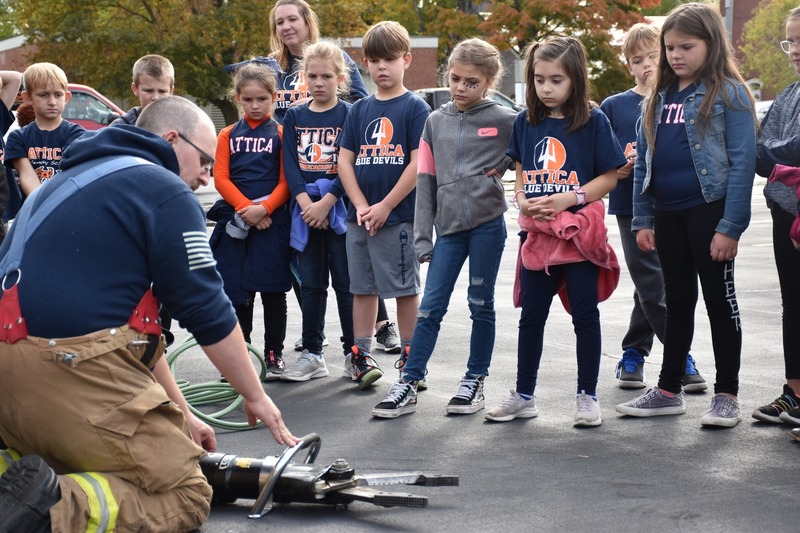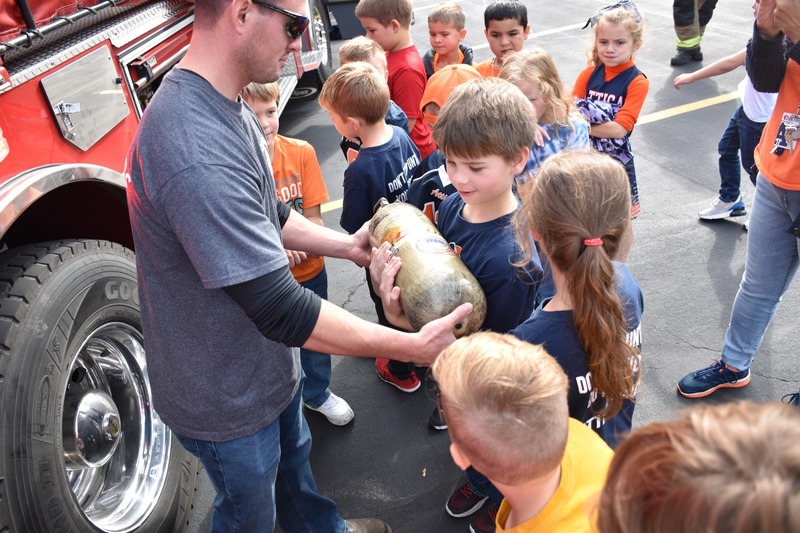 Members of the Attica, Cowlesville and Harris Corners fire departments show elementary school students some of the equipment they use when responding to a fire or other emergency.