Due to Lackawanna's snow removal issues, Monday's Class C Far West Regional football game against Attica has been cancelled. The game will now be played on Tuesday 11/22 at Batavia High School's VanDetta stadium. Game time is scheduled for 6:00. It will cost $10.00 per spectator to enter the game. Please accept our apologies in regards to all of these changes. Go Blue Devils!
The Attica Fitness Center will open back up Sunday (11/20) morning from 8:00 - noon!
NYSPHSAA's Class "C" Far West Regional football game has changed locations. The Attica vs Lackawanna match up is still scheduled for this Monday (11/21) but has been moved to Brockport High School. Game time is still slated for 6:00. Please make the trip and come cheer on your Blue Devils!
Due to inclement weather, the Attica Fitness Center will be closed on Saturday (11/19)…..we will play it by ear for Sunday. Thanks and be safe!
Congratulations to Bailey Nixon who will represent Attica and Section V in the NYS Cross Country Championships at Vernon-Verona Sherrill High School today. Bailey placed 4th in last week's race with an extremely quick time of 20:38. A HUGE CONGRATULATIONS to Bailey and Coach Sikes for an incredible season! Bailey and Mr. Sikes walked the halls of AMS and AHS on Thursday as students and staff gave them a proper send off with the "Walk of Champions."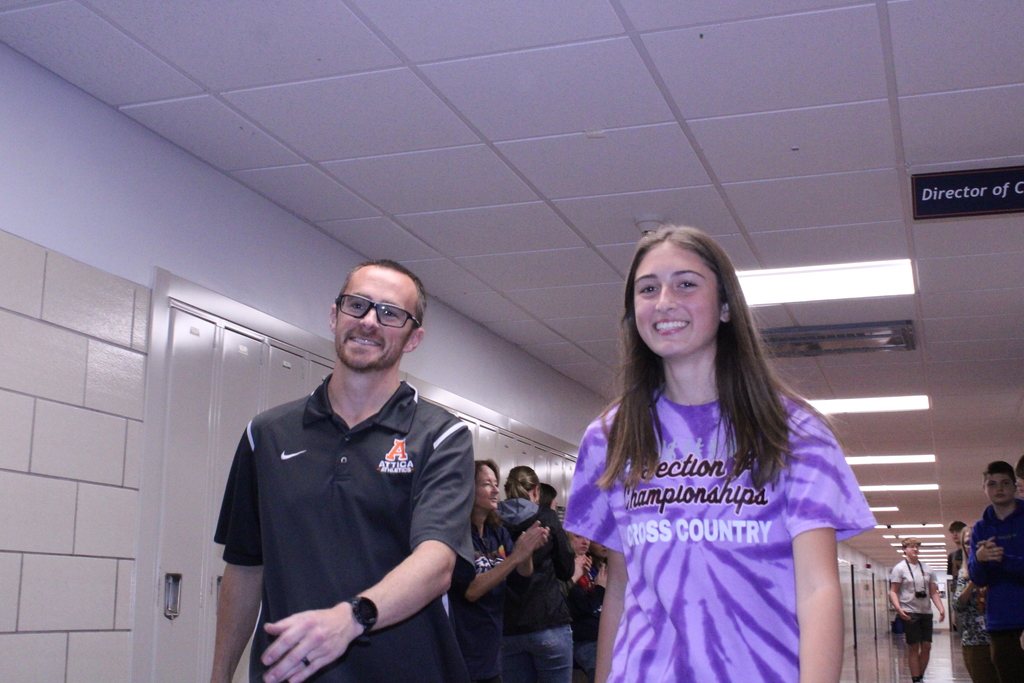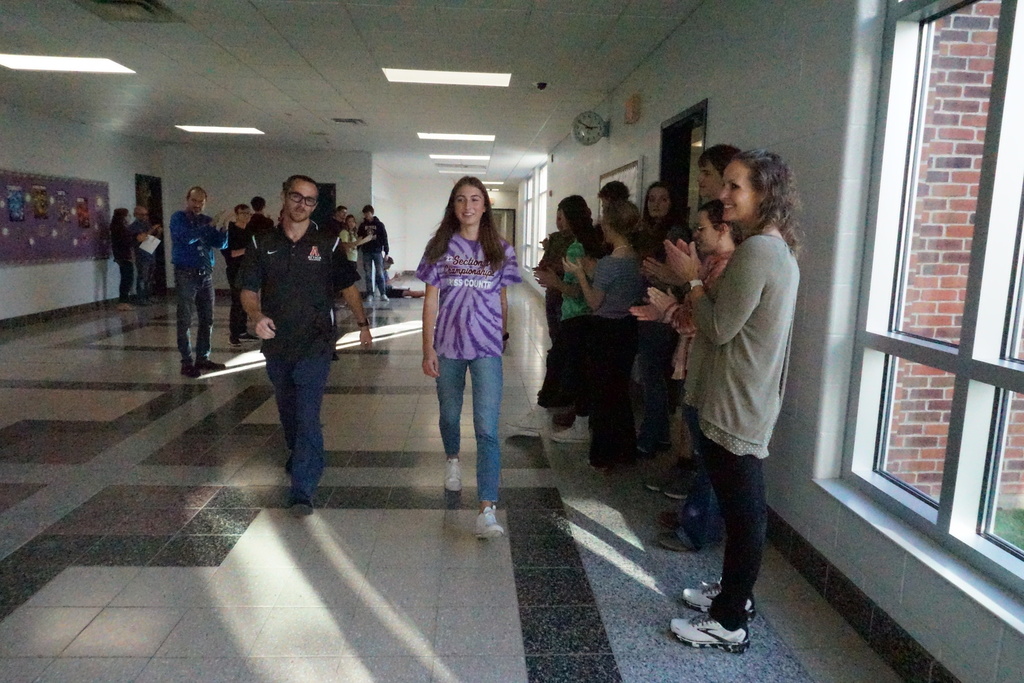 Come support your Attica Varsity Football Team as they take on the #2 seeded Penn Yan Mustangs on Friday night (11/4) at 7:00 at Penn Yan Academy HS. Section V is strongly encouraging anyone attending to purchase a digital ticket. Cost of the ticket will be $7.30 per person. If purchasing a ticket at the door, it will be a $8.00 charge. To purchase a digital ticket: 1. Go to sectionvny.org 2. Click on Attica 3. Under Friday (11/4), click on TIX symbol for the football game. Then find the Attica vs. Penn Yan game and click on "get tickets". Thanks and go Blue Devils!
Come support your Attica Girls Volleyball team as they take on the #1 seeded Aquinas Institute on Wednesday (11/2) at 7:00 at Letchworth High School. Section V is strongly encouraging anyone attending to purchase a digital ticket. Cost of the ticket will be $7.30 per person. If purchasing a ticket at the door, it will be a $8.00 charge. To purchase a digital ticket: 1. Go to sectionvny.org 2. Click on Attica 3. Under Wednesday (11/2), click on TIX symbol for the volleyball game. Then find the Attica vs. Aquinas game and click on "get tickets". Thanks and go Blue Devils!
Congratulations to Freshman Peighton Richley , Sophomores Kim Piorun & Noah Peterson, Junior Tommy Green and Senior Nick Kurowski for being recognized by AHS staff for Student of the Month for September!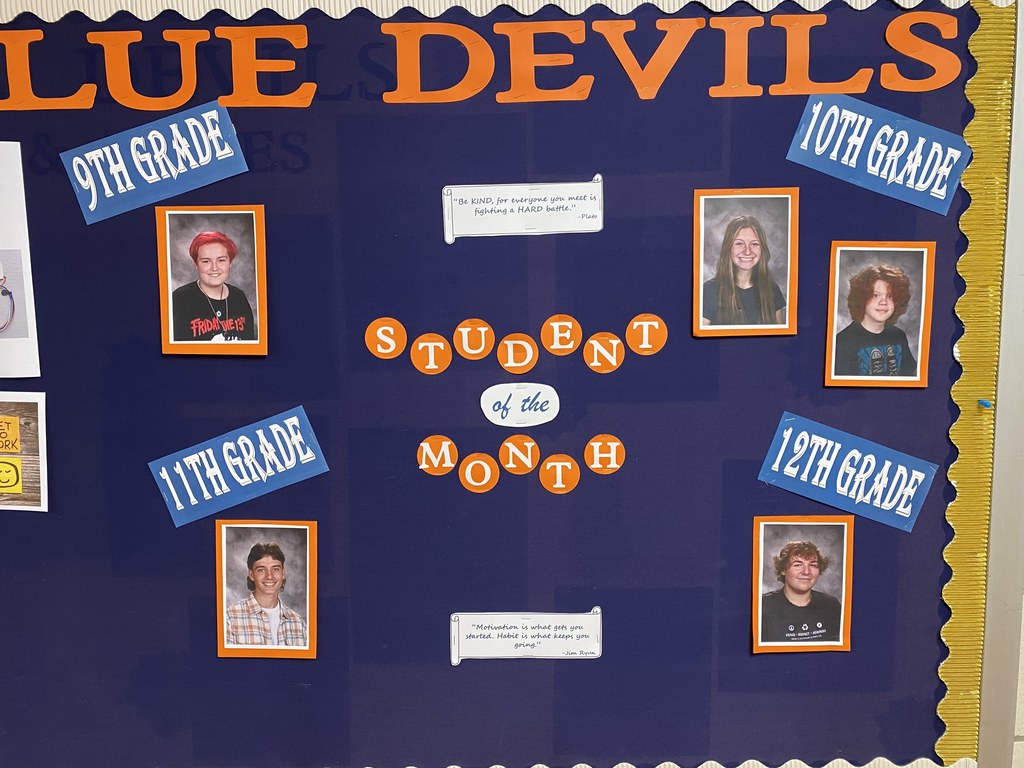 THE HIGH SCHOOL WOULD LIKE TO INVITE PARENTS AND STUDENTS TO OPEN HOUSE TONIGHT AT 5:30, IN THE HIGH SCHOOL GYMNASIUM.

Dear Attica CSD Families, The kids had a great day. Buses left the HS/MS about 10 minutes behind schedule as we ensured all children loaded onto the correct bus. Have a great night.
BRINGING EARTH SCIENCE TO LIFE The Science Department and Mrs. Linsey are looking forward to the start of the school year and new learning opportunities! This Augmented Reality (AR) Sandbox will be used to aid in the understanding of topographic maps, landscape features, hydrology, and so much more! It can be dismantled and transported to other classrooms in the district for any grade level to learn and play! Mrs. Linsey owes many thanks to the following for their efforts and donations in making her vision come to fruition: Mr. Versage, Mr. Craig Lavis, Mr. Stroud, Robbie Brunner, her husband (Mr. Linsey), and Dr. Scott Giorgis of SUNY Geneseo for the inspiration.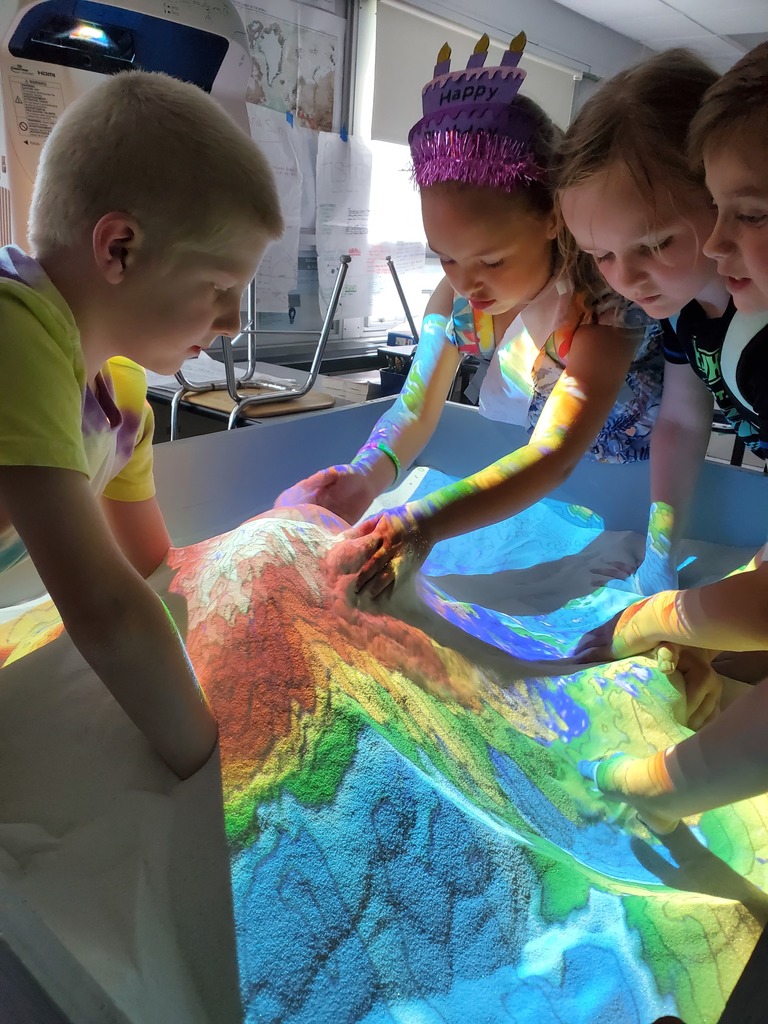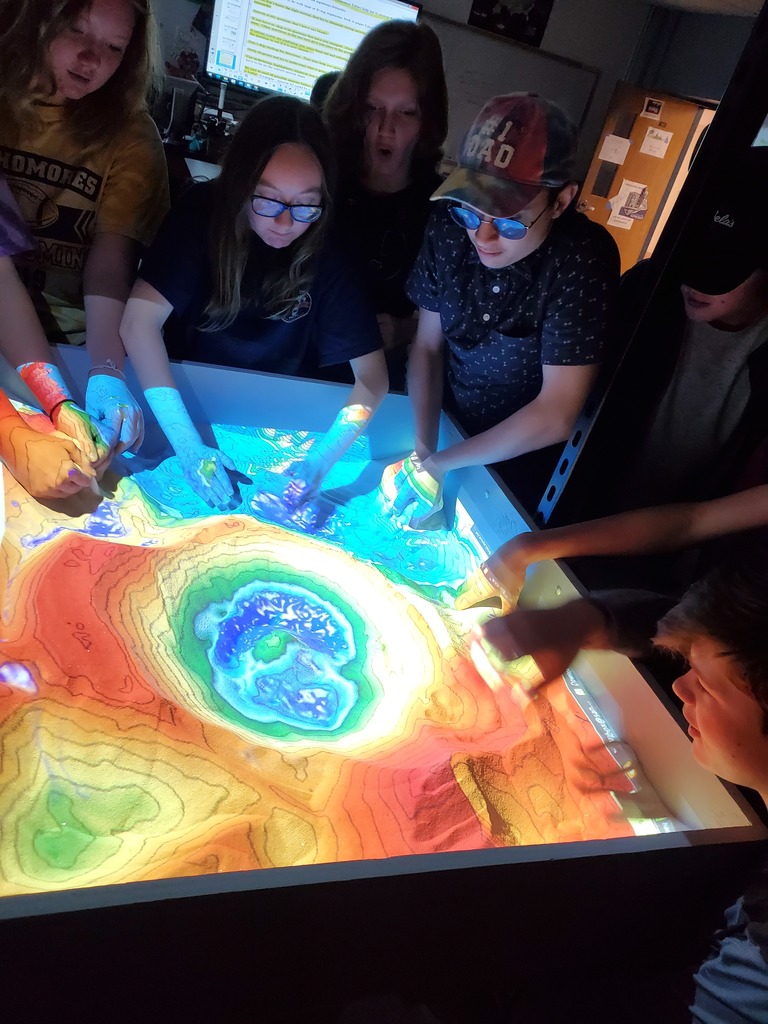 This is the Attica High School with a reminder to all 9-12 grade parents to please complete the online user agreement form for your child's chromebook before school starts on September 7th. If the agreement form is not completed, your child will not be able to obtain their chromebook. Here is the direct link to the form. It can also be found on the district web page under District Info and clicking on Quicklinks and then Technology Acceptable Use Policies and Forms or the HS Facebook Page. Link:
https://docs.google.com/forms/d/e/1FAIpQLScme1uRF9rWBAf3MZpsFoKcTGnOWVbh08OlDXKFLYahWb6lyg/viewform?usp=sf_link
ARE YOU NEW TO THE ATTICA CENTRAL SCHOOL DISTRICT? Do you have school age children ready to start school in the fall? Do you know it's not too early to start the registration process? Here's the link to start:
https://st.edutech.org/attica/onlinepreregistration/
Once this step has been completed, the school registrar will send you a packet of information for you to complete. Once completed, please contact: Mrs. Ann Marie Loranty, Registrar, 585-591-0400 x 1408. Email:
aloranty@atticacsd.org
Summer office hours: Monday – Friday 8:00 – 3:00 pm.
If you have a child in grades 7-12 and they plan on going out for Football, Soccer, Volleyball, Cheer, or Cross Country this fall, please make sure that you go onto the Family ID website and get them registered. The Family ID registration link can be found on our website under Menu and then choosing Quicklinks. Registration will open on Monday August 1st. You will also need to make sure that you have a current physical on file with the school nurse in order to be allowed to practice. JV & Varsity Football will begin practice on August 20th, while the rest of the high school sports will start on August 22nd. Modified football will start on August 29th, with the rest of the modified sports slated to start on September 7th. Thank you!
Middle and High School pictures will be September 7th, 2022. Please view the attachments to help you with the picture process.

School Meals Full Price Dear Parents/Guardians: Unfortunately, the federal waiver enabling free school meals for all children, adopted in 2020 because of the pandemic, failed to pass permanently in Congress. Therefore, all students will go back to full price meals. You are strongly encouraged to fill out a Free & Reduced Meal Application to see if you qualify for free meals. You can find the Application on our website:
www.atticacsd.org
or an online application at:
https://docs.google.com/forms/d/1ErvrWm3w51GiWAGlg0ulwLL0c0WEwj-QfJ43sSWCzXM/edit?ts=62cc1835
. You may also pick up an application in any of the main offices. A form will be sent home with all students on the first day of school. Please return forms to: Ms. Wicks, 3338 E. Main St., Attica, NY 14011,
kwicks@atticacsd.org
or to the cafeteria. Meal Prices: Breakfast: K-12 $1.25 Lunch: K-4 $2.45, 5-12 $2.70 If you have any questions, feel free to call Kris Wicks at 591-0400 x 1195
Attention BOCES students and parents, there is a "Early Go Home Drill" on Friday, December 10, 2021. All students, including BOCES students are expected to attend classes in the a.m. on 12/10/21. The BOCES bus will be picking up students and leaving Batavia BOCES at 10:45 and students will be returning here at 11:00.
Attica Central is looking for a qualified lifeguard (must be certified) to cover our middle school physical education swimming classes that will run from January 3rd to March 11. Coverage will run from 8:30 - 3:00. If interested, please contact Eric Romesser at
eromesser@atticacsd.org
.
To All parents and guardians, 1st Marking Period Grades are now available on the Parent Portal. If you would like to have a paper copy of your student's Report Card please contact the High School Counseling Office at 585-591-0400, ext. 1428 to request it. Thank you.