Please see the letter below for information on Open House, September 24th. Copies will be sent home with students tomorrow!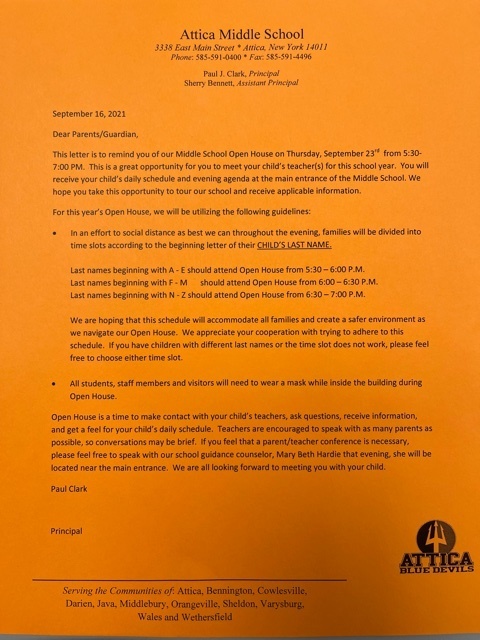 5th Grade Orientation will take place on Thursday, August 26th from 10:00 AM-2:00 PM. All 5th grade students are invited to attend! Please enter the Middle School Main Entrance at the rear of the campus. - 10:00 Students & parents will have an opportunity to set up their assigned locker and a meet and greet will follow for both parents/students with the fifth grade faculty. - Parents will then meet with Mr. Clark and Mrs. Bennett in the Auditorium for a brief presentation and Q&A. - Students will remain with staff for the remainder of the program. Lunch will be provided by the cafeteria staff. - Parents can pick students up at 2:00 PM at the assigned "parent pick-up" location near the bus loop. This will be the official drop off/pick up area throughout the school year. If you have any questions please contact the Middle School Main Office at 591-0400 ext. 1200 Thank you!

Student meals for 2021-2022 will be free!
We're thrilled to announce the new app for Attica Central School District! It's everything Attica CSD, in your pocket. With the new app, you can access documents, events, news updates, and even emergency notifications. Download the app on Android:
https://bit.ly/3ycvqZ5
or iPhone:
https://apple.co/3zNReuq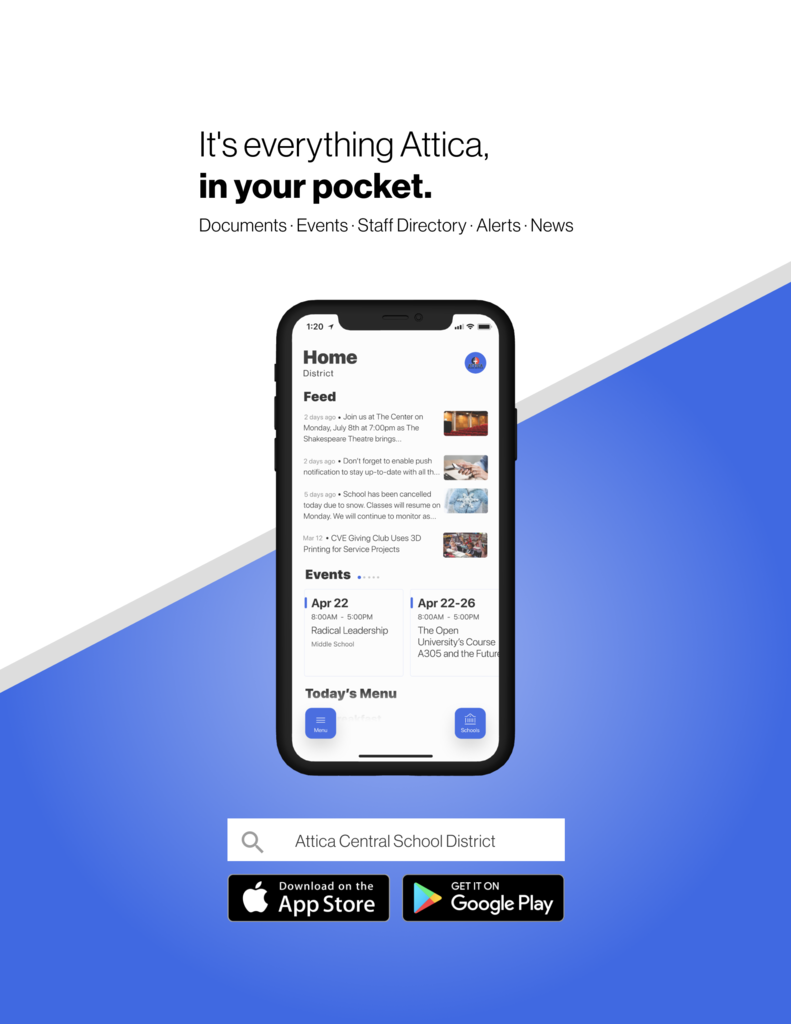 Our 2021 Summer Learning Camp wraps up on Thursday, August 5th. If you are a parent or guardian of a child who attended camp, we love your feedback on your child's experience this year! We appreciate your insights into our program and we recognize that our partnership in learning will help us to maintain and improve our program in the future. Thank you for participating in our Summer Learning Camp. We appreciate your support!
https://docs.google.com/forms/d/1GdCcBL51QuRfLRmdFP6FytHPW5WGMSj4zF-JntNsNAc/viewform?edit_requested=true

If your student still needs to turn in their device, please call ahead of time to make sure someone is at the main office to drop it off to. 585-591-0400 ES: 2235 MS: 1200 HS: 1408

Welcome to our new site!