School Meals Full Price Dear Parents/Guardians: Unfortunately, the federal waiver enabling free school meals for all children, adopted in 2020 because of the pandemic, failed to pass permanently in Congress. Therefore, all students will go back to full price meals. You are strongly encouraged to fill out a Free & Reduced Meal Application to see if you qualify for free meals. You can find the Application on our website:
www.atticacsd.org
or an online application at:
https://docs.google.com/forms/d/1ErvrWm3w51GiWAGlg0ulwLL0c0WEwj-QfJ43sSWCzXM/edit?ts=62cc1835
. You may also pick up an application in any of the main offices. A form will be sent home with all students on the first day of school. Please return forms to: Ms. Wicks, 3338 E. Main St., Attica, NY 14011,
kwicks@atticacsd.org
or to the cafeteria. Meal Prices: Breakfast: K-12 $1.25 Lunch: K-4 $2.45, 5-12 $2.70 If you have any questions, feel free to call Kris Wicks at 591-0400 x 1195

The Wyoming County Health Department Has announced that it will offer the Pfizer COVID-19 vaccine to children ages 5-11 in each of the Wyoming County Schools. Attica High School - Auditorium Lobby Wednesday, November 17th, 2021 9:00am - 12:00pm *Elementary level students will need to be accompanied by a parent. Due to the anxiety some children experience with vaccines, it is also STRONGLY recommended parents attend with Middle School age students. To sign up for an appointment, please call Mrs. Amy Meyer at 585-591-0400 ext.1263 Each participant will also need a completed consent form, available below: 5-11 Year Old - Consent Form:
https://docs.google.com/.../1VffioWeSTtV40CSHj03Vehw.../edit
**We have currently been allotted 40 slots. If all appointment times have been filled, and there is enough interest, a second day will be scheduled by the Wyoming County Health Department. Additional information regarding the COVID-19 Vaccine in children ages 5-11:
https://www.cdc.gov/.../recommendations/children-teens.html
https://www.fda.gov/.../comirnaty-and-pfizer-biontech
...

Homecoming week is September 27th - October 1st! Dress-up days for the Middle School are posted below!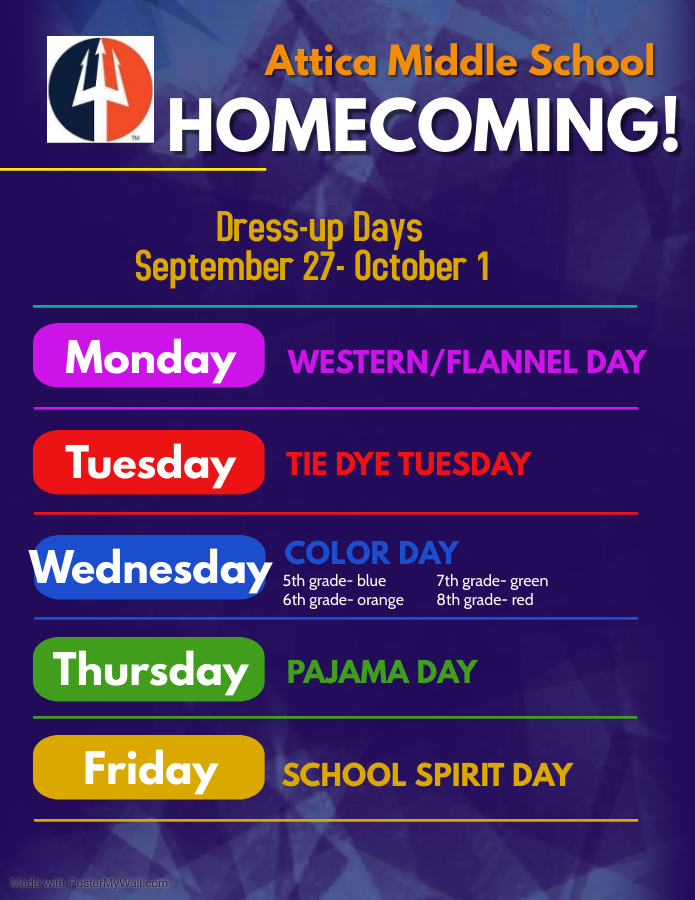 Please see the letter below for information on Open House, September 24th. Copies will be sent home with students tomorrow!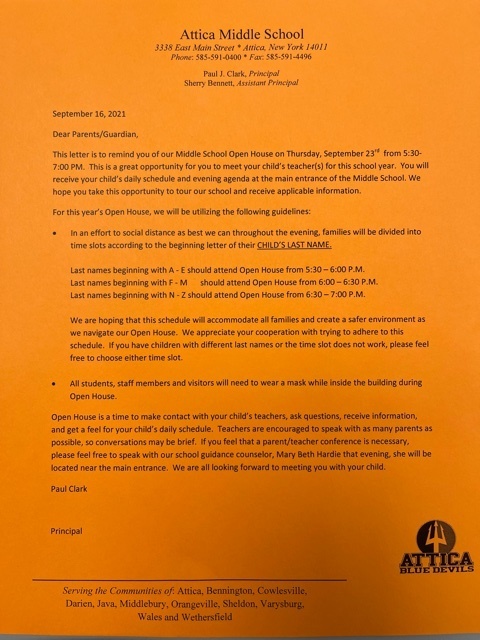 5th Grade Orientation will take place on Thursday, August 26th from 10:00 AM-2:00 PM. All 5th grade students are invited to attend! Please enter the Middle School Main Entrance at the rear of the campus. - 10:00 Students & parents will have an opportunity to set up their assigned locker and a meet and greet will follow for both parents/students with the fifth grade faculty. - Parents will then meet with Mr. Clark and Mrs. Bennett in the Auditorium for a brief presentation and Q&A. - Students will remain with staff for the remainder of the program. Lunch will be provided by the cafeteria staff. - Parents can pick students up at 2:00 PM at the assigned "parent pick-up" location near the bus loop. This will be the official drop off/pick up area throughout the school year. If you have any questions please contact the Middle School Main Office at 591-0400 ext. 1200 Thank you!

Student meals for 2021-2022 will be free!
We're thrilled to announce the new app for Attica Central School District! It's everything Attica CSD, in your pocket. With the new app, you can access documents, events, news updates, and even emergency notifications. Download the app on Android:
https://bit.ly/3ycvqZ5
or iPhone:
https://apple.co/3zNReuq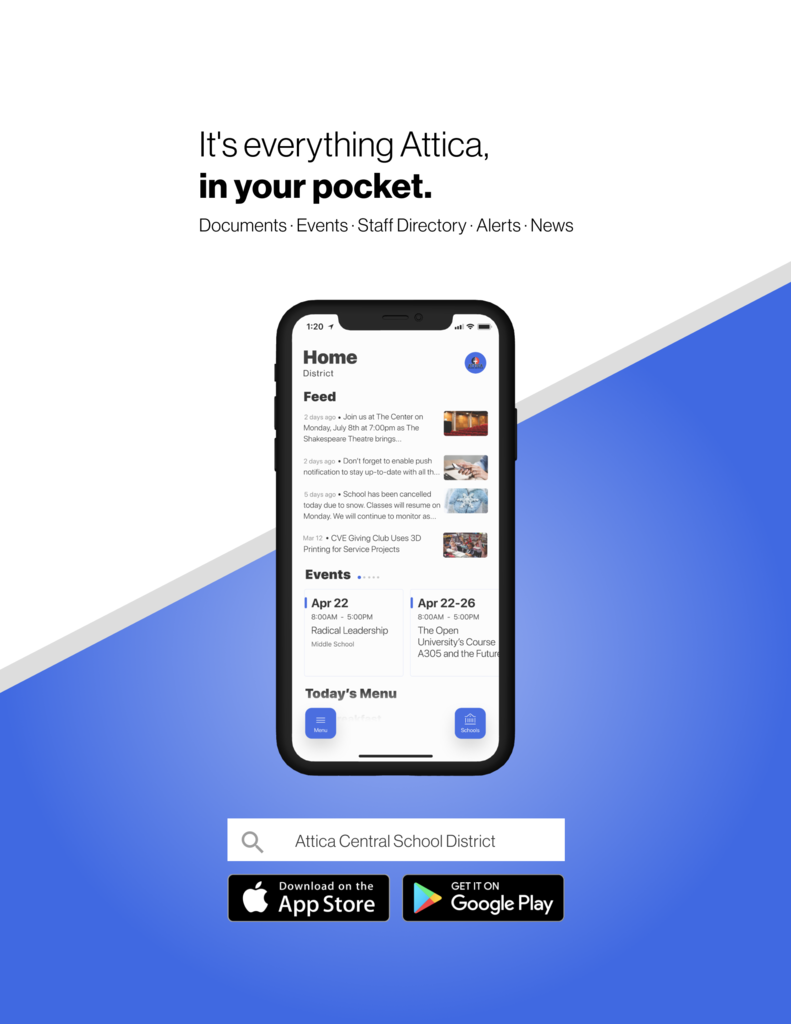 Our 2021 Summer Learning Camp wraps up on Thursday, August 5th. If you are a parent or guardian of a child who attended camp, we love your feedback on your child's experience this year! We appreciate your insights into our program and we recognize that our partnership in learning will help us to maintain and improve our program in the future. Thank you for participating in our Summer Learning Camp. We appreciate your support!
https://docs.google.com/forms/d/1GdCcBL51QuRfLRmdFP6FytHPW5WGMSj4zF-JntNsNAc/viewform?edit_requested=true

If your student still needs to turn in their device, please call ahead of time to make sure someone is at the main office to drop it off to. 585-591-0400 ES: 2235 MS: 1200 HS: 1408

Welcome to our new site!