Each night at the dinner table, Alicia Spoth makes a point of telling her son, August, where the food he's about to eat comes from.
"I don't want my child to look at it just like 'I went to Wegmans and got this off a shelf and that's all there is to it,'" said Spoth. "I want him to know where his food comes from and I don't want it to come easy. I want my family to be thankful every day for the gifts that whoever produced that food is giving them."
Spoth is looking to bring that mindset, and her passion for all things Western New York agriculture, to her new role as farm-to-school coordinator at Attica Central Schools.
Attica's Board of Education unanimously approved Spoth's hiring at its Jan. 12 meeting. Her appointment was effective Jan. 3 and runs through the end of 2023.
Spoth's position is funded by the $100,000 Farm-to-School Grant awarded to the district by the New York State Department of Agriculture and Markets in 2022. The part-time position is for 15 hours per week though that could fluctuate, based on programming needs. Spoth will be paid $32 an hour, or about $25,000 per year.
Rooted in ag
Spoth's entire life has revolved around agriculture. She grew up raising pigs on her parents' Keller Farms in Corfu and still fosters a love of all things pork.
"Some families go to Bills games together, my family promoted pork together," said Spoth. "I think we were happiest and most excited when we were giving out samples of pork loin because once you taste perfectly cooked pork, you'll want to eat it every day of your life."
So strong was her sentiment for swine that Spoth even penned a regular column - "Cooking with Pork" - for The Daily News of Batavia where she'd give her readers pork-centric recipes and preparation tips.
"My grandma cut them all out and I have them in a whole big portfolio now," Spoth said with a laugh. "So that's cool. That's a part of my story."
After graduating from Pembroke Central Schools in 2008, Spoth headed to Indiana, where she earned a bachelor's degree in agriculture economics from Purdue University in 2012.
"I went to Purdue because I wanted to see a different kind of agriculture," Spoth said. "I feel like I saw a lot of dairies and cabbage production in Western New York and I was like, 'What's the Midwest like?' So I went to Purdue, had awesome, cool internships and lived life in the Midwest for a decade."
After stints as a seed seller, ag retailer and crop insurance adjuster in northwest Ohio and back home in New York, Spoth had the opportunity to work at her husband's family farm, Greg's U-Pick, in Clarence, Erie County.
"We have a CAS (community-supported agriculture) program with just a ton of different vegetables, we do school tours, there's a bakery," Spoth said. "On the u-pick side, our primary crops are strawberries, blueberries, vegetables, cut flowers and pumpkins."
Fresh, local, seasonal
Shortly after the district posted the farm-to-school coordinator position this past October, Spoth got a message from Melissa George, an Attica Partners for Agriculture representative, encouraging her to apply.
For Spoth, it was an easy decision.
"I love my job at the farm, but I also love getting out into the world, getting out into the community," Spoth said. "I thought, 'I'm a 4-H leader, I love working with my 4-Hers, I run school tours on my farm, I love working with those kids - I want to see what kids need in a school. How can they nourish their bodies and their minds for success? That's why I'm here.'"
Business Administrator Meaghan Matuszak, who sat on the hiring committee that recommended Spoth's appointment to the district's board of education, said the new position comes with two primary responsibilities.
The first is to bolster the district's ag education offerings.
"That could include organizing field trips to some of our local producers or bringing in guest chefs of diverse cultural backgrounds to teach our students how to utilize ingredients and prepare dishes they may not be familiar with," Matuszak explained. "Alicia will also have a hand in coordinating a new, four-week course this summer that will teach students how to grow, process and prepare different kinds of produce."
The second is to act as a liaison between the district and local food producers to ensure the district is bringing quality, seasonal products to students year round.
Spoth said she's approaching her new role with the goal of getting students excited about the food they see in the cafeteria.
The best way to do that, said Spoth, is to prioritize fresh, seasonal food.
"When you see something beautiful at a farm stand or you see something beautiful come in from the field, aren't you going to want to try it? Kids are going to want to try it as well," she said. "If a kid comes and buys a school lunch, the kids sitting next to them are going to want that school lunch. At the end of the day, that's my goal."
Spoth's also hoping to foster a healthy appreciation among Attica's student body of the sheer volume of work that goes into producing each forkful of food that passes their lips.
It's a truth that Spoth herself, even with a lifetime spent in and around agriculture, has to sometimes remind herself of.
"My dad had a stroke five years ago and he can only use half his body and one day he asked me to go collect his eggs - he's got a bunch of laying hens - and I was like 'Sure, whatever, I'll do it,' and it was such hard work!" Spoth recalled. "So many people are like 'Ah, eggs are so expensive,' but they don't appreciate what goes into raising those eggs. The person behind the product you're eating, the work and effort they put into that product, the story that brought that product to you - that's incredible. It's all part of the beauty of life."
As she continues to settle into her new position, Spoth pledged to always keep her door open and encouraged anyone with questions, ideas, opportunities or feedback to shoot her an email at aspoth@atticacsd.org.
"I just think that Western New York is an incredible place. We produce so many cool things to nourish our bodies with - I think we're silly if we don't take advantage of that," she said. "Attica is an amazing community and if we can support each other and what our farmers are doing - I don't know. I think we'll all be better off."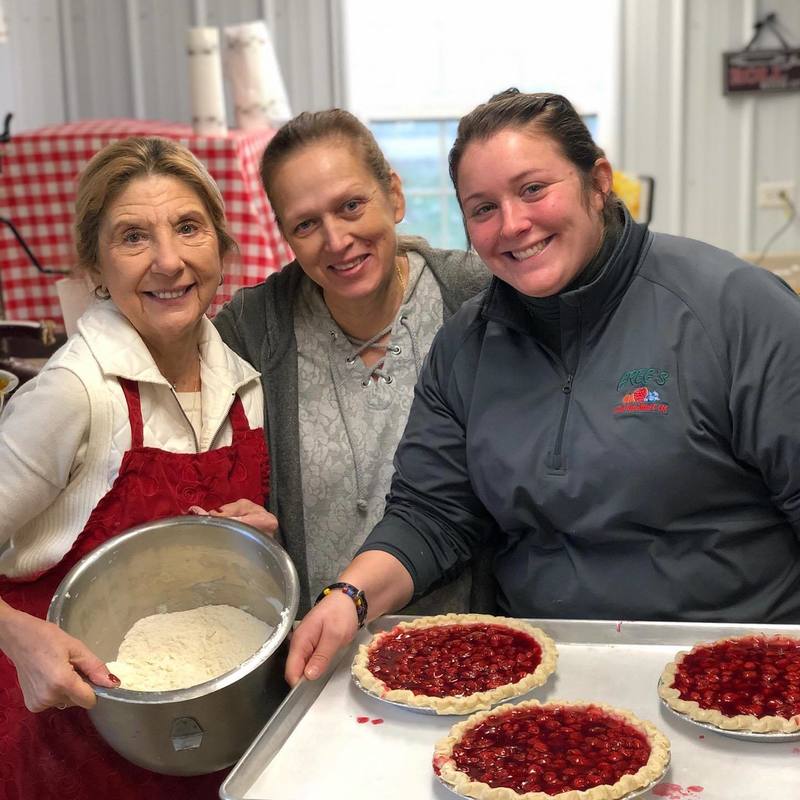 Alicia Spoth, right, is pictured making cherry pies at her husband's family farm, Greg's U-Pick, in 2020.