Kelly Beitz still remembers her first foot in the door at Attica Central Schools.
It was the winter of 1999 and Beitz, who at that time had been teaching physical education at Batavia City School District for a decade, had just earned her master's degree in education administration from SUNY Brockport and wrapped up an administrative internship at John Kennedy Elementary School in Batavia.
"The superintendent from Attica or Batavia owed the superintendent from Attica or Batavia a favor - I'm not sure who owed who - but I received a call wondering if I would be interested in interviewing for a long-term sub position for the Attica Elementary Principal," Beitz recalled. "Batavia agreed to allow me to take a leave of absence from my PE position in Batavia and Attica hired me to be the long-term substitute for Lori Orologio, the Attica Elementary principal, from February to May of 2000. It was such a great experience - I absolutely loved it."
The rest, as they say, is history.
A month later, Beitz accepted the position of assistant principal at Attica High School. A couple months after that, Orologio took a job at another district and Beitz lept in to fill the vacancy.
"It was my absolute dream job," she said. "I wanted to be an elementary principal and I wanted to help make a difference in the lives of students."
Beitz retired earlier this year after 39 years working in education - 23 of them here at Attica Central Schools.
The decision to step away wasn't easy.
"It was just time," she said. "My husband has been retired for a few years now. School is quickly getting 'back to normal' and headed in a good direction. The timing is right for my husband and I to do some things we want to do while we still can. Right now, our plans are to spend time in Florida, travel, play golf and fish."
During her nearly forty-year tenure, Beitz said she relied on a two-pronged approach to ensure students were getting the most out of school as possible.
"First, my approach was always going to be 'What's best for kids?' So, any decisions that were made, whether they were regarding safety, academics or building procedures, were always made with the students' best interest in mind," she said. "Second - I feel I took a collaborative approach to decision-making. Teachers and staff are the experts in their field and they are working directly with our students. I trusted what they were doing in the classroom. I always felt we could have good conversations and solve any problem by working together to create a solution that would be best for kids."
While it's hard for Beitz to pick and choose her favorite memories - "Everything is really most memorable," she said - she counts Halloween celebrations and dress up days, monthly assemblies and her annual dunk tank appearances among some of her favorites.
That time she had the chorus students dress up as cowboys and cowgirls and brought a real cow in the multi-purpose room for the National Music Association's "World's Largest Concert" also stands out.
"Attica Elementary School has been an important part of my life and will always hold a special place in my heart. I will miss seeing the students enter the building each morning and leave at dismissal every afternoon. I will miss visiting classrooms and working with such talented and capable staff every day," she said. "I will miss the conversations, the programs, the smiling faces, and all the fun we have had together. I have formed some life-long friendships over the course of 22-1/2 years and appreciate all the support I have received from everyone throughout my career."
Middle School Assistant Principal Sherry Bennett has been serving as interim elementary school principal since Beitz retired in January. The district expects to begin the hiring process for a permanent principal in the coming weeks.
Whoever ultimately succeeds her, Beitz said they'll be met by students and staff who work hard, are respectful and work together to get the job done.
"My advice would be to get to know your students by name, trust your staff, and start to build those positive relationships with your students and staff," she said.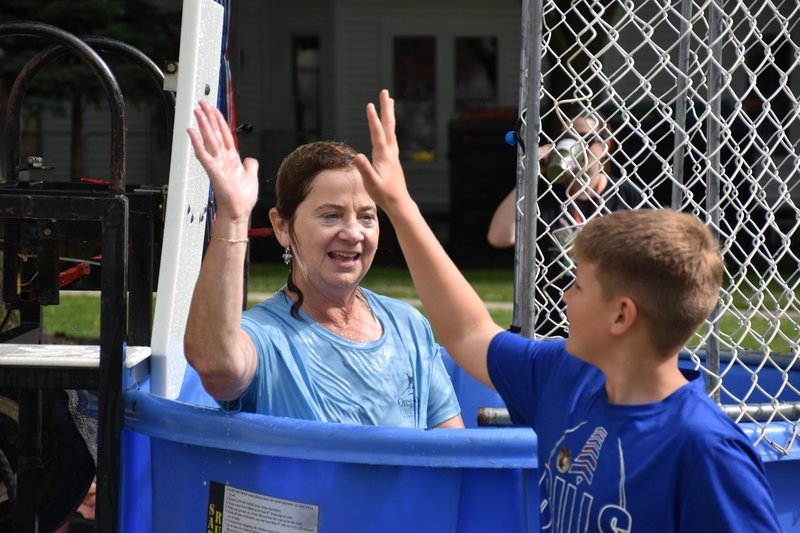 Former Elementary School Principal Kelly Beitz gives one of her students a high-five after he dunked her in the dunk tank at Farm Fun Day in June 2022.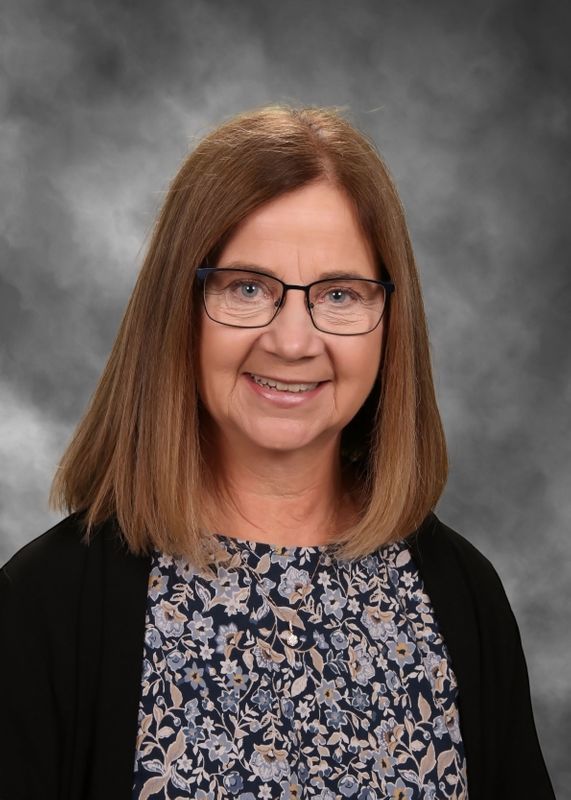 Kelly Beitz