Kindergarteners at the Attica Elementary School turned back the clock to the 1950s Friday in recognition of reaching their 50th day of school.
"We count every day in kindergarten and our goal is to be able to count to 100 by the end of kindergarten," explained Amanda Vilagy, a kindergarten teacher at Attica Elementary. "Celebrating the 50th day is a fun way to incorporate counting, while showing the kids a few fun activities from the 50s."
Some students dressed for the occasion in 1950s-appropriate clothes - think poodle skirts and white t-shirts - and all took part in 1950s-themed activities throughout the day.
"Our centers were all about the number 50. We made necklaces, played a stamping game and found sight words around the room," said Vilagy. "We read a story that showed us objects from the 50s (shoes, cars, jukebox, float, poodle skirt, a telephone). For math, we graphed some 50s objects and talked about the data, using the words 'More than' and 'Less than.'"
In the afternoon, Vilagy's students capped off the day's activities with homemade root beer floats and a bit of a sock hop to "Rip it Up," by "Bill Haley & His Comets."
For some of Vilagy's students, it was their first time trying a root beer float. Judging by the empty cups, most seemed to enjoy the tasty treats.
After showing off their best dance moves, students tried their hands - and hips - at some hula hoops Vilagy had brought for the occasion.
Attica kindergarteners' next big milestone - the 100th day of school - will arrive in mid-February.
"We will do a big celebration on the 100th day and students can dress up to look like they are 100 years old," said Vilagy.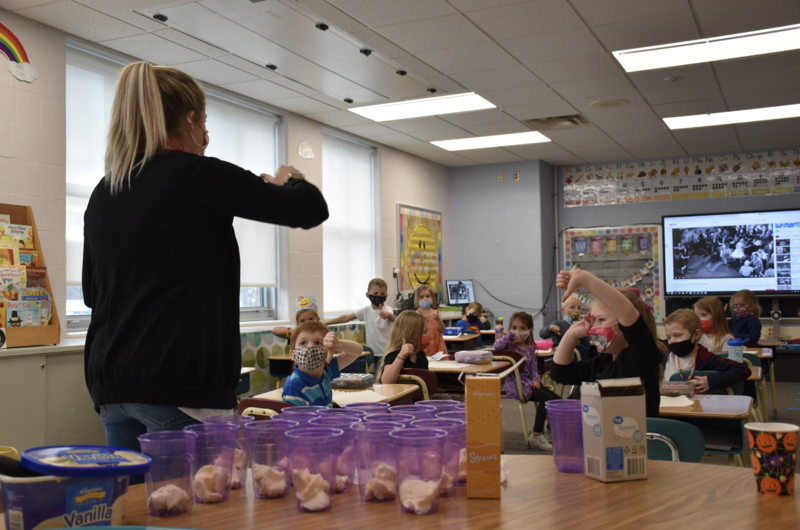 Students in Mrs. Amanda Vilagy's kindergarten class give a thumbs up or down to indicate whether they've ever tried a root beer float before.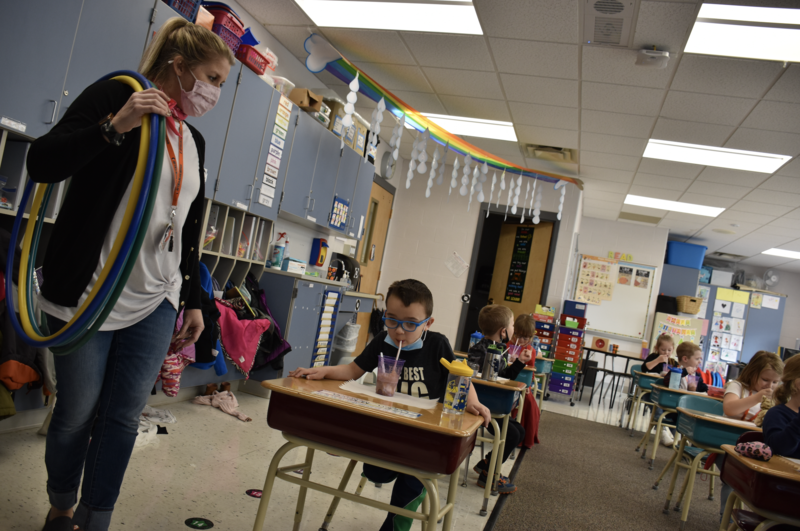 Students enjoy their root beer floats while Mrs. Amanda Vilagy readies a few hula hoops.
Kindergarteners in Mrs. Amanda Vilagy's class try their hand at hula hoops, one of the 1950s-themed activities they participated in Friday to mark their 50th day of school.
Mrs. Amanda Vilagy gives some hula hooping tips to one of her kindergarten students Friday during 1950s day, which was held to recognize Attica Elementary School students' 50th day of school.