Students in Miss Lauren Kocher's third grade class have been learning about the wider world recently with a helping hand from a much-loved literary character as cosmopolitan as he is thin: Flat Stanley.
In author Jeff Brown's 1964 children's book, the titular character is squashed by a falling bulletin board and makes the best of his newfound flatness by doing things only a flat person could do - like flying as a kite in the air and mailing himself in an envelope to visit friends in California.
Brown's book, in turn, inspired the Flat Stanley Project, in which students create their own Flat Stanleys and mail them to friends or family living in other parts of the world. The recipient will usually take a photo of Flat Stanley in whatever locale they're living in then return it along with Flat Stanley to the sender, sometimes accompanied by a small memento or souvenir.
In March, students in Kocher's class previewed the first of Brown's books - there are many in the series - then got to work decorating their own Flat Stanleys. Then, right before spring break, they mailed their finished Flat Stanleys to a relative or family friend in another area around the world.
"We had Flat Stanleys travel all around to California and various other states, and areas around New York as well," said Kocher. "Once their Flat Stanley was mailed back to Attica Elementary School with other items in the package, the students were able to read a letter and present different pictures sent to them from the place that Flat Stanley visited."
One of Kocher's students, Brodi Anowski, mailed his Flat Stanley to family friend Parker Phelps, a U.S. Army diesel mechanic who's stationed in South Korea.
"Brodi said that Parker took the time out of his 11-hour work day to participate in our Flat Stanley project," said Kocher.
Some of Kocher's students even received souvenirs like postcards, maps, brochures, patches and small medals back from those they'd mailed their Flat Stanleys to.
Apart from aligning well with the geography unit she was teaching at the time, Kocher said the project was a good opportunity for her students to learn about areas outside Attica.
"This was a fun experience for the students as they were able to learn about different parts of the world and connect this to the book they are familiar with," she said. "The students loved the project and presenting their projects to their classmates. They were excited to receive a package back to learn where Flat Stanley traveled to."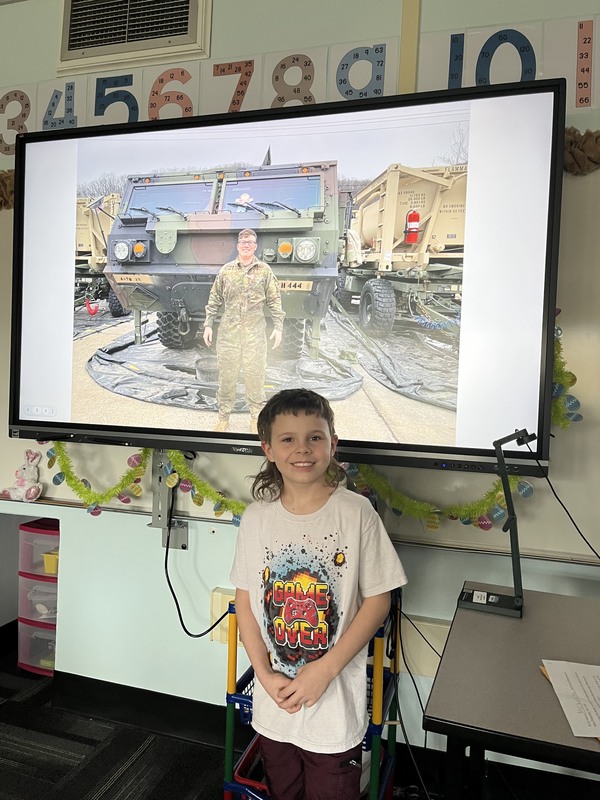 Brodi Anowski sent his Flat Stanley to family friend Parker Phelps, a U.S. Army diesel mechanic who's stationed in South Korea.

Avery Nelson, a student in Miss Lauren Kocher's third grade class, presents on her Flat Stanley's round-trip journey from Attica to North Carolina to see her brother.