After her junior high art teacher told her she wasn't talented enough to be an artist, Brooke Schery put down her paintbrush and didn't pick one up again for more than a decade.
"I was in seventh or eighth grade and I'm like 'Well, that really stinks,'" said Schery, who's worked as a cleaner and custodian at Attica for the past nine years. "So I kind of stopped caring."
But after attending a paint and sip class with some friends in 2018, Schery decided it was time to give it another shot.
"I was like 'Oh no, this is going to be my next hobby,'" said Schery, a keen crafter. "I like sewing and doing different crafty things like that. Before I got into painting, it was all sewing. I've made tons of quilts, things like that."
Determined to sharpen her painting skills, Schery turned where any red-blooded millennial would: YouTube.
One creator in particular, Cinnamon Cooney, proved particularly instructive, said Schery. Cooney's channel, The Art Sherpa, features dozens of how-to tutorials for amateur painters.
"She's incredible and that's where I learned how to do all of my painting, by following all of her tutorials," she said. "And now that I have that basic knowledge, I've been able to really blossom and create bigger and better things."
Schery started out with a single bulletin board at the elementary school. A night shift cleaner at that time, Schery would find ways to work pictures of herself and her fellow night shifters into the display.
"I wanted to be visible to the kids because as a cleaner at nighttime, they had no idea who we were," she said. "One time I had all of us as superheroes and it was 'Our Marvel-ous Cleaning Staff.' You know, like Marvel characters.
Since that first bulletin board, she's expanded her artistic reach. Now, taking a stroll through the hallways of Attica Elementary, it's hard not to pass by a Brooke Schery original.
They may be on another bulletin board, like the one outside kindergarten teacher Chaunda Hertel's second floor classroom that shows a giant tree during each of the four seasons.
Each part of the tree, from the leaves and branches to the trunk and roots and even the small seedling in the bottom right corner, features a short blurb that draws parallels between the growth of a tree and the collective effort it take to educate a student.
"School counselors, therapists and psychologists help us keep a clear mind to keep growing," reads one of the blurbs.
"The IT department helps us to branch out to learn new things," reads another.
"I wanted something that would fully encompass the entire school, make sure every position was shown as equal because we all work together to maintain the district and I even included students and parents in it because they're the reason our district goes around too," said Schery of the metaphor. "Without them, we wouldn't have a job so I wanted to make sure everybody was viewed as important in this one symbolic thing - we all work together to make the district go."
Others of Schery's artworks are scattered throughout the school's four floors, painted onto the mailboxes outside teachers' classrooms.
"I'll ask the teacher, 'What do you like?' and then kind of go from there," said Schery of her mailbox designs. "One of my favorites is the one I painted for Noelle Dean that shows a shark swimming in front of a tropical sunset. I really love the neon color palette - the mixture of the warm and cool tones are so relaxing to me."
To date, Schery's completed 19 mailboxes and has five more in the works.
"Someday I'll get them done," she said with a laugh.
Still others may be on a chalkboard, like the one students pass on their way to the cafeteria that currently shows a frolicking, flowery whale that's "whalecoming" students back to school.
A self-professed pun-lover, such quips are typical elements of Schery's works. Sometimes, she'll turn to Google to look up a pun on which to base a painting or bulletin board. But oftentimes, they'll just come to her in a lightbulb moment.
"I'll be cleaning the cafeteria and I'll be like 'Oh, that's a good one,'" she said.
Good ideas for puns, bulletin boards and paintings go on a sticky note in Schery's office between her computer and keyboard - "I call it my hoarder's nest," she joked.
While Schery enjoys the act of creating her different pieces, it's the reactions she gets from students that keep her coming up with new ideas and committing the time during breaks, after school and on the weekends to bring them to fruition.
"They love them," she said. "Sometimes they don't understand the puns, but that's OK."
Hertel, the kindergarten teachers whose classroom is right next to Schery's tree bulletin board, said the positive energy Schery brings to Attica Elementary is unmistakable.
"When you are around her, you can't help but to feel happy," said Hertel. "The students feel safe around her and love to ask her questions."
Hertel said her students are especially fond of the chalk drawings Schery does on the chalkboard students pass on the way to the cafeteria that currently bears her "whalecome" back message.
"They stop to admire the drawings and I read them the cute caption she has posted with it," Hertal said. "I tell the students that Miss Brooke does the drawings. They are surprised because they think it is (elementary school art teacher) Mrs. Lewinski because her room is down the hall. I told them that everyone can have many talents or things they are good at! It is important for the students to see first hand that everyone can have many talents and you can express yourself in many ways."
Schery said she'll probably swap out her "whalecoming" whale with some new chalk creation in a couple of weeks.
"I try to do that every two to three weeks," she said, "just to keep it fun and fresh down there."
Next year marks the 100th anniversary of Prospect Elementary, which was constructed in 1923 after a fire razed the school that had stood on the same site, so Schery's considering creating something centered on the idea of "100 years of history," but isn't yet sure on specifics.
"First of all, I need to speak with the historical society to make sure my facts are straight," she said.
Whatever she decides on, Schery hopes her paintings, chalk drawings and bulletin boards help students come to understand that anyone can be creative.
"I want to show the kids that I can create these really lovely pieces for you to enjoy and it didn't take any special training apart from the academy of YouTube," she said. "When the kids stop and talk to me, I tell them that. I'm like, 'It didn't take any special training, all it takes is practice and you can absolutely be able to do this too.'"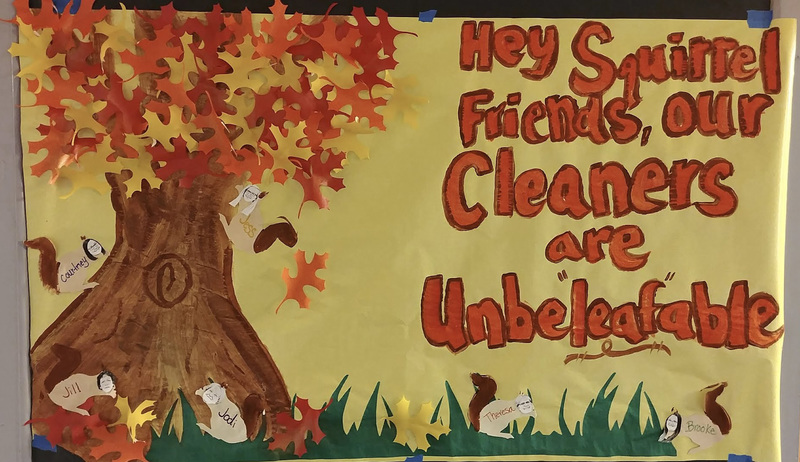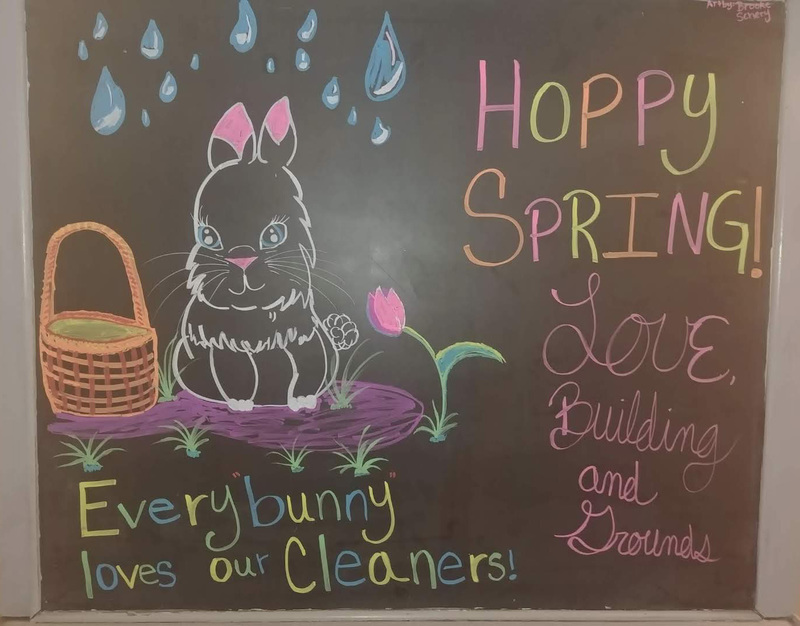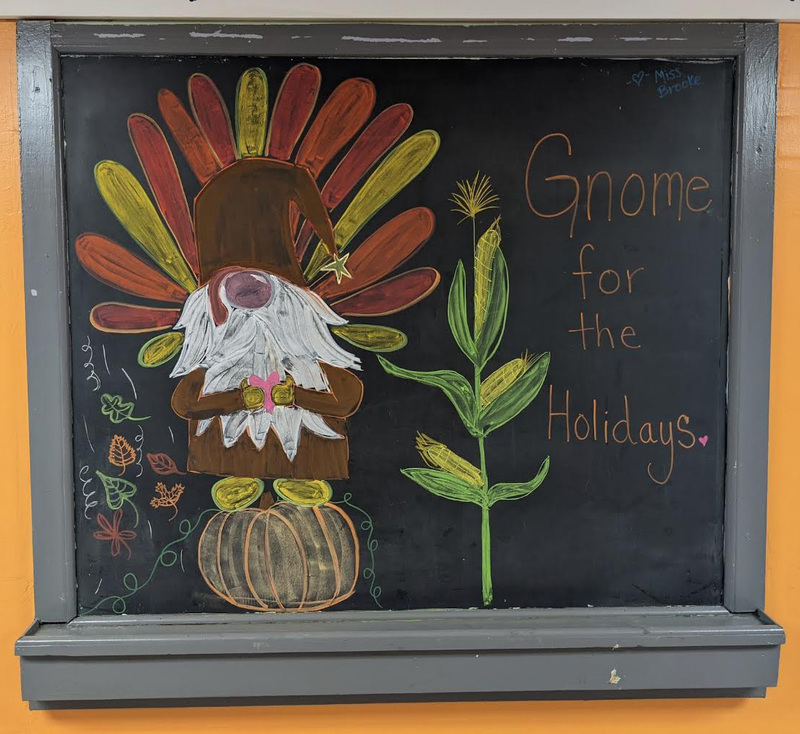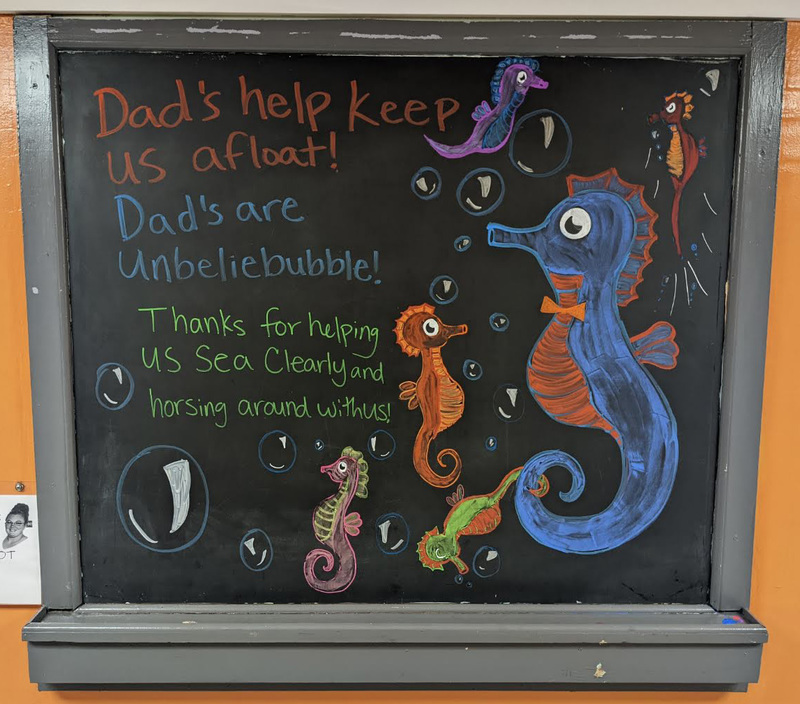 Photos courtesy of Brooke Schery
A sampling of some of the bulletin board displays and chalk drawings Custodian Brooke Schery has created in the Attica Elementary School over the past few years.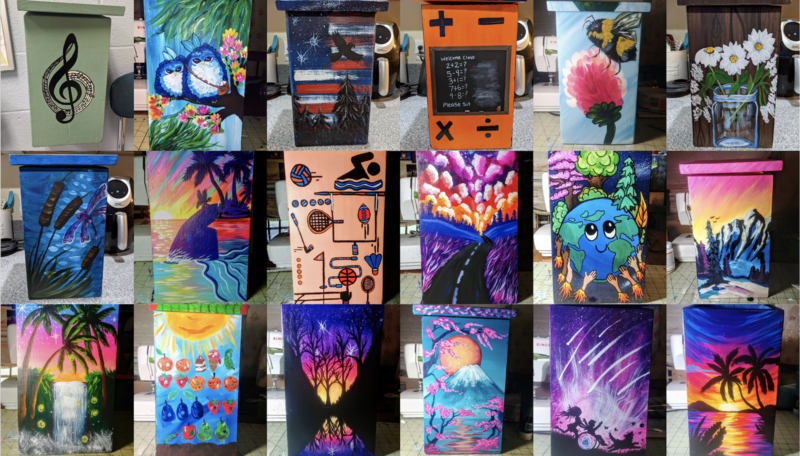 Photos courtesy of Brooke Schery
So far, Brooke Schery's created 19 colorful paintings on teacher mailboxes at the Attica Elementary School and has five more in the works. A selection of the painted mailboxes is shown above.
Matt Leader/Attica Central Schools
Custodian Brooke Schery poses for a photo next to a bulletin board she created on the second floor at Attica Elementary School. In coming up with the design, Schery strived for something that would fully encompass the entire school community and make clear that everyone is working together to better educational opportunities for Attica students.