Visitors to the Middle School Library took a giant step back in time last week - about 4,500 years to be precise - as students in Mrs. Allison Cali's sixth grade social studies class transformed the space into Attica's own Museum of Ancient Egypt.
The museum was part of a unit on ancient Egypt, explained Cali, who's taught at Attica since 2006.
"Students chose a topic at the beginning of the unit. I showed various examples of past projects and essays so they had an idea of what to do," said Cali. "The classes were brought to the library and, with the help of Library Media Specialist Stacey Donahue, we taught them how to research only with books and databases."
Using these sources, students took notes and crafted paragraphs, which they then strung together into essays.
"They then made a project that reflected their essay," said Cali. "I told them to think of it like visiting a museum where they see a cool artifact and read the paragraph to learn more about that topic."
Some of the topics students chose to explore in their projects were boats, Egyptian attire, pyramid and other monument construction, dwellings, soldiers and weapons.
"Once the projects were completed and turned in, all my sixth grade classes walked around and checked out each other's projects and read the essays," said Cali. "Afterwards, we talked about what we learned from the essays and some interesting facts we didn't previously know. They will take that knowledge and build from that as we continue learning about the civilization of ancient Egypt for the next few weeks."
Cali also invited parents to come check out students' projects and tour the museum.
"I decided to invite parents this year because they haven't had many opportunities to come into the schools these last couple of years due to COVID," said Cali. "I plan on doing it again next year."
In all, 46 people visited the museum last week.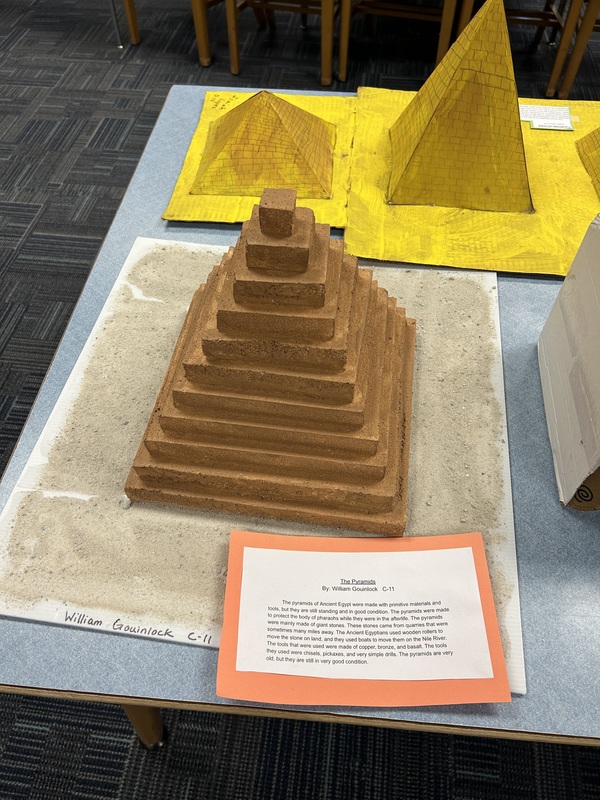 Photos courtesy of Kiel Illg
A selection of some of the projects Mrs. Allison Cali's sixth grade social studies students created for their Museum of Ancient Egypt.