Dear Attica CSD Families, The kids had a great day. Buses left the HS/MS about 10 minutes behind schedule as we ensured all children loaded onto the correct bus. Have a great night.
The New York State Department of Transportation has informed us that they will be micro-surfacing the entire Village of Attica beginning August 29th, 2022 through approximately September 9th, 2022. They plan to start at the HS/MS complex in hopes of not interfering with our operation with the start of school quickly approaching. This project is a flag operation and could impact traffic patterns around our school community. Thank you for your patience during this time.

Dear Attica Families, Faculty and Staff, As the first day of school for students on September 7, 2022, quickly approaches, we are mindful of the health and safety of our students, faculty, and staff. This week the New York State Department of Health (NYSDOH) and New York State Education Department (NYSED) released guidance to school districts providing more flexibility heading into the 2022-2023 school year. Below are some of the informational items that were provided within the guidance. Also, below are informational links to those supporting documents for your reference. The Board of Education, leadership team, and our entire staff remain committed to ensuring that our schools are safe places where every student and staff member can experience an environment to learn, grow, and flourish. I am looking forward to the start of the academic year and partnering with all of you as we begin the 2022-2023 school year. Have a great rest of your summer. Guidance Updates: -Students and staff exposed to COVID will not have to quarantine. Individuals who were exposed to COVID-19 should follow CDC recommendations to wear a well-fitting mask for 10 days after the exposure and get tested. -"Test to stay" will end- students will no longer be required to receive a COVID test if exposed to an infected person. -Universal masking is not required at this time. -Schools will no longer be required to offer or conduct screening testing. -Schools are not required to test unvaccinated staff. -Schools are not required to report daily test results to the Department of Health. -Schools will not be required to conduct contact tracing. Guidance Links: 2022-2023 Schools Frequently Asked Questions related to COVID-19:
https://coronavirus.health.ny.gov/system/files/documents/2022/08/2022-23-school-year-covid-19-faqs-for-schools_8-22-22.pdf
2022-2023 Parents and Caregivers Frequently Asked Questions:
https://coronavirus.health.ny.gov/system/files/documents/2022/08/2022-23-school-year-covid-19-school-faqs-for-parents-caregivers_8-22-22.pdf
Sincerely, Kiel Illg, Ph.D. Superintendent of Schools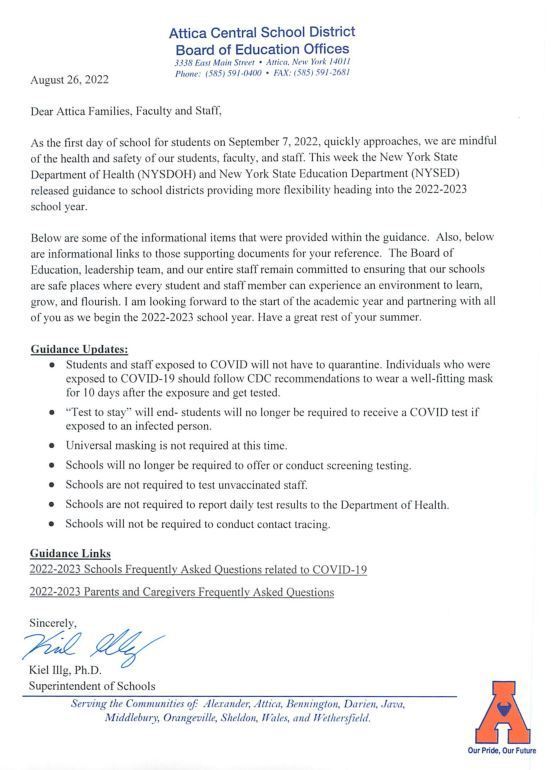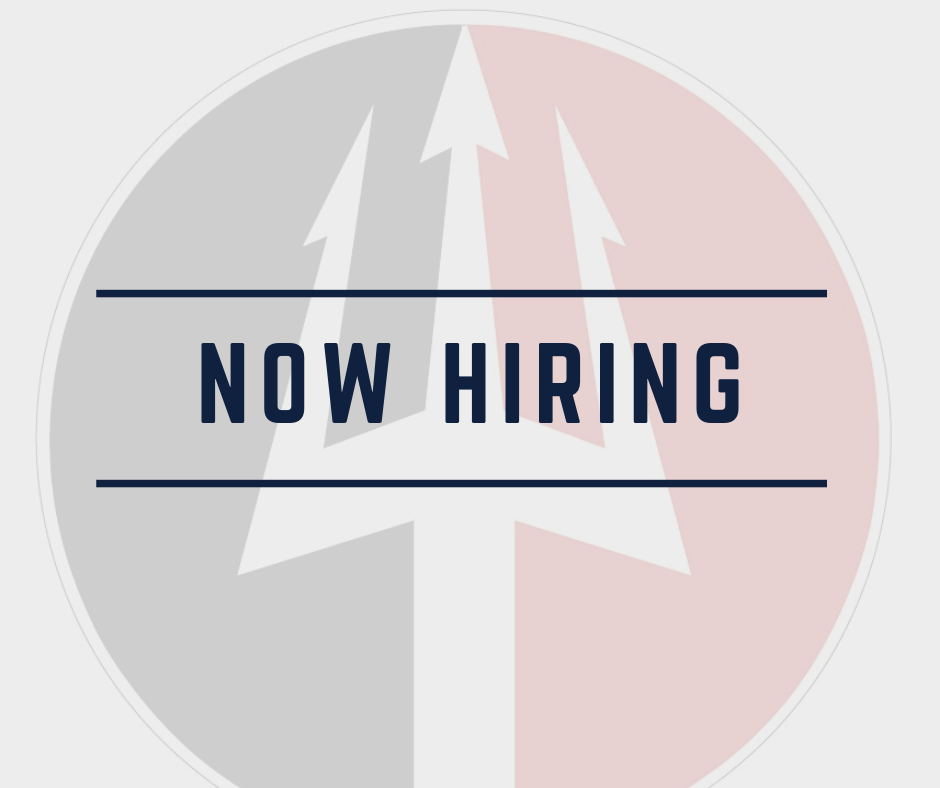 School Meals Full Price Dear Parents/Guardians: Unfortunately, the federal waiver enabling free school meals for all children, adopted in 2020 because of the pandemic, failed to pass permanently in Congress. Therefore, all students will go back to full price meals. You are strongly encouraged to fill out a Free & Reduced Meal Application to see if you qualify for free meals. You can find the Application on our website:
www.atticacsd.org
or an online application at:
https://docs.google.com/forms/d/1ErvrWm3w51GiWAGlg0ulwLL0c0WEwj-QfJ43sSWCzXM/edit?ts=62cc1835
. You may also pick up an application in any of the main offices. A form will be sent home with all students on the first day of school. Please return forms to: Ms. Wicks, 3338 E. Main St., Attica, NY 14011,
kwicks@atticacsd.org
or to the cafeteria. Meal Prices: Breakfast: K-12 $1.25 Lunch: K-4 $2.45, 5-12 $2.70 If you have any questions, feel free to call Kris Wicks at 591-0400 x 1195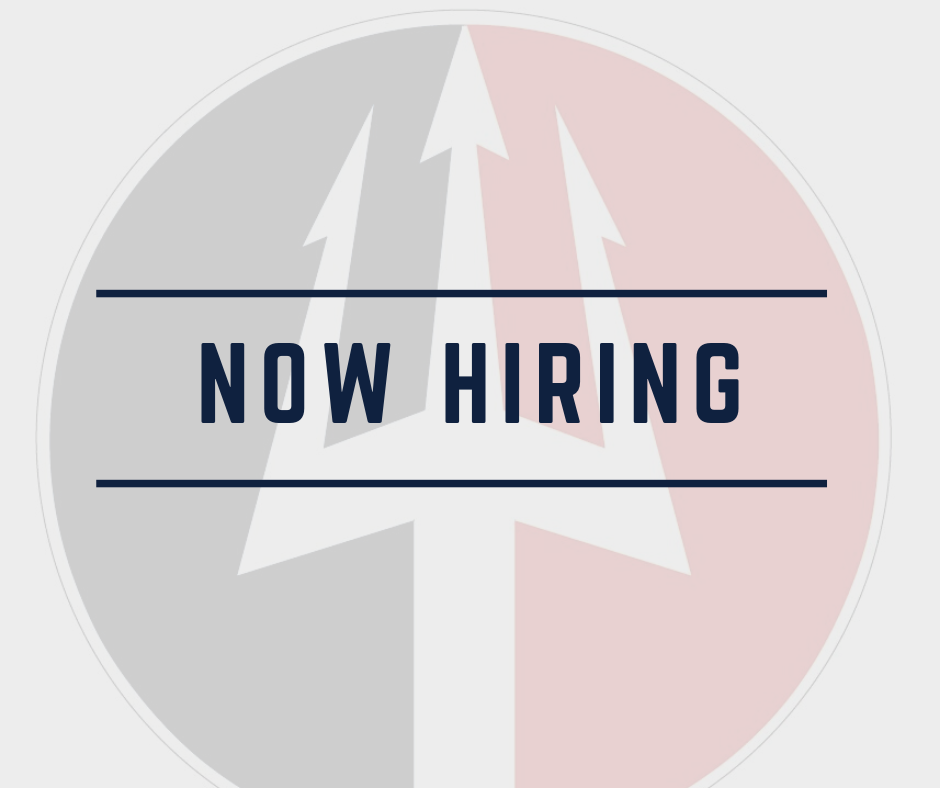 There has been a change in the plan for sealing and striping the parking lots. We are advancing the start date to tomorrow 7/14 and finishing on Saturday 7/16. The schedule is as follows: 7/14 - Prospect Elementary lot to be sealed. The lot will be closed - parking in the street. 7/15 - Middle School lot and bus loop to be sealed. Lots will be closed with parking in the High School and Auditorium lots. 7/16 - High School lot to be sealed. The campus will be closed.

The ATTICA CENTRAL SCHOOL DISTRICT'S AUDIT COMMITTEE will hold a meeting on June 23, 2022 at 6:00 p.m. in the High School Library, 3338 East Main Street Road, Attica, NY 14011

NOTICE OF ORGANIZATIONAL & BUSINESS MEETING An Organizational and Business Meeting of the Attica Central School District's Board of Education will be held on July 7, 2022, at 7:00 p.m. in the Sr. High School Library, Attica Central School District, 3338 East Main Street, Attica, NY, for the purpose of appointments, authorizations and designations, etc. for the 2022-23 school year and business matters. A Regular Meeting of the Board of Education will immediately follow the Organizational & Business Meeting. By Order of the Board of Education Attica Central School District Rebecca Sphar, District Clerk

Attention Attica community: The operating hours of our district's fitness center are changing. Starting June 25, its hours will be: • Monday: 6 to 9 p.m. • Tuesday: 5 to 9 p.m. • Wednesday: 6 to 9 p.m. • Thursday: 6 to 9 p.m. • Friday: closed • Saturday: 8 a.m. to 12 p.m. • Sunday: 8 a.m. to 12 p.m. Please note: Use of the fitness center continues to be free of charge for members of the community thanks to the School Climate Grant our district was awarded in 2019.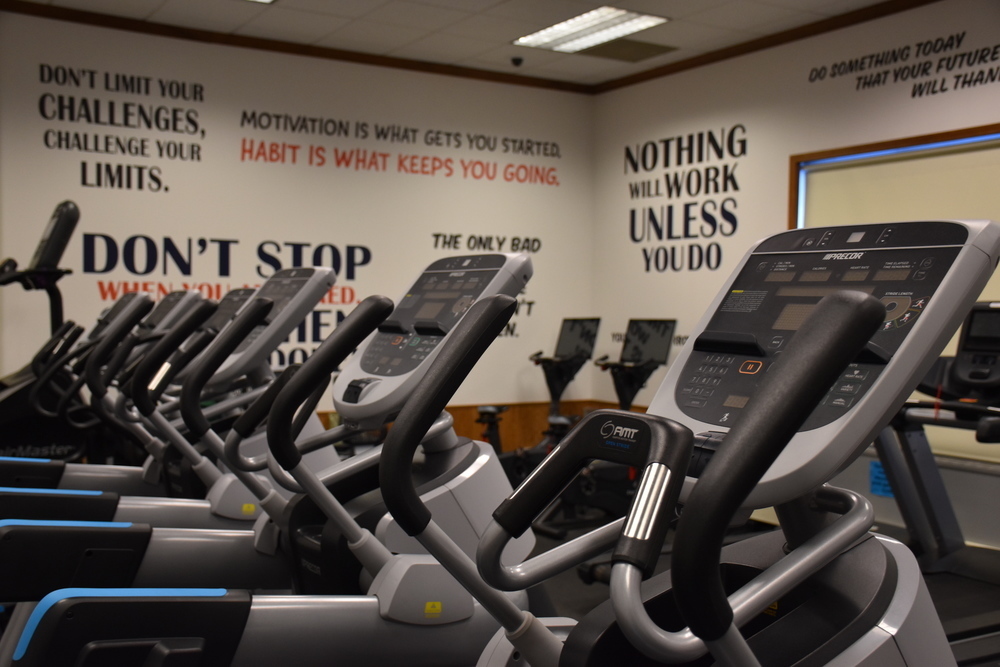 Dear Attica Central School Families, In the wake of the tragedies in East Buffalo and Uvalde, Texas, it has become difficult to find words that capture the heartache and deep despair over such senseless losses of innocent lives. For those of us who are parents and/or deal with children each day, the killing of schoolchildren and their teachers causes us to fear for the safety and security of our own children. I am writing to let you know that the health, safety, and security of the students and staff in our District buildings are our highest priority. We sometimes feel helpless when faced with such devastating and traumatic events. However, there is much that we can do and are doing to keep our campuses safe. Here are a few of the most important proactive measures we practice: • Securing exterior doors during school hours and utilizing a single entrance for visitors in each of our schools • Preparing for emergencies through frequent drilling and safety and security training for staff • Monitoring student use of the internet to flag threatening language and identify students who may need to be interviewed • Anonymous reporting for safety concerns of students or parents:
https://www.atticacsd.org/page/safe-schools-helpline
• Continuing to build mental health and support capacity with additional professional staff and trainings • Utilizing our School Resource Officer and our law enforcement partners to patrol our campuses and respond to events • Improving building safety through the use of capital projects – this summer we will construct secure vestibule entrances in the Middle School and Elementary School Most importantly, we will continue to build strong relationships with our students so that when a student is struggling, we will know it and react to whatever issues they are having quickly and effectively. As I stated to you just a week ago, we must reassure our children that they are safe and that we will do our very best to protect them. Also, if your student is struggling as a result of the most recent events, please contact their counselor, principal, or teacher so that we can work together to support them. Finally, please talk to your child(ren) about reporting any threatening behavior they see. Information is crucial in preventing tragedies. Thank you for your continued partnership in the care of our most precious resource – our children. Sincerely, Timothy C. Hayes Interim Superintendent

We have been receiving many questions regarding the UPK program in the fall. In response to those inquiries, this information is an update for parents and guardians of incoming UPK students. As you know, the UPK program is funded by a grant from NYS, and as a result, there are certain steps and procedures that we need to follow in order to be in compliance with the parameters of the grant. One of those procedures governs how final placements for UPK sessions need to be determined. As a result of the number of applications received, we will need to hold a random lottery to determine the final enrollment for AM and PM sessions. We will be holding the lottery at 1:00 PM on Friday, May 27th in the lobby of the district auditorium, and families will be contacted with the results following the drawing. While it is not required, parents are welcome to attend the lottery should they choose to do so. We appreciate your support of this program and are looking forward to seeing your children in the fall.

Today's Vote Results: School Budget: Passed (211-yes, 126- no) School Van Purchase: Passed (239-yes, 95-no) School Board Members re-elected: Susan Herman (288), Thane Wright (279) Library Budget: Passed (225- yes, 107-no) Library Trustee elected: Jennifer Wilkinson (271) Full results can be found here:
https://5il.co/1aq12

Dear Attica Central School District Families, I am heartbroken that once again we are experiencing the horror of a mass shooting in our country. To have it take place in Buffalo, a community so near to us, and in a Tops store, creates a frightening reality that this type of violence can happen anywhere. It reminds us that we need to care for one another and check on the health and wellbeing – both physical and mental – of our family and friends. It also reminds all of us that if we see violent or alarming behavior, we should report it. Our children are impacted by mass violence in ways that they may have difficulty expressing. In our schools, we are monitoring our students and looking for any signs that a student may be having difficulty dealing with this tragedy. Should you have questions or concerns regarding your child(ren), please don't hesitate to contact your child's school counselor, nurse, teacher, or principal. There are many resources available for children and parents that our staff members can help families access. As much as possible, we need to reassure our children that they are safe and that we will do our very best to protect them. We also need to condemn the hatred that leads to violence in our communities. Truly, we must seek to find the connections we have with one another versus the differences. I know our community joins me in praying for the victims in Buffalo and their families. I pray also that this kind of violence ends and that our communities are safe so that our children may grow and thrive without fear. Sincerely, Tim Hayes Interim Superintendent

ATTICA CENTRAL SCHOOL DISTRICT NOTICE OF SPECIAL BOARD OF EDUCATION MEETING A Special Meeting of the Attica Central School District Board of Education will be held on Monday, April 25, 2022, at 7:15 pm at the Attica Hotel, 28 Exchange St, Attica, NY 14011 for the purpose of Executive Session. By Order of the Board of Education Attica Central School District Rebecca Sphar, District Clerk

Attica Central School currently has a live, online, public auction for surplus items open until April 27th. Interested bidders may view the items at: auctionsinternational.com

ATTICA CENTRAL SCHOOL DISTRICT NOTICE OF SPECIAL BOARD OF EDUCATION MEETING A Special Meeting of the Attica Central School District Board of Education will be held on Thursday, April 21, 2022, at 5:45 pm at the Attica's 10th Hole & Golf Course at 95 Bunnell Street, Attica, NY 14011 for the purpose of approving the 2022-23 Property Tax Report Card. By Order of the Board of Education Attica Central School District Rebecca Sphar, District Clerk

Dear Attica Central Families; In an effort to alleviate safety issues during the Middle and High School dismissal time, we want to remind drivers who pick up students to please be aware of the following items: 1. Students are to be picked up in the section of the loop between the bus loop crosswalk and the south end of the parent loop (towards the stadium). Do not pick up students before reaching the traffic cone on the sidewalk in the loop. Please pull up in the loop as far as possible and allow your student to walk to your vehicle. 2. Dismissal for Middle and High School students is 3:10 pm. Cars arriving for pick up far in advance of dismissal cause vehicles to park on the shoulder of State Route 238 (East Main Street Road.) This creates safety issues for pedestrians and for vehicles trying to enter and exit the school lots. Once pick-up begins, cars move quickly through the loop. The entire pick-up loop is empty in 5 minutes. There is no need to arrive early. Being attentive to these important safety reminders will help us keep traffic moving and keep all of our students safe. Your cooperation is greatly appreciated.