Attica Central has cancelled all after-school activities for tonight (1/25). The fitness center in the evenings (adults) is closed as well.

All afterschool activities are cancelled today, Wednesday, 1/25/23, due to the inclement weather.
Shout out to junior guard Jack Janes, who was named Genesee Region Player of the Week last week for his performance during Attica's recent basketball games against Holley and Notre Dame. Jack had an excellent game against Holley, going nine of 10 from behind the arc to finish with 33 points. Then, battling foul trouble against Notre Dame, Jack finished with nine points, eight rebounds and two steals. Congratulations, Jack!
A few of our middle school students assembled in Mrs. Susie Baker's classroom after school last week for the first meeting of Attica's PenPal Club. "At our first meeting, we googled other states that had Attica as a city or town," said Baker, the club advisor. "We found schools within those towns and wrote letters to them." Students gave a bit of information about Attica - like our school colors and mascot and how Wyoming County has more cows than people. "Then we asked about things that are unique to their school and town," said Baker. "We're looking forward to getting responses for our next club date in February." The PenPal Club is funded by the $2.8 million School Climate Grant awarded to the district by the U.S. Department of Education in 2019. (Photos courtesy of Erin Holt)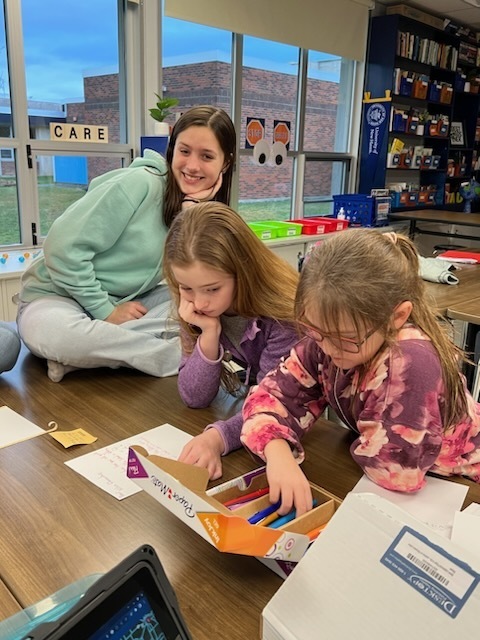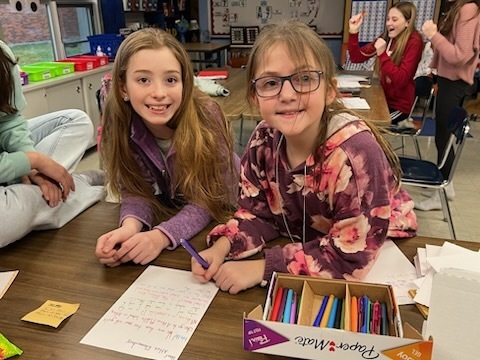 Shoutout to senior Skylar Savage, who recently committed to further her education and track career at D'Youville University in Buffalo! Congrats, Skylar - we can't wait to see what you achieve at the next level! (Graphic courtesy of Luke George)
Congratulations goes out to the Attica Winter Competitive Cheer squad as they brought home first place honors at the annual Hilton Pride & Spirit Invitational on Saturday. The Lady Blue Devils tabulated 81.5 points for their performance (their highest total to memory) while besting Canandaigua and LeRoy who finished 2nd / 3rd place respectively…Great job ladies!!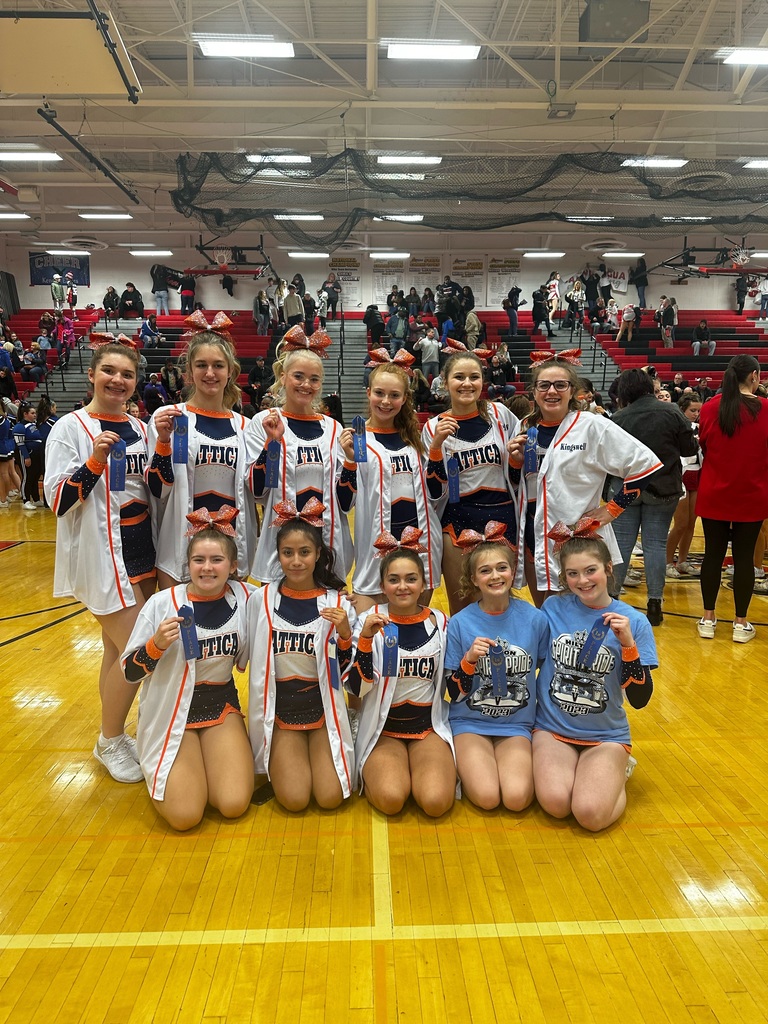 Congratulations goes out to the Attica/Batavia wrestling team for finishing in 3rd place in the Section V Division 1 (large schools) Dual-Meet Championships. After upsetting Pittsford HS in the quarter-finals, Attica/Batavia was defeated by #1 ranked Hilton HS. Hilton then moved on to defeat Fairport HS in the finals to secure their berth into the State Dual Meet Championships. In the consolation match for 3rd place, the Blue Devils upset Brockport by a score of 39-36. This victory avenged a loss to Brockport earlier this season. Great job by our local grapplers!
We would like to give a shout-out to the Attica/Batavia varsity wrestling team as they will be competing tomorrow morning (at Fairport HS) in the semi-finals of the Section V dual meet championships vs. Hilton HS. The Blue Devils advanced with a big quarterfinal victory over state-ranked Pittsford on Wednesday. Tomorrow's match is slated to kick off at 10:15 a.m. Go Blue Devils!
Congratulations goes out to Attica senior Libby Kibler for being voted the top female swimmer at today's HAC Swim Invitational in Rochester. Libby won the 100 meter breaststroke and was also a member of the championship 200 meter free relay team. Joining her on that first place relay squad was Samantha Alfiero, Kim Piorun, and Kate Metzger.
Congratulations to Attica junior swimmer Joe Parkhurst. At today's HAC Invitational, he broke 2 meet records in the 50 free and 100 breaststroke. In the 50 free, he also broke the school record with a time of 21.44 - the 5th fastest recorded time this year in NYS. Joe also broke the school record in the 100 breaststroke and hit the state standard time. He will now represent Attica Central in both events at the State championships next month!!
Congratulations to Coach Cusmano for being recognized and honored as the Buffalo Bills Section V Coach of the Year at halftime of today's Bills vs. Patriots football game at HighMark Stadium. Coach Cusmano led the Blue Devils to the school's first football sectional title this past fall.
Attica Central is still looking for a second modified girls basketball coach. The season will start on January 17th. Practices will run from 3:30 - 5:30. If interested, please get in touch with their Athletic Director at
eromeseer@atticacsd.org
.
The Attica Fitness Center will be closed this evening (12/22) from 6:00 - 9:00. Please accept our apologies! It will reopen on 12/27 from 6:00 - 9:00 pm.
Congratulations to the following Attica athletes for being selected to the 2022 Fall "All-Greater Rochester" team in their respective sports: Clayton Bezon - Football Case Hill - Football Simon Lamparelli - Boys Soccer
Attica families, Due to the anticipated inclement weather, Attica Central School District will be closed tomorrow - Friday, December 23, 2022. Stay safe and warm, Blue Devils, and have a fabulous Winter Recess. We'll see you in the new year!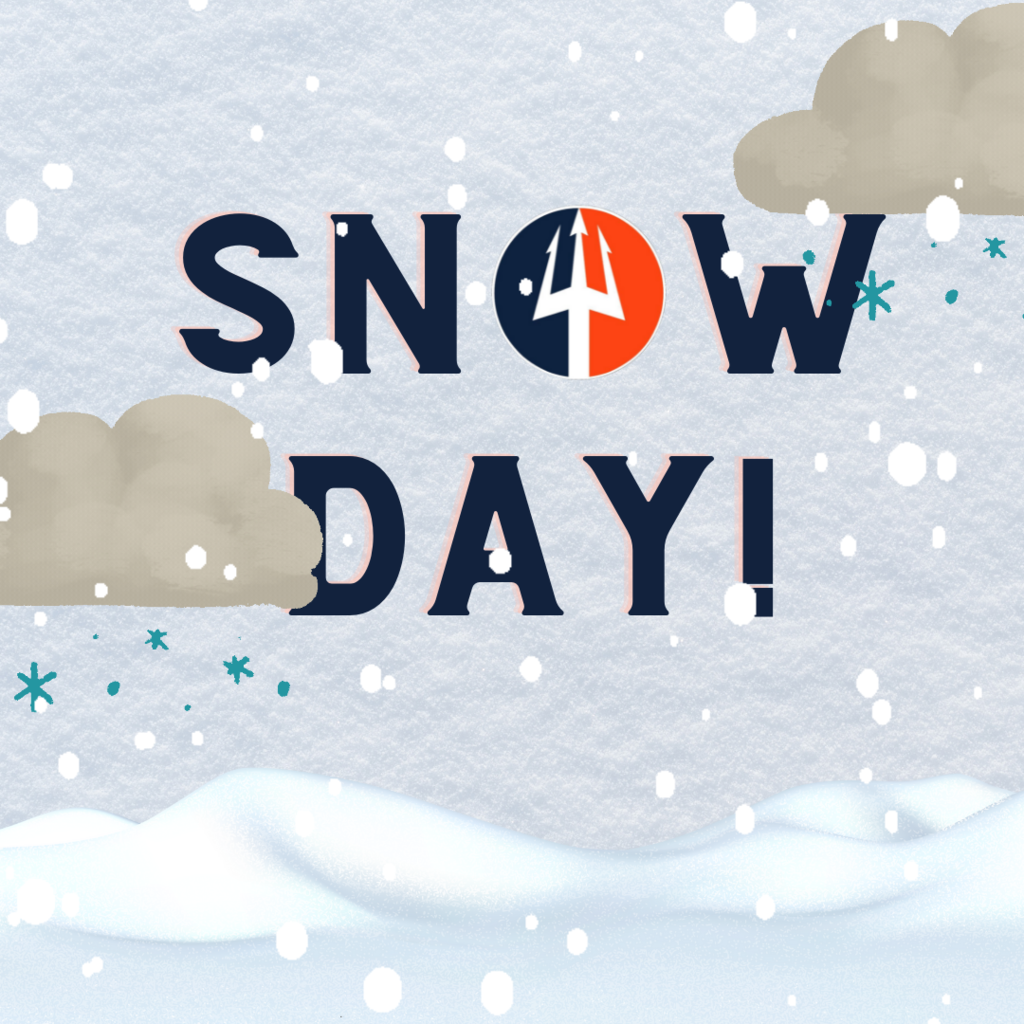 ACS Adult (evening) Fitness Hours of Operation over the holiday break: Closed: 12/24, 12/25, 12/26 Open: 12/27, 12/28, 12/29, 12/31 Closed: 1/1, 1/2 Open: 1/3 and then follow normal days and hours of operation.
Congratulations to junior Joe Parkhurst for an outstanding swim tonight vs. Batavia / Notre Dame. In the 50 free event, Joe met the state standard by swimming a 22.14. This time automatically qualifies Joe for the New York State Swimming Championships at the end of the season.
With the cancellation of all after school activities today - the adult fitness room will also be closed tonight from 6:00 - 9:00 pm….

Good Afternoon, All afterschool activities are cancelled today, Thursday, December 15th, due to inclement weather.