School is closed today, Monday, January 10th, due to a water main break.

School is closed today, Thursday, January 6th, due to current weather situation.

The Attica School District is looking for a certified lifeguard to be able to cover the middle school (grades 5-8) physical education swim classes. Services would be needed for roughly 10 weeks and would run from January 3rd through mid-March from 8:15 - 3:15 on Monday through Friday. If interested, please contact our Athletic Director - Eric Romesser asap @ 585-591-0400 ext. 1176.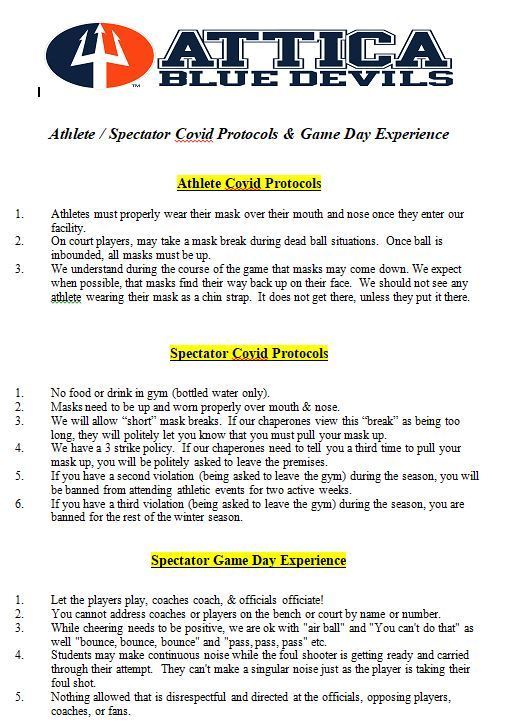 Attica BOE Names Timothy Hayes as Interim Superintendent of Schools At the December 9 meeting, the Attica Central School District Board of Education (BOE) appointed Timothy (Tim) Hayes as the interim Superintendent of Schools for the term of January 1, 2022, until June 30, 2022. Hayes retired in 2019 as the Superintendent of Schools of the Geneseo Central School District after serving for 13 years in this role. He most recently served as the interim Executive Director of the Cornell Cooperative Extension of Livingston County and the interim Principal of Alexander Elementary School. Christopher Day, President of the Attica Central School District BOE, noted how Hayes' experience and attributes will best serve Attica Central Schools. "We are pleased to have such a knowledgeable school administrator as Tim Hayes who will serve our school community for the next six months as we chart the course for our new superintendent." The search for the new superintendent will commence in Spring 2022 with an anticipated start date of July 2022. Kevin MacDonald, District Superintendent of Genesee Valley BOCES, will serve as the search consultant.

The annual "Go Home Early" drill is scheduled for Friday, December 10, 2021. All students will be dismissed earlier than the normal dismissal time. This is a requirement of the NYS Education Department to ensure that students and staff are prepared in case an emergency requires school grounds to be cleared and students to be transported home or to another location. Elementary Dismissal: 10:45am Middle & High School Dismissal: 11:10am Buses depart at 11:20am Please plan accordingly as students will then also be arriving home earlier than normal. For more information on the drill, please contact your child's school building main office.

Digital Equity Survey Parents should look for the letter and the survey to be coming home with all students beginning Monday, December 6th. Please have it returned by Friday, December 10th. The letter can be found at the following link:
https://5il.co/12ofk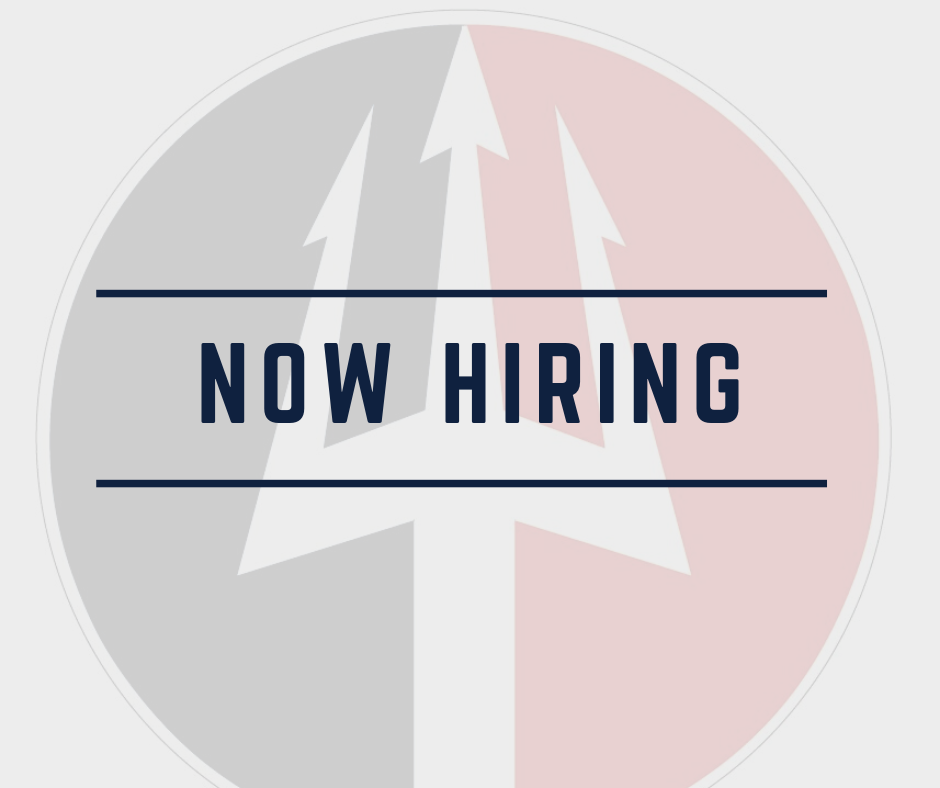 "Early Go Home Drill" will take place on Friday, December 10, 2021. On this date, students will be dismissed from the Elementary School at 10:45am, High School and Middle School will dismiss at 11:10am, buses will depart at 11:20am.

Bus Stop Reminders Please make sure your child(ren) are out waiting for the bus a couple of minutes before their scheduled pick up time to ensure on time pickup for everyone. Don't forget to sign up for the SAFESTOP App to receive alerts when your bus enters into your custom alert zone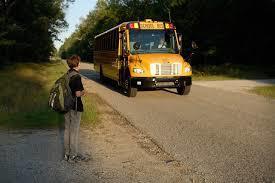 Message from the Board of Education: This morning, the Board of Education approved the resignation of Mr. Bryce Thompson, Superintendent of Schools, who will be retiring from the district effective December 31, 2021. The Board of Education thanks Mr. Thompson for his many years of service to the district. Superintendent Thompson's decision to retire in December provides the Board with an opportunity to bring in an interim Superintendent to serve as a transitional leader for the District beginning January 1st while conducting a search for its next Superintendent of Schools. Genesee Valley BOCES Superintendent, Kevin MacDonald, will lead the Board's efforts as our search consultant to fill both roles. The Board is committed to a thorough and thoughtful search process that includes stakeholder and community input. More information on the appointment of the Interim Superintendent and the Superintendent search will be communicated over the next several months.

ATTICA CENTRAL SCHOOL DISTRICT NOTICE OF SPECIAL BOARD OF EDUCATION MEETING A Special Meeting of the Attica Central School District Board of Education will be held on Wednesday, September 29, 2021 at 8:00 am in the Attica Senior High School Library, 3338 E. Main Street, Attica, NY 14011. By Order of the Board of Education Attica Central School District Rebecca Sphar, District Clerk

In an effort to provide access to positive COVID19 case information for the district, we have created a link on our website that includes any positive case report for any of our buildings. This site will be updated as positive cases and close contacts are confirmed. The link can be found on the homepage as well as the Quick Links. Please visit this site for up-to-date positive case information as daily notices will not be sent out.

Message from the Board of Education and the Superintendent of Schools: In light of the events that occurred at our Board meeting on September 9, 2021, we felt it would be helpful to share some information with you prior to our next scheduled meeting on September 23rd. School Board meetings are formal business meetings for the District where information is provided to the Board, reports are considered and, as necessary and required, resolutions are voted upon by the Board for approval. The Board includes a Public Forum session so that it can hear the views of citizens whom wish to speak. Because it is a public meeting of the Board, not a meeting between the Board and public, the Board does not typically engage in discussion of the issues raised during the public forum. As appropriate, the Board President or Superintendent may respond at a later time. Our longstanding process is outlined here -
https://core-docs.s3.amazonaws.com/documents/asset/uploaded_file/1280111/public_forum_form.pdf
The community members in our district are known to practice civility and respect; however, some attendees at the September 9th meeting refused to follow clear protocols for mask wearing. The actions of these individuals disrupted the meeting to the extent that the Board was forced to consider only consent agenda items, executive session and then end the meeting. In doing so, the Board was unable to consider other business items scheduled for the meeting including budgetary matters, Genesee Valley Partnership (BOCES) business, matters included within the Superintendent's Report, and consideration of items for new business. In addition to disrupting the meeting, the actions of these attendees also did not model appropriate behavior for our students who are required to comply with the Code of Conduct each day on school property. We understand that some community members are opposed to masks and want to express their opposition and frustration to the Board of Education. We also understand that other community members are in favor of masks. That being said, it is important for everyone to understand that at the present time, the Board does not have discretion about this particular issue. Our District, along with all other school districts, BOCES, and private schools in New York, are subject to a mask mandate imposed pursuant to emergency regulation and Commissioner of Health Determination. There are significant financial penalties for non-compliance. We cannot, and we will not, violate this mandate. As a Board of Education, we work collaboratively to act in the best interests of everyone in the District. Since last year, the Superintendent of Schools and Board of Education have advocated for local control over school operations so that we can make decisions in the best interests of our District based upon the conditions present in our community. We will continue to advocate for local control moving forward. We would encourage those who have strong feelings on these issues, whether in support of, or against, the current New York State requirements, to direct your advocacy efforts to our local legislators as well as directly to Governor Hochul's office and the New York State Department of Health. We expect that those in attendance at upcoming meetings will comply with the required protocols for attendance as well as participation in Public Forum. Should attendees at future Board meetings disregard the required protocols or otherwise act to disrupt the meeting, we will have no choice but to consider alternate options in order to conduct meetings so that the Board of Education can focus on the important work of the District.

The Safe Stop App for tracking the buses is now back up and running, thank you for your patience.

Thank you for your patience and understanding as we all navigate the return of all students to school. The first couple days of every new school year, the staff at the Elementary School spend some additional time at dismissal assisting the youngest children to their buses and coordinating all the children's dismissal plans. This causes a delay in the buses departure from the Elementary School to the High School. The students in the Middle School and High School are not dismissed until the buses arrive at the bus loop. We understand this causes a backup at the parent loop and we apologize for the inconvenience. This delay is necessary the first couple days of school to ensure that children are where they are supposed to be. As we move forward in the coming days and everyone becomes more familiar with the routine, we are confident there will be minimal delays and the process will be much smoother. As always, thank you for your support.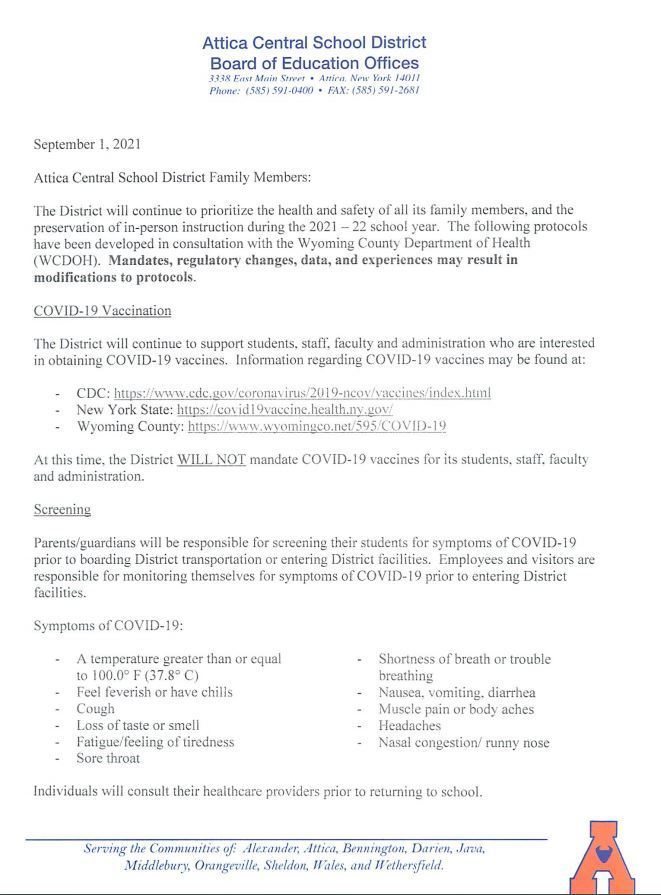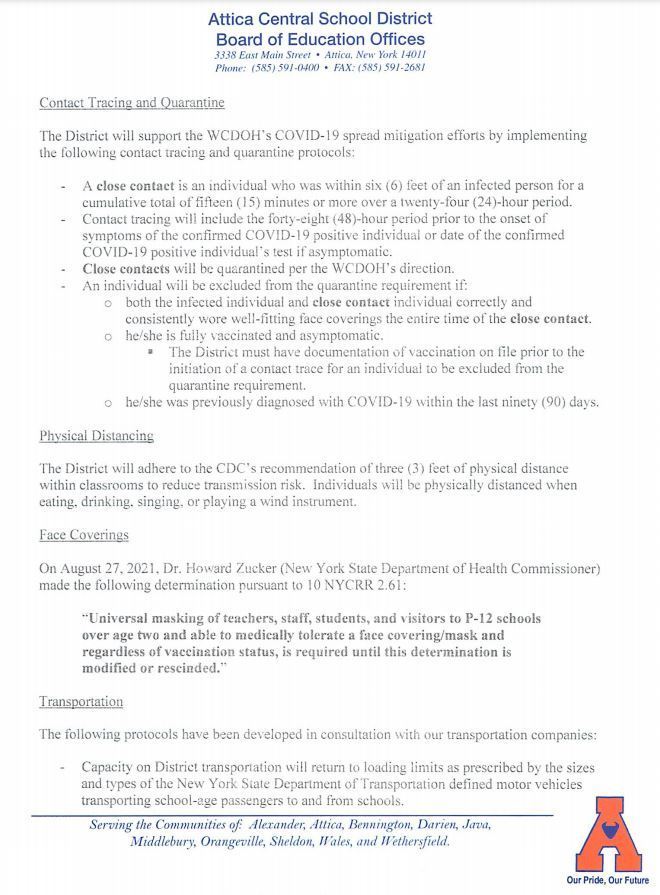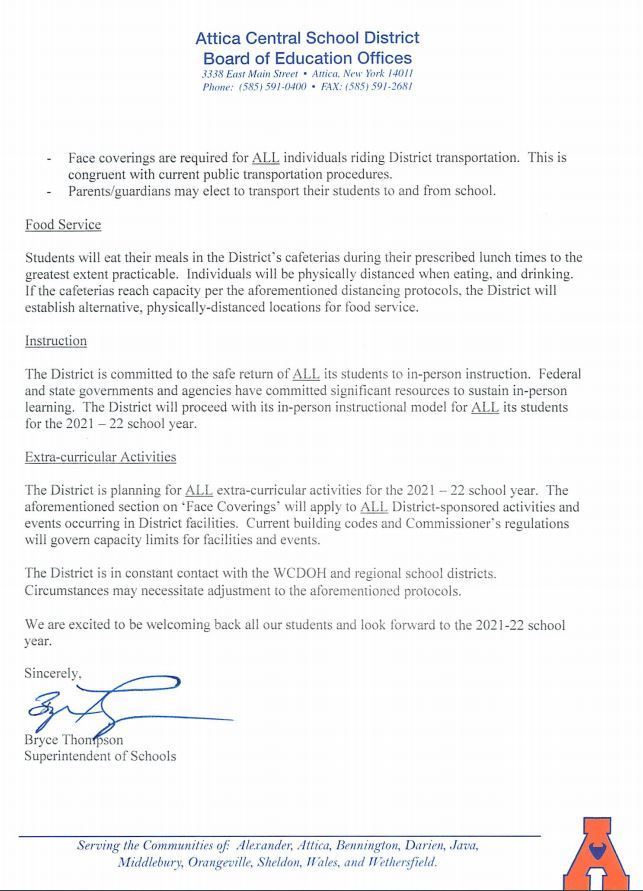 On Friday, August 27, 2021 at around 5:30 PM, the following message was received from the New York State Department of Health: "Effective immediately, in accordance with the Commissioner's Determination issued pursuant to 10 NYCRR 2.60, any person over the age of 2 (including all students, personnel, teachers, administrators, contractors, and visitors) must wear masks at all times indoors in P-12 school buildings, regardless of vaccination status." In response to this determination and effective immediately, Attica Central School District is requiring face coverings to be worn indoors by all individuals age 2 years and older, including students, teachers, staff and visitors, regardless of vaccination status. Any additional updated protocols will be provided as soon as possible.