Congratulations to our boys swim team as they broke 3 school records last night at the preliminary rounds of the Class C Swim Sectionals held at Bath-Haverling High School. In the 200 Medley Relay - Joe Parkhurst, Ethan Houghton, Sam Dunlop, & Matt Kingswell came together to swim a school best 1:47.58. Joe Parkhurst then doubled up breaking two more school records in the 50 free (21.32) and the 100 breaststroke (57.84).... Joe's 50 free time also broke the Section V Class C record. His 100 breaststroke was the 7th fastest time recorded in New York State this year. The boys will look to break more records as the will head back to Bath-Haverling for the second day of sectionals on Thursday.
What better way for our kindergarteners to celebrate the 101st day of school today than with a "101 Dalmatians"-themed dress up day? It's a match made in heaven! (Photos courtesy of Sherry Bennett)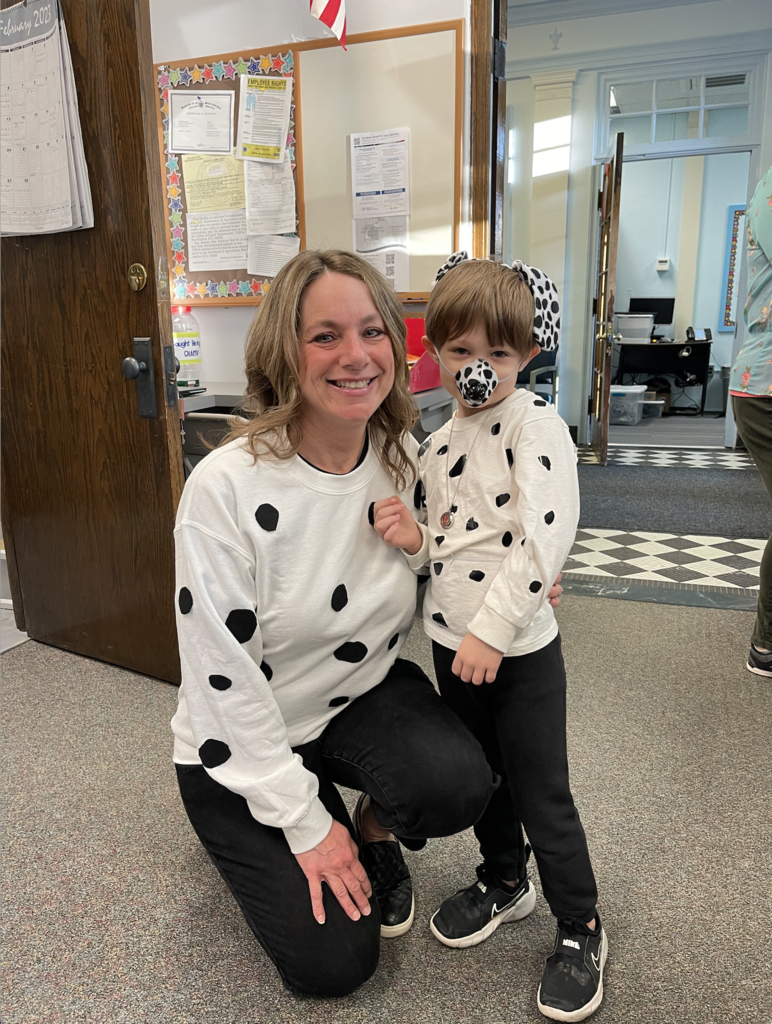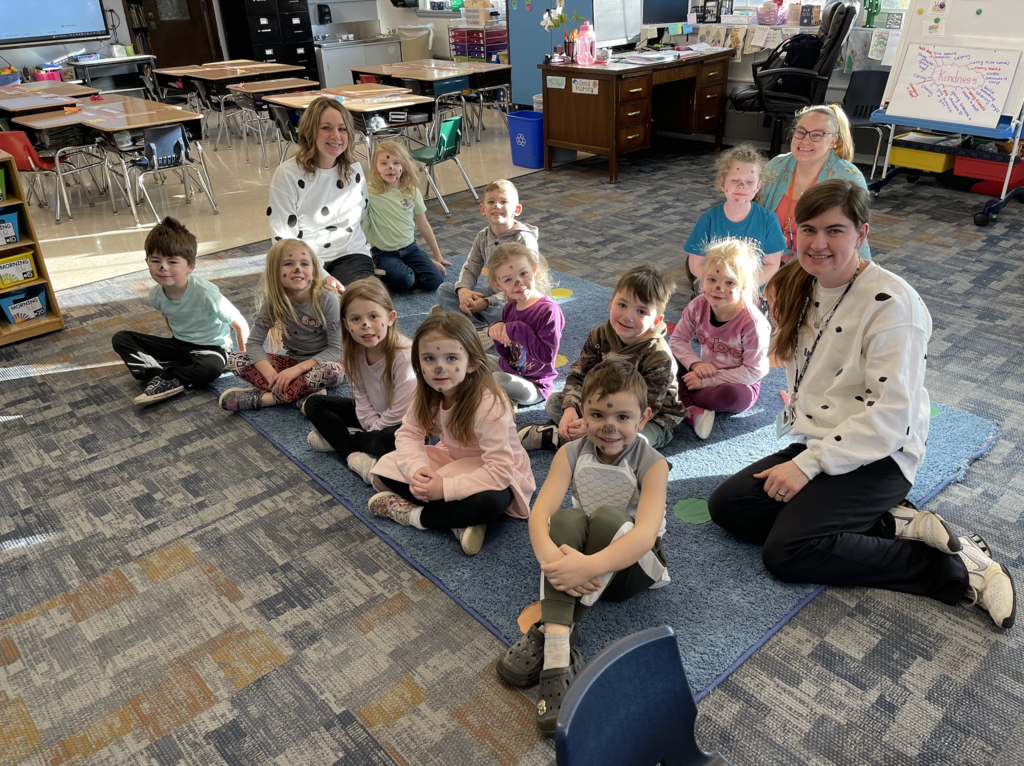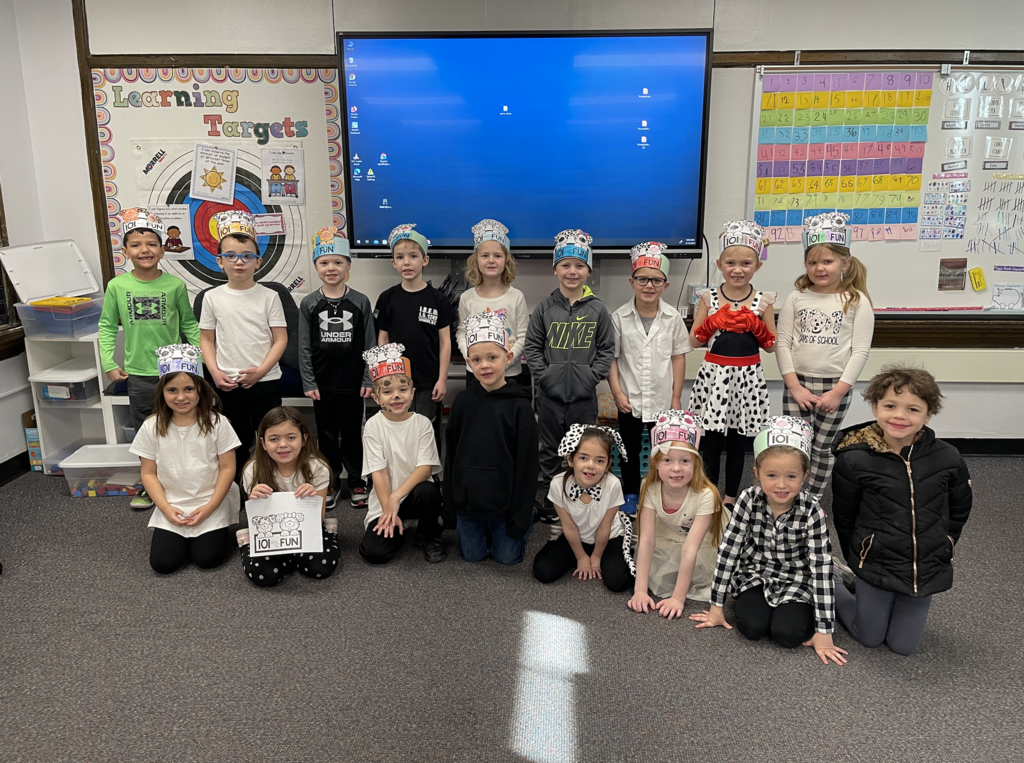 High school mathletes ended their 2022-23 Interscholastic Mathematics Competition season on a high note last week as Attica's 'A' team calculated its way to a third place overall finish while Jonah Clark was named the highest-scoring senior in the entire competition. In addition to Jonah, Cassidy Shafer, Ji Wheeler, Libby Kibler and Olivia Bernacki all placed among the top 15 high-scoring mathletes in the region and were invited to the state competition. Attica's 'B' team had a very strong season as well, finishing in sixth place overall. The Interscholastic Mathematics Competition season consists of four meets. Each meet consists of six rounds - five individual rounds and one team round. At the final meet, team scores are totaled from each of the four meets to determine the season's final rankings. Attica's A team finished with 567 points, behind Oakfield-Alabama's 599 and the Byron-Bergen 'A' team's 678. This season, 10 teams from Attica, Alexander, Batavia, Byron-Bergen, Le Roy, Oakfield-Alabama, Pavilion and Pembroke schools competed in the Interscholastic Mathematics Competition. Congratulations, mathletes, on a great season! (Photos courtesy of Will Paddock)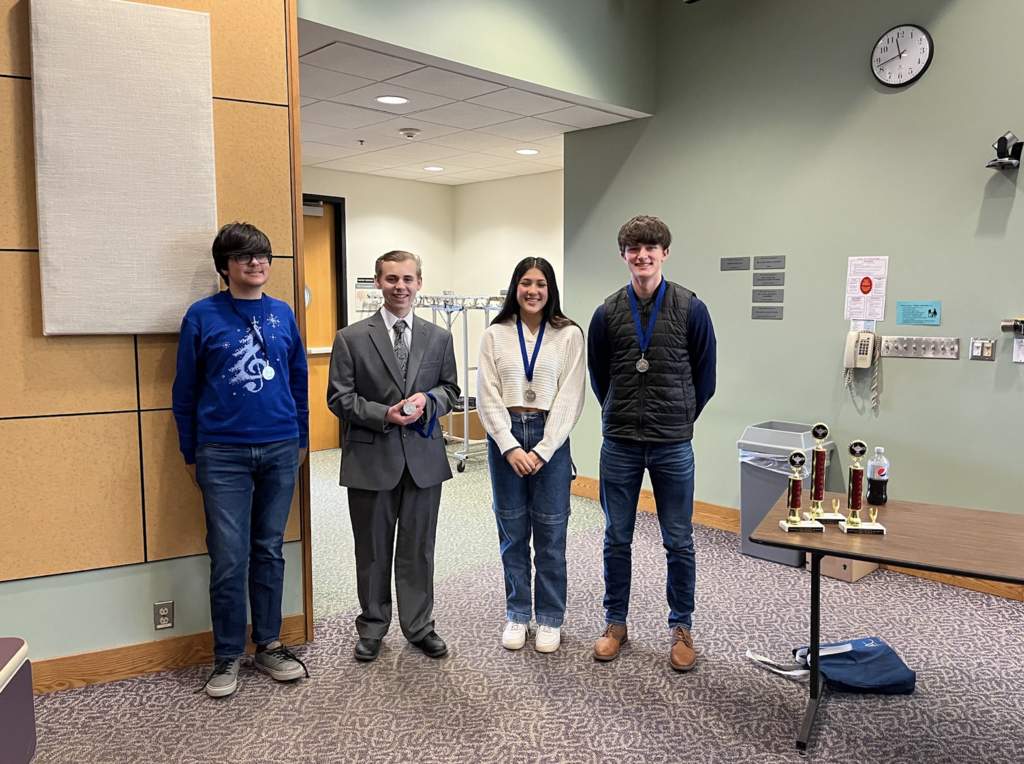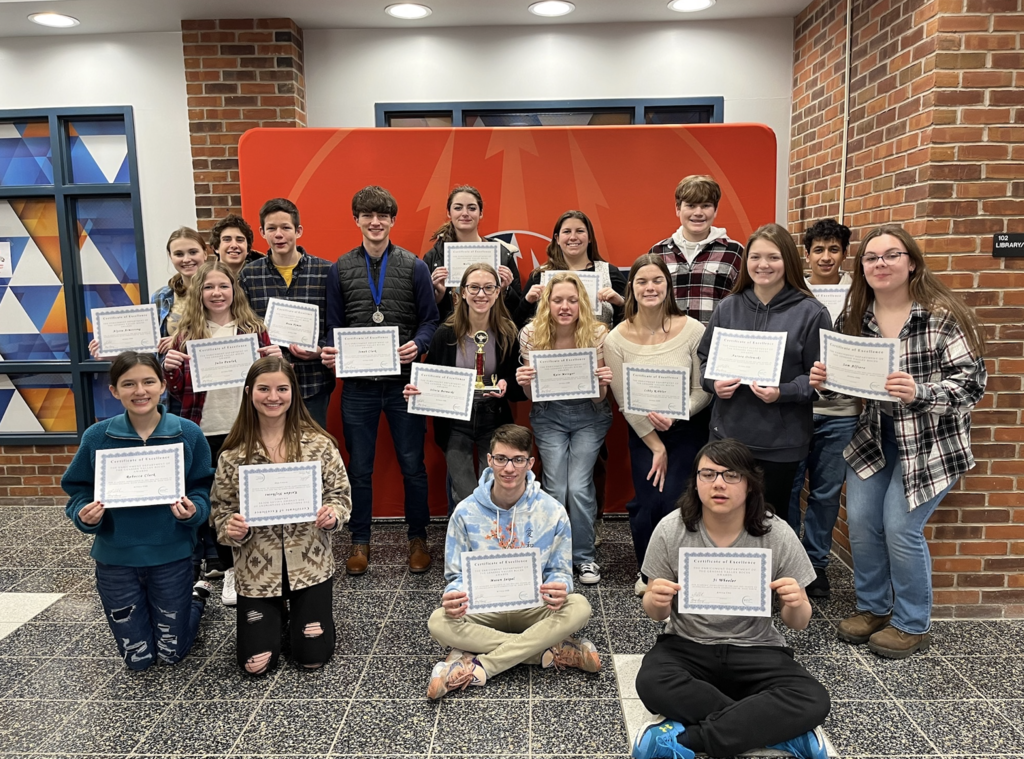 Some of our elementary schoolers gave junior Alana Pellicane a hand yesterday as she set about making a kindness tree in the high school main lobby. A member of our High School Youth Empowerment Club, Pellicane filled the tree with heart-shaped leaves bearing positive messages. Kindness Week is a celebration of all the ways we can become a positive influence in each other's lives. All week, Attica students have been encouraged to commit random acts of kindness toward one another. We've also placed blank cards in different offices for kids to come down and write notes to staff or friends. Our Middle School Youth Empowerment students have done positive messages on the announcements all week and our Elementary Leadership Club students are making kindness bracelets to distribute. It's all part of our goal to Love, Serve and Care for one another this school year! (Photo courtesy of Tricia Janes)
Our fourth graders really enjoyed the Valentine's Day-themed STEM challenges Beth Falsone, Attica's technology integration specialist, planned for them yesterday. Thank you Beth!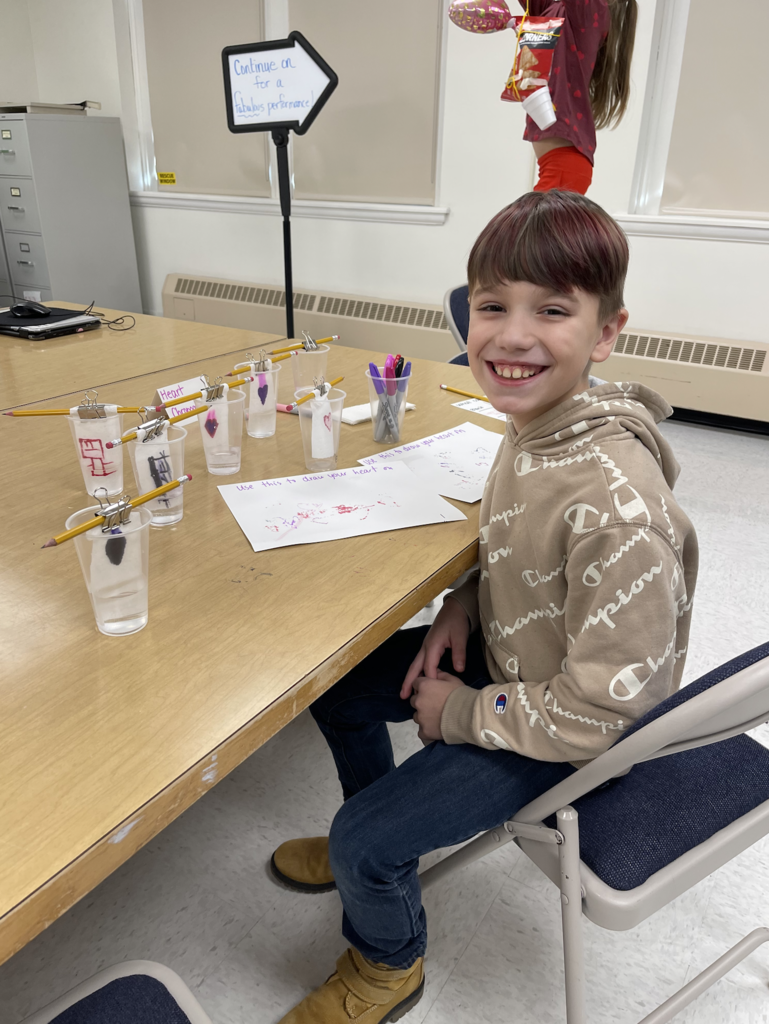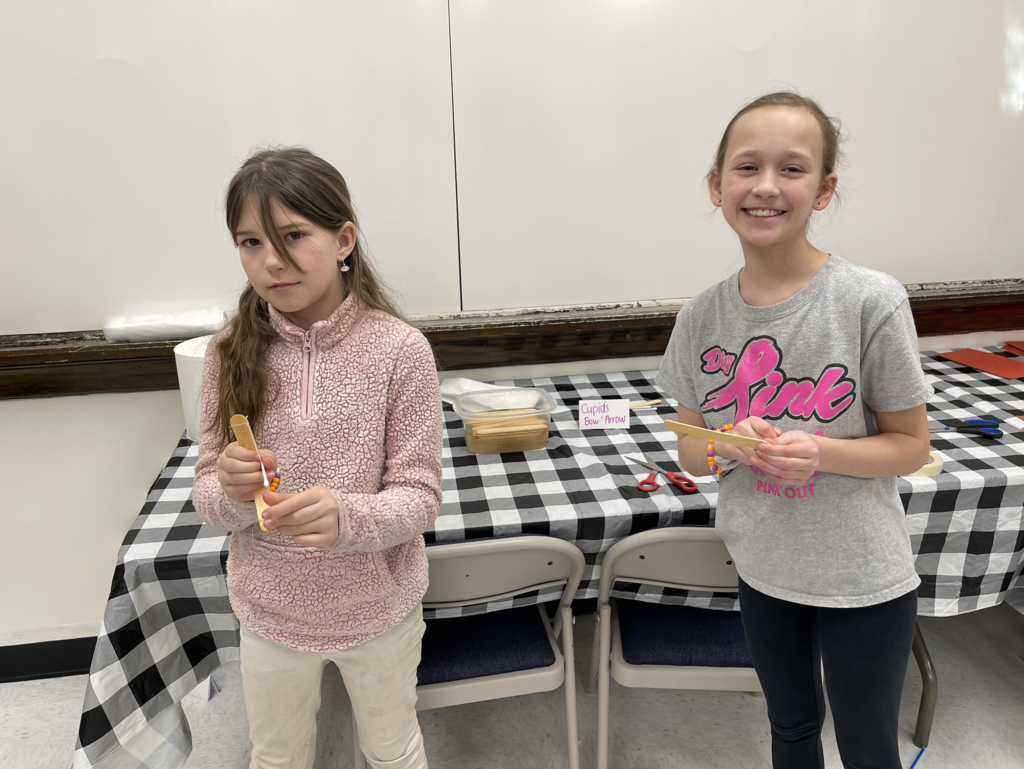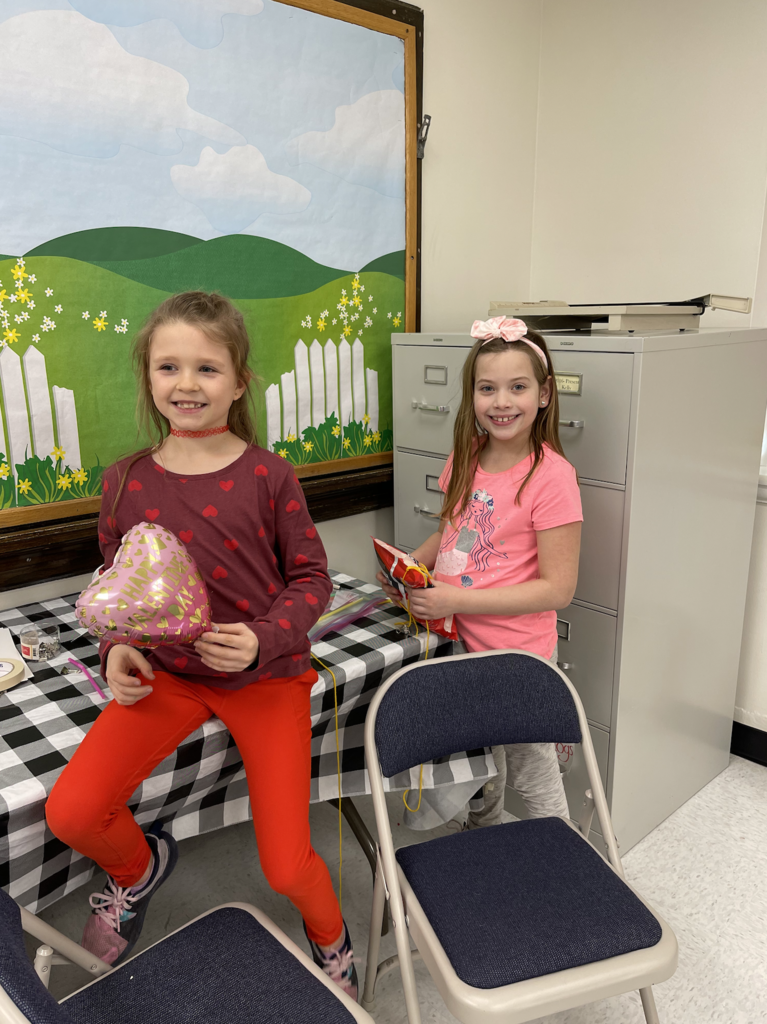 Fifth and sixth graders selected for All-County Elementary Chorus have been hard at work rehearsing with Middle School Music Teacher Julie Daley. To be considered for the prestigious ensemble, students auditioned for Daley, who then selected the 10 students who'd performed best. Their concert is March 25 at 2 p.m. at Elba Central Schools. The concert will also feature performance by the All-County Junior High Band and All-County Senior High Chorus. Attica students selected for All-County Elementary Chorus are: Fifth grade • Hudson Sphar (soprano) • Eden Domes (soprano) • Emily Woloszyn (soprano) • Ally Landphair (soprano) Sixth grade • Quinn Jerge (soprano) • Norah Sphar (alto) • Gabriela Mercado (alto) • Zoey Degroot (alto) • Stasia Struzik (alto) • Lily Vanson (alto) (Photos courtesy of Julie Daley)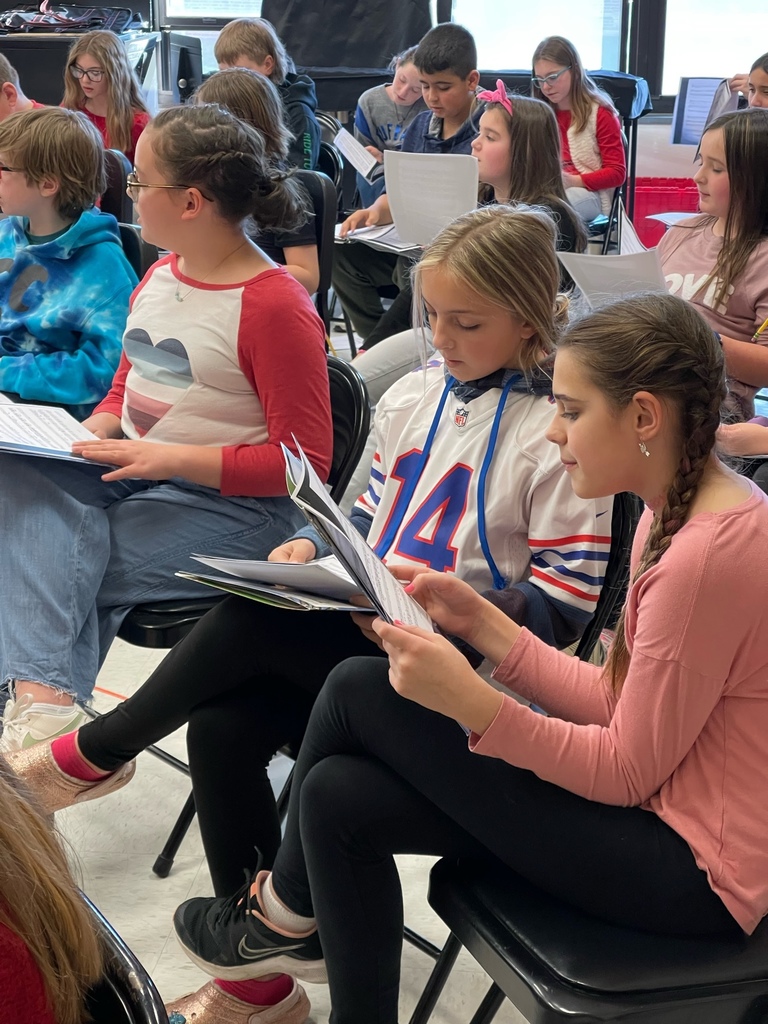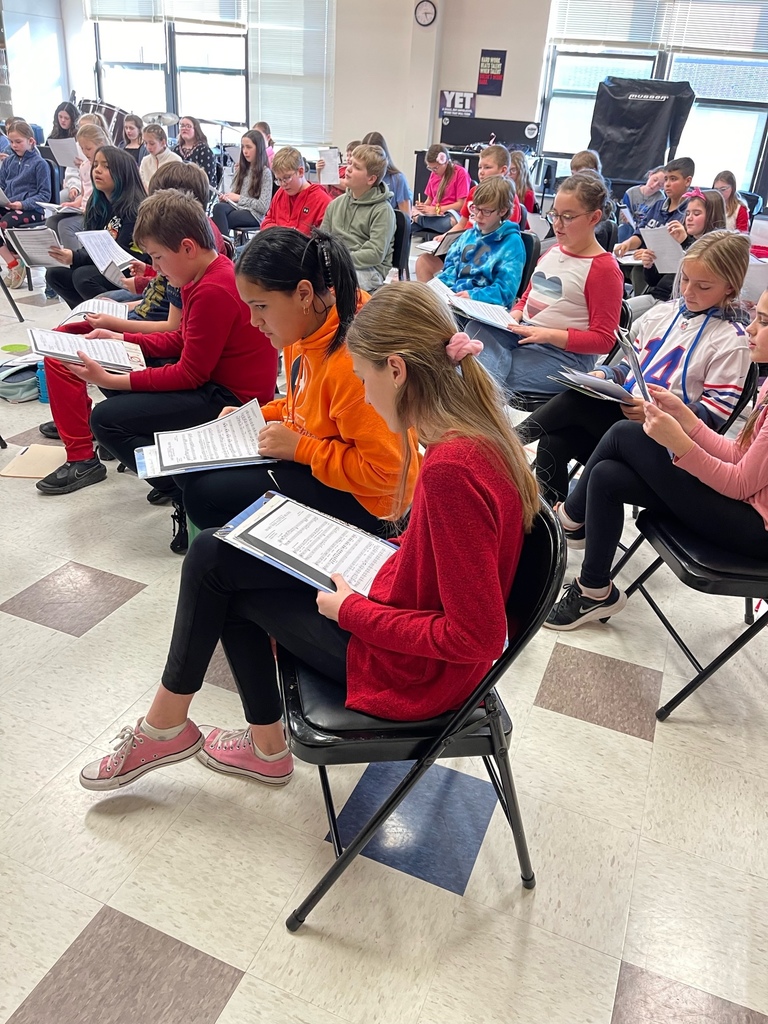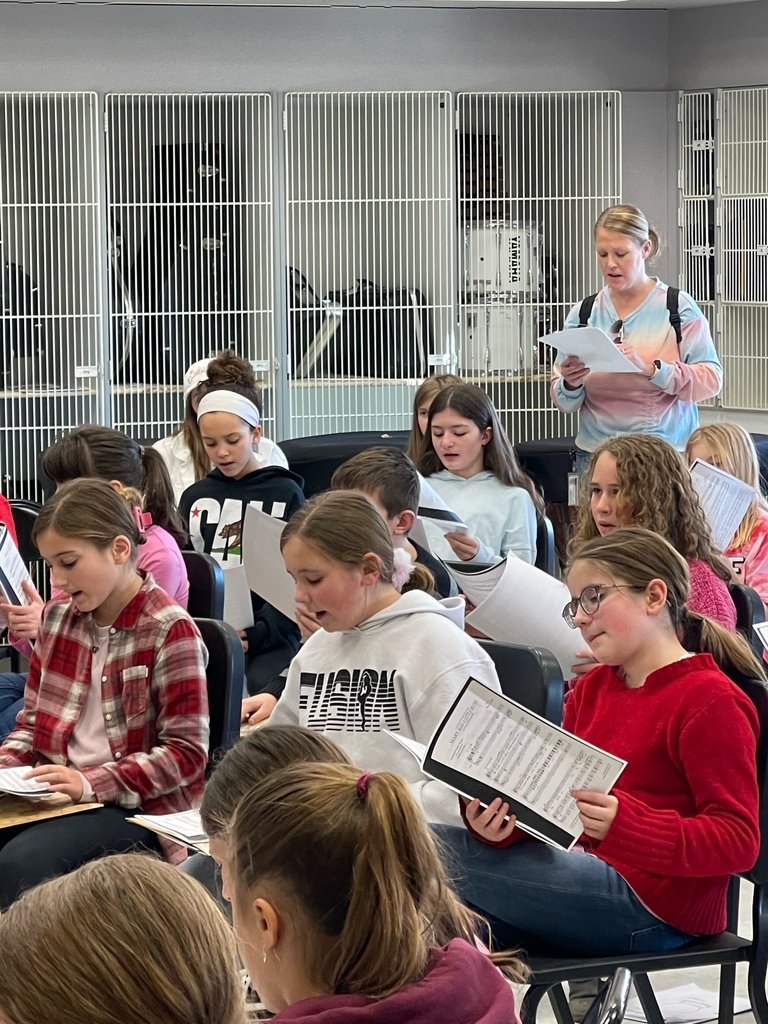 Ms. Stacey Donahue came up with a fun way to teach information literacy skills to her eighth grade students earlier this week. Donohue, our middle school library media specialist, led a review of news media and information literacy for eighth grade social studies classes and then tested students on how much they'd learned using a giant tic-tac-toe board she'd created on the floor. Students had to answer a review question correctly before they were allowed to add an 'X' or an 'O' to a square.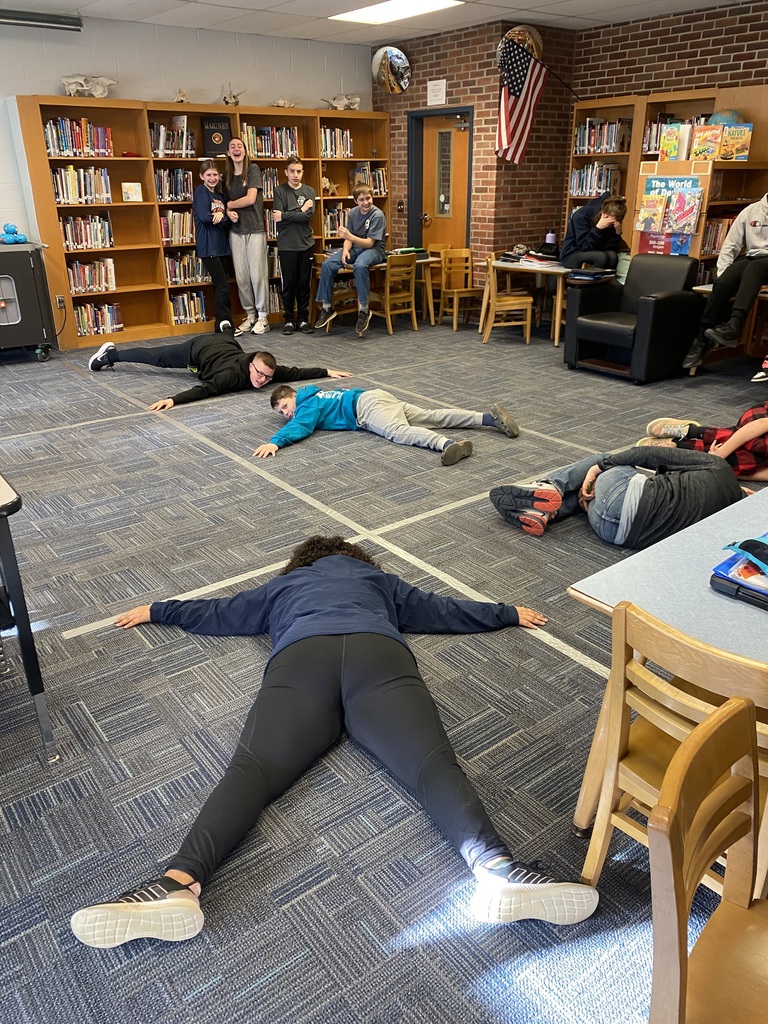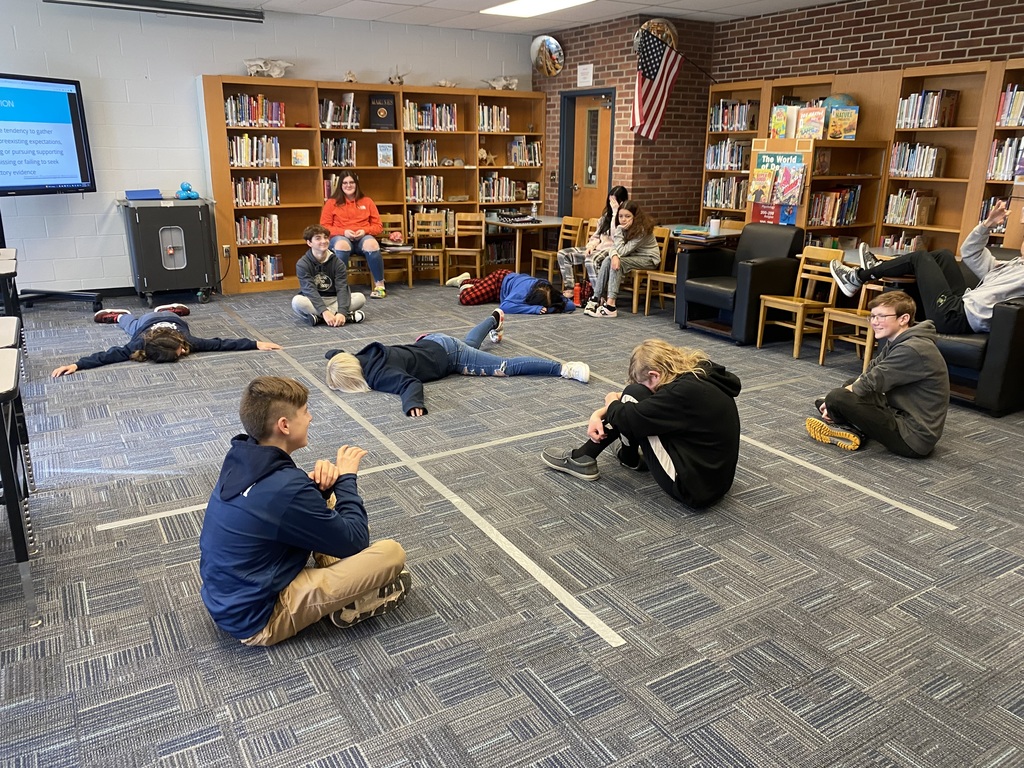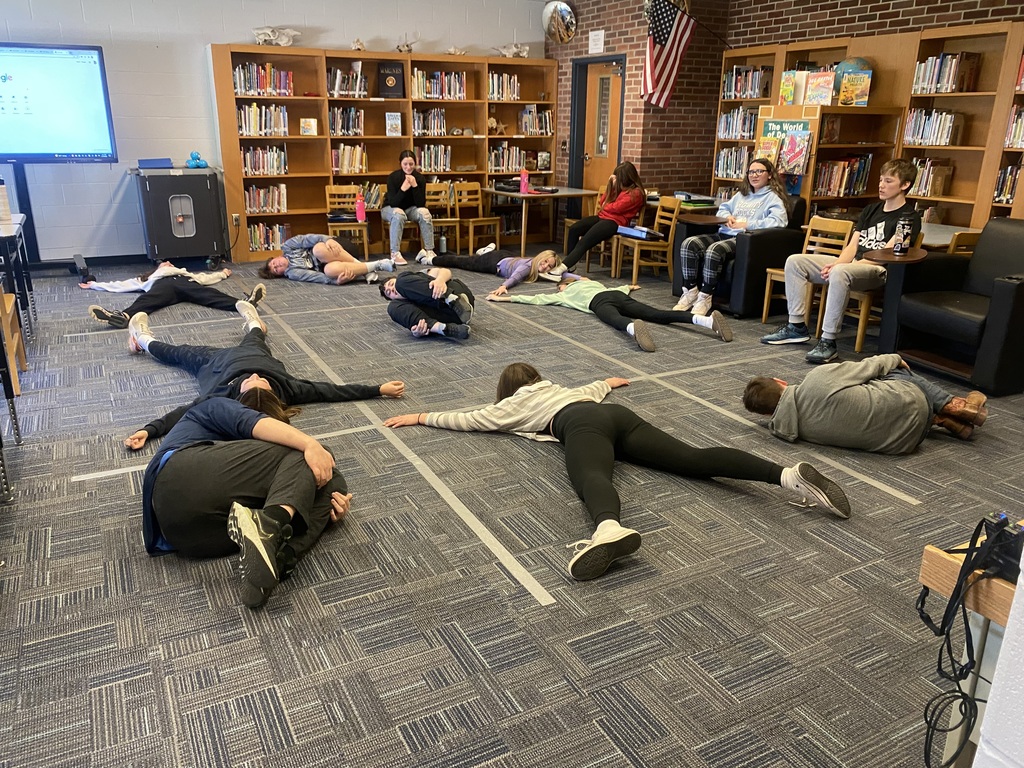 Congratulations to Attica senior Skylar Savage who just committed to attend D'Youville College this fall. Skylar will be a Pharmacy major and also compete on their Women's Track Team.
Congratulations to Attica's Indoor Track team as they headed to RIT this weekend for a one and done event allowing for each athlete to compete in one event before Sectionals next weekend. Geoffrie Eisensmith ran a seasons best 1:27 to win the 600. Simon Lamparelli won the 300 in 36.2. Skylar Savage won the 55 hurdles in 9.36 with Ellie Cusmano taking fourth with 10.06. Lily Wheeler took second in the long jump with 15'7" and Anna Martino was third in the triple jump with 31'5". Mackenzie McLeod took fourth in the pole vault with 8'6" and Elizabeth Gouinlock took fifth in the high jump.
Congratulations goes out to Attica wrestlers Wyatt Bryman and Wyatt Kaufmann as both grapplers finished their season by making the podium at the Section V Division 1 State Qualifiers at SUNY Brockport. Bryman, a junior, finished in 6th place at 132 lbs. Kaufmann, a senior, landed in 4th place at 285 pounds.
Congratulations to Attica's Winter Cheer Squad as they took care of business at the Greece Arcadia Invitational this weekend. The Blue Devils scored an impressive 84.85 - the team's highest score of the season. Nice job ladies!

Attica JV/Varsity Spring Sports Announcement: Attica will be offering baseball, softball, golf, tennis, boys track, and girls track. Spring practices will start on March 13th immediately after school. Familyid registration will open up on this Monday February 13th. Please go onto the Familyid website and make sure you get registered for your sport of choice. Also, please make sure that you have a current physical on file with your building nurse which will allow you to practice on day 1. Thank you and go Blue Devils.
FYI: We have instituted a slight change on how our daily late bus transportation count is communicated to our busing company for any 7-12 grade student staying after for athletic practices or use of the fitness center. These students (who need a late bus) must sign-up each day before 12:00 in their school's main office. We will continue to have announcements on every day reminding our students of this change. Thanks for your patience and please help us remind everyone about this new procedure.
A huge shout out to Erica Frongetta, Elise Meyer, Mary Beth Brotherton-Hardie, Amanda Crowley and Tricia Janes, who work every day to help our students explore their abilities, strengths, interests, and talents so they can reach their full potential. We see you and we appreciate you! #NationalSchoolCounselingWeek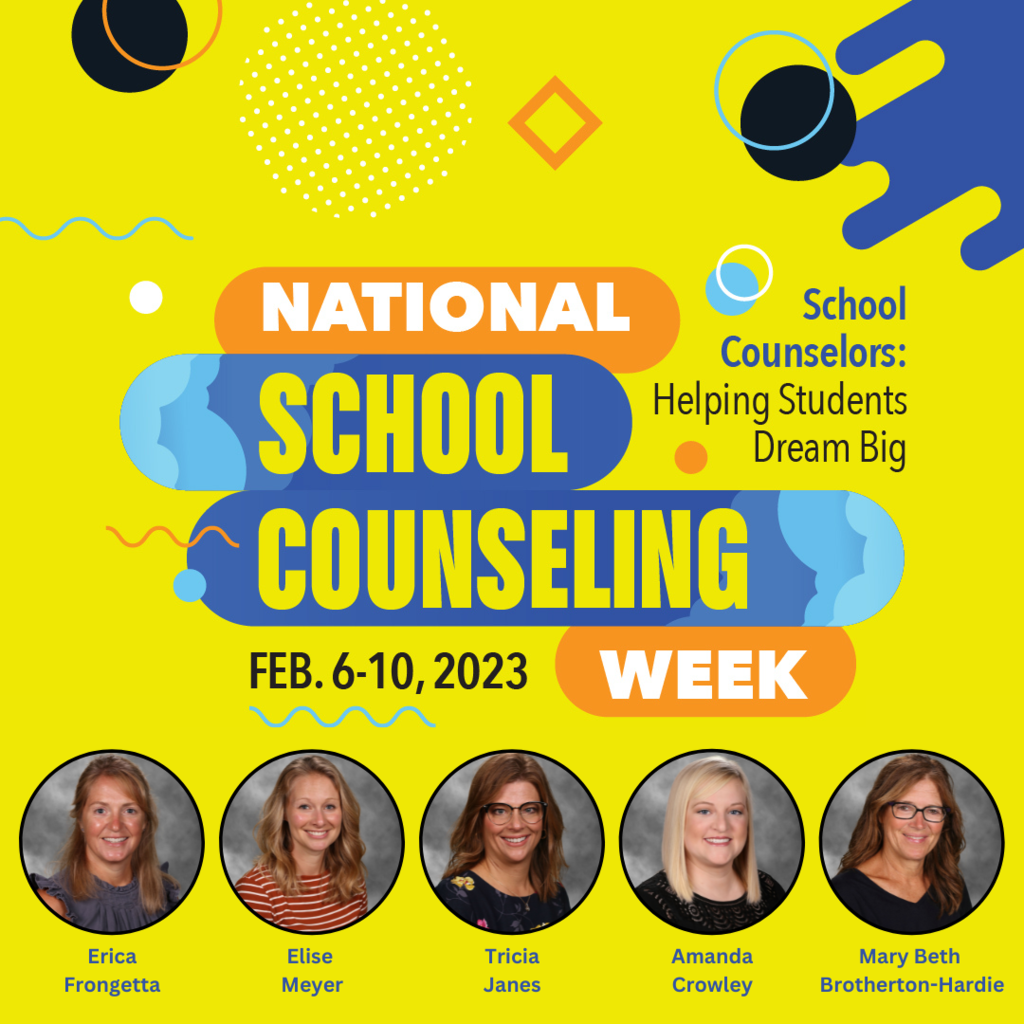 Today's apple slice taste tests in the elementary, middle and high schools were a success! During lunch, students sampled Jonagold, Fuji and Crispin apples courtesy of LynOaken Farms in Medina, then voted on which variety they liked best. We had a lot of voters but at the end of lunch, our students had decided that Fuji apples were their favorite variety. Members of our culinary club also used some of the apples donated by LynOaken to make applesauce, which was likewise made available to students to try during lunch. The culinary club flavored the applesauce with cinnamon and honey - it was delicious! Many thanks to LynOaken Farms and our food service staff for making this taste testing possible! (Photos courtesy of Attica Food Service Staff)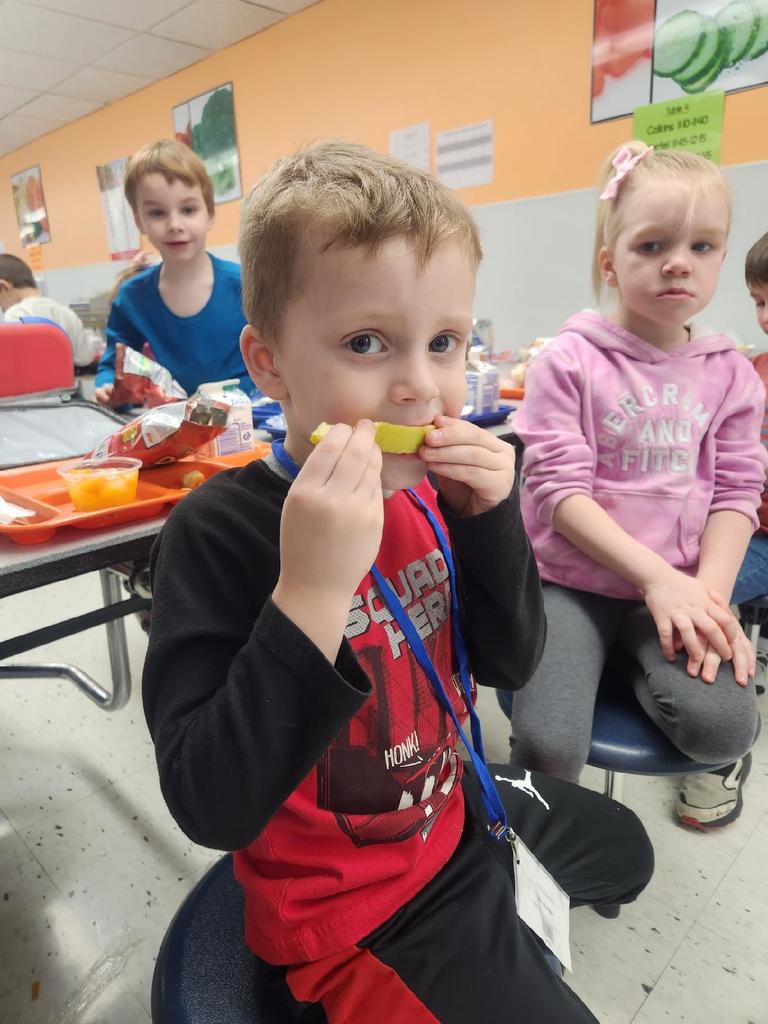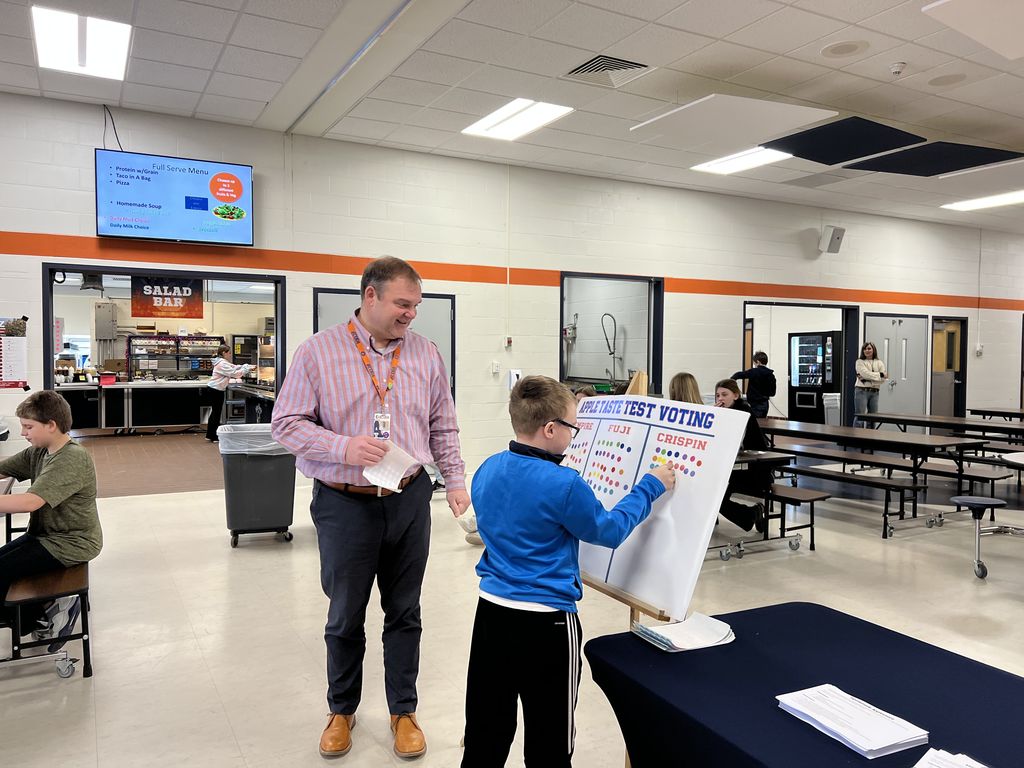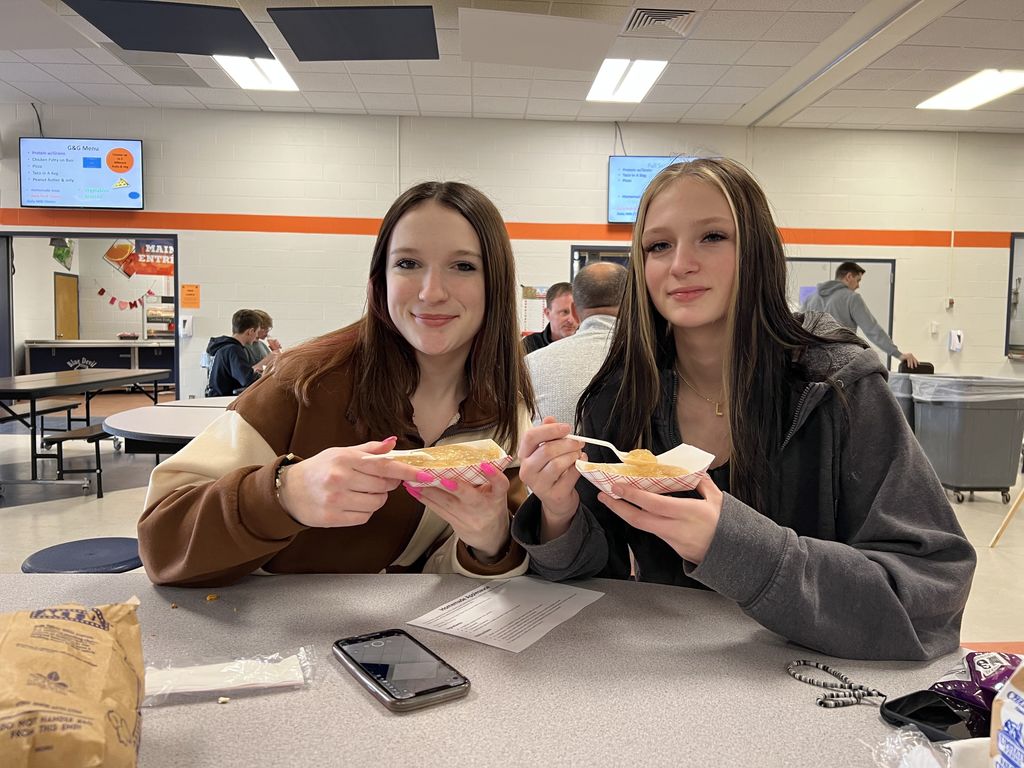 Last night was Teacher Appreciation Night for our varsity boys basketball team. Each team member was asked to select a teacher that is currently or has in the past made a positive impact on their lives either in or out of the classroom. Chosen teachers were then recognized at center court with the student who'd selected them, Thank you to all our teachers for taking the time out of their busy schedules to attend last night's game, a 53-45 win over Kendall. Here at Attica Central Schools, we recognize the importance of fostering positive connections among students and staff and believe such relationships are at the core of learning. Thank you, teachers, for all that you do! (Photos courtesy of Rob Crowley)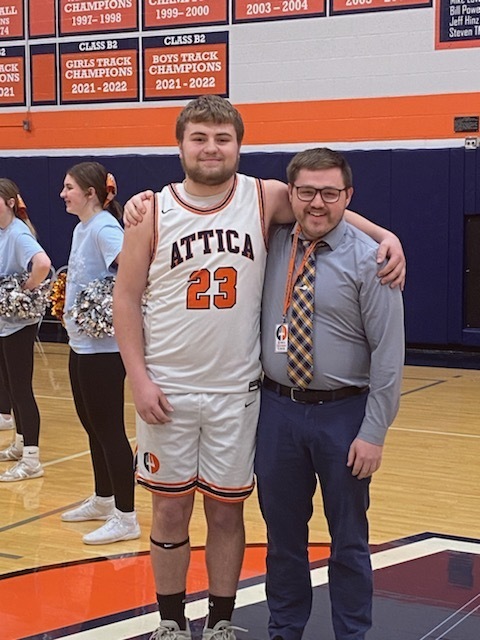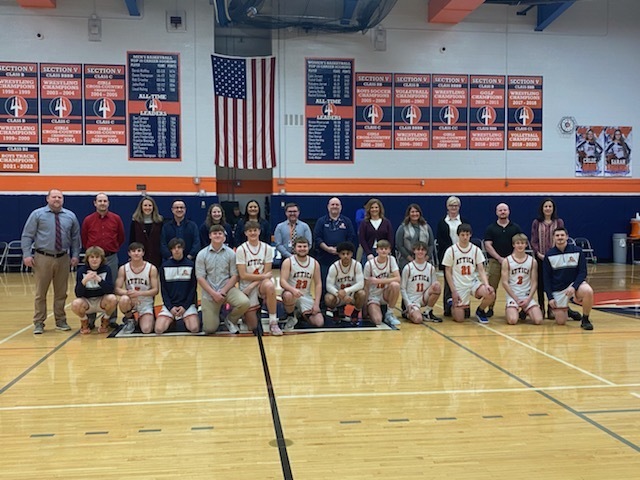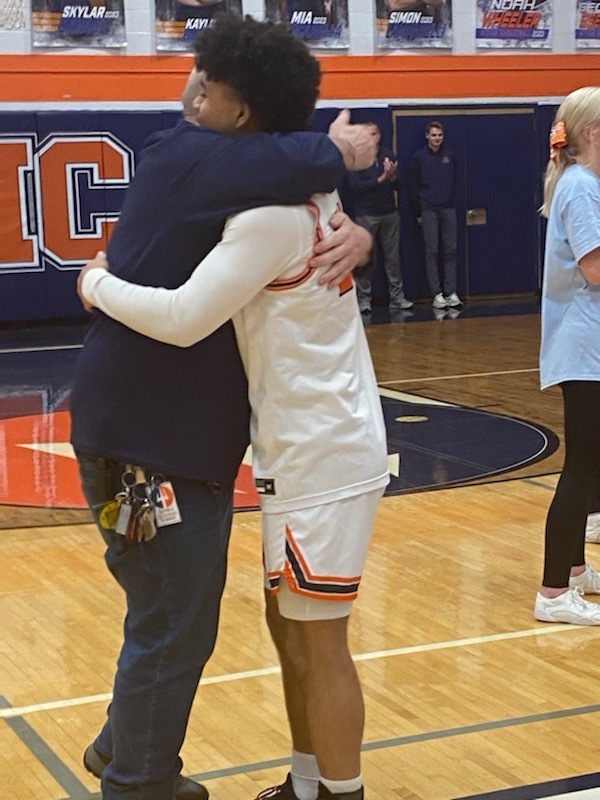 Last Friday, a handful of our elementary school students traveled to Pembroke Central Schools to present a check for $800 to the district's varsity girls basketball team at their 12th annual Shoot for a Cure charity basketball game. Our students raised the money over the past few weeks through a coin drive at the elementary school. All in, Pembroke's Shoot for a Cure event raised more than $25,000, all of which will be donated to Roswell Park, a comprehensive cancer care center in downtown Buffalo. We are so incredibly proud of all our students whose hard work and generosity made such a sizable donation possible. You are all rock stars! (Photos courtesy of Sherry Bennett)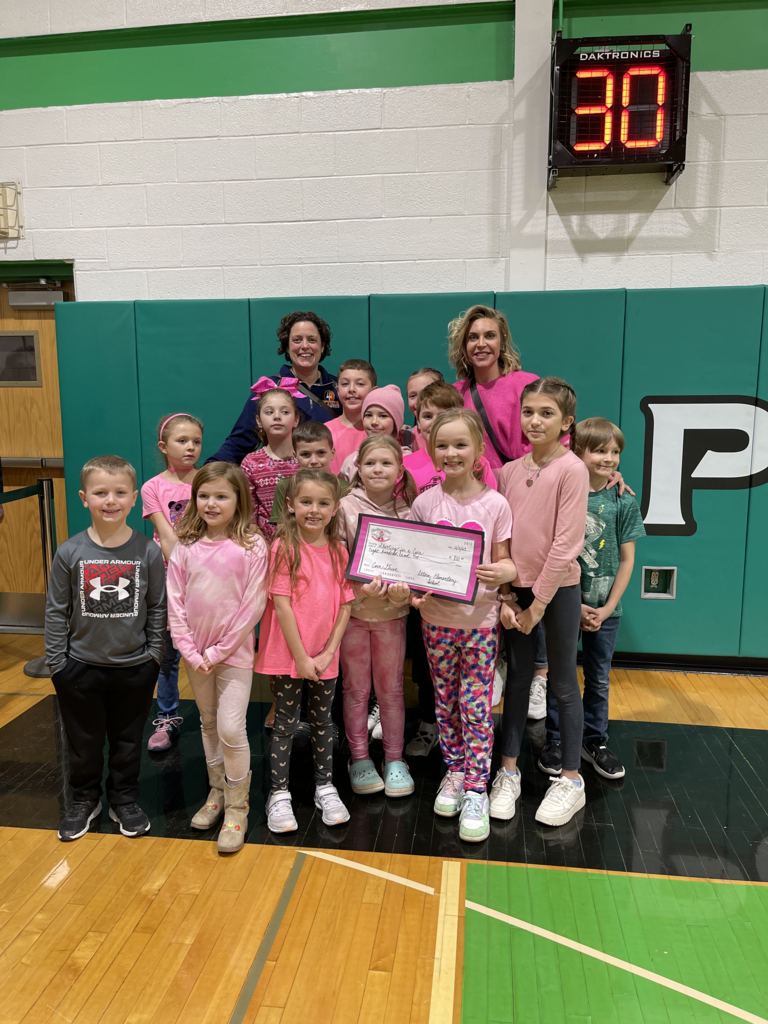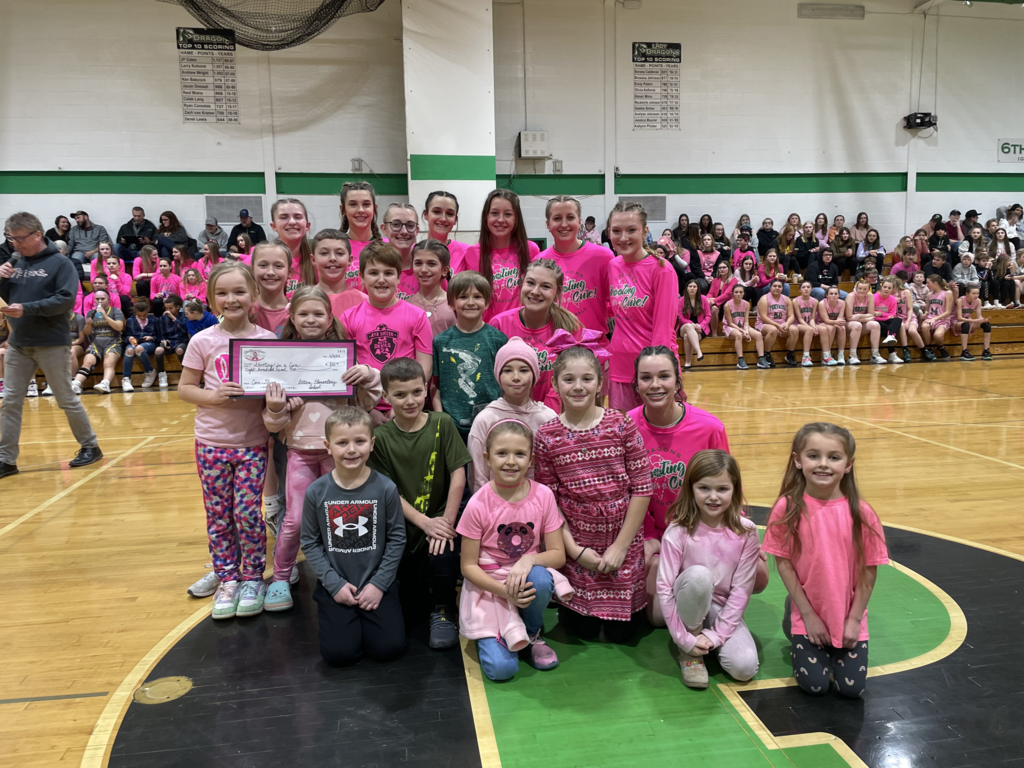 The Attica-Batavia varsity wrestling team came away from the Section V Class A2 Wresting Championships Saturday at Monroe Community College with a third place overall finish and three individual champions! It was a tight top three as Attica-Batavia's 191.5 total points were only two less than second place Brockport (193.5) and 13.5 away from champion Churchville-Chili's 205. Claiming sectional titles for Attica-Batavia were: • Casper Steward (Batavia): 1st place at 152 lbs • Colin Bannister (Attica): 1st place at 172 lbs • Wyatt Kauffman (Attica): 1st place at 285 lbs Other Attica-Batavia grapplers who placed among the top 6 at Sectionals and will advance to State Qualifiers Saturday are: • Preston Bannister (Attica): 2nd at 102 lbs • Wyatt Bryman (Attica) : 2nd at 132 lbs • Daniel Bialek (Attica): 3rd at 172 lbs • Tymothey Murrell (Batavia): 3rd at 189 lbs • Erek McCormick (Attica): 4th at 118 lbs • Nathaniel Heusinger (Batavia): 4th at 145 lbs • Luke Gutman (Batavia): 5th at 126 lbs • Devon Flanagan (Batavia): 5th at 160 lbs • Hunter Green (Attica): 6th at 138 lbs • Robert Becker (Attica): 6th at 215 lbs (Photo courtesy of Armdrag.com/Bob Blair)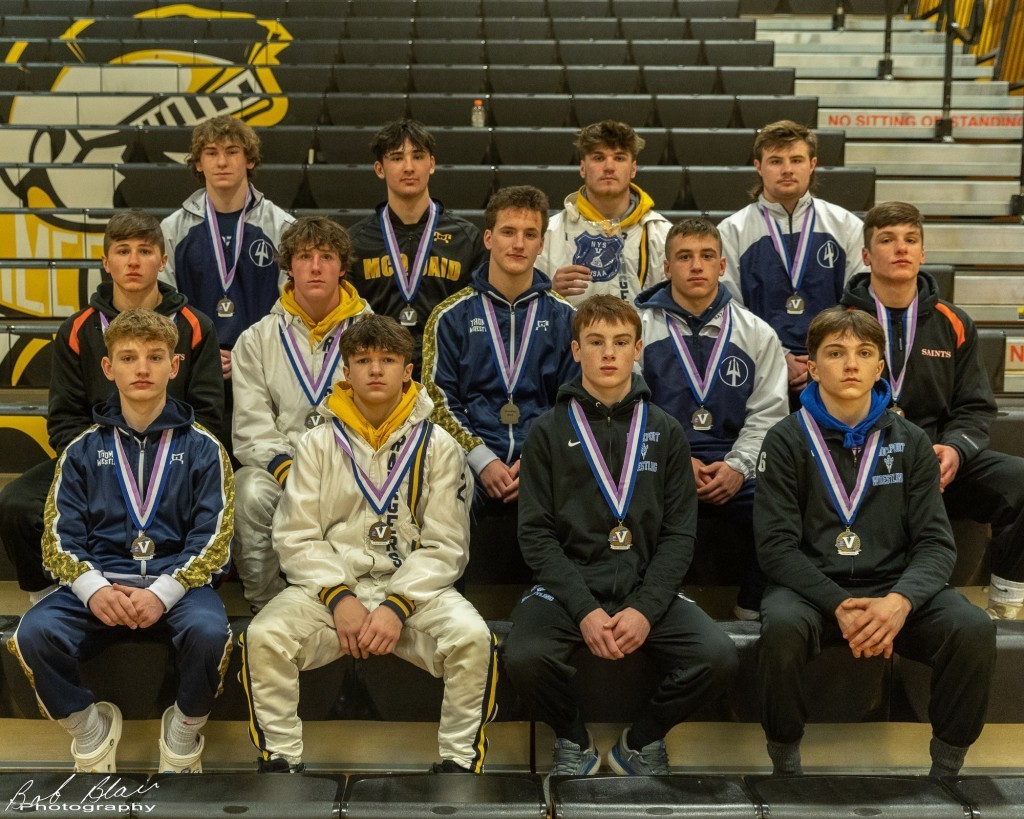 Attica's varsity girls swimming and diving team ended its season on a high note Friday with a fifth place finish at the Genesee Region/Niagara-Orleans Intersectional Championships at Gates-Chili High School. The Blue Devils were led by senior Libby Kibler, who won both her individual events - the 200-yard individual medley (2:20.19) and the 100-yard backstroke (1:03.04). Libby's time in the 200-IM broke her own school record. Other top finishers for Attica were: • Kimberley Piorun, who took fifth place in the 50-yard freestyle with a time of 27.81. • The team of Libby Kibler, Kate Metzger, Samantha Alfiero and Kimberley Piorun, which took third in the 200-yard freestyle relay with a time of 1:51.87 and fourth in the 400-yard freestyle relay with a time of 4:18.37. Libby, Kate, Samantha and Kimberley were also named Genesee Region All-Stars for their strong performance throughout the season. Congratulations, swimmers, on a fantastic 2022-23 season!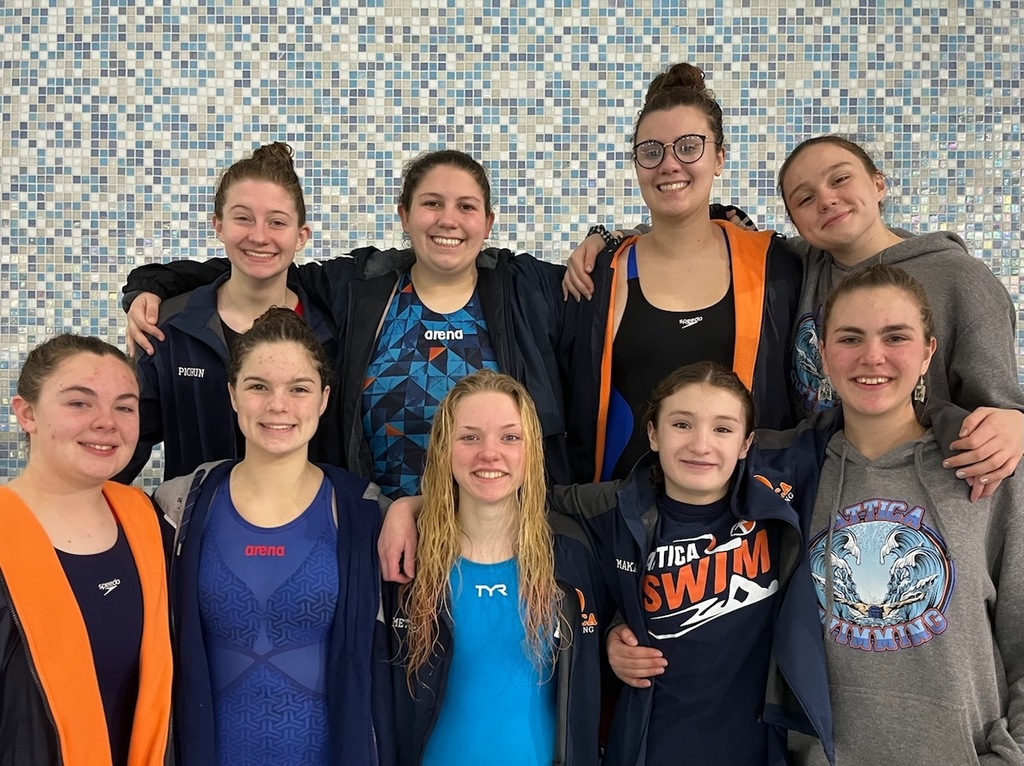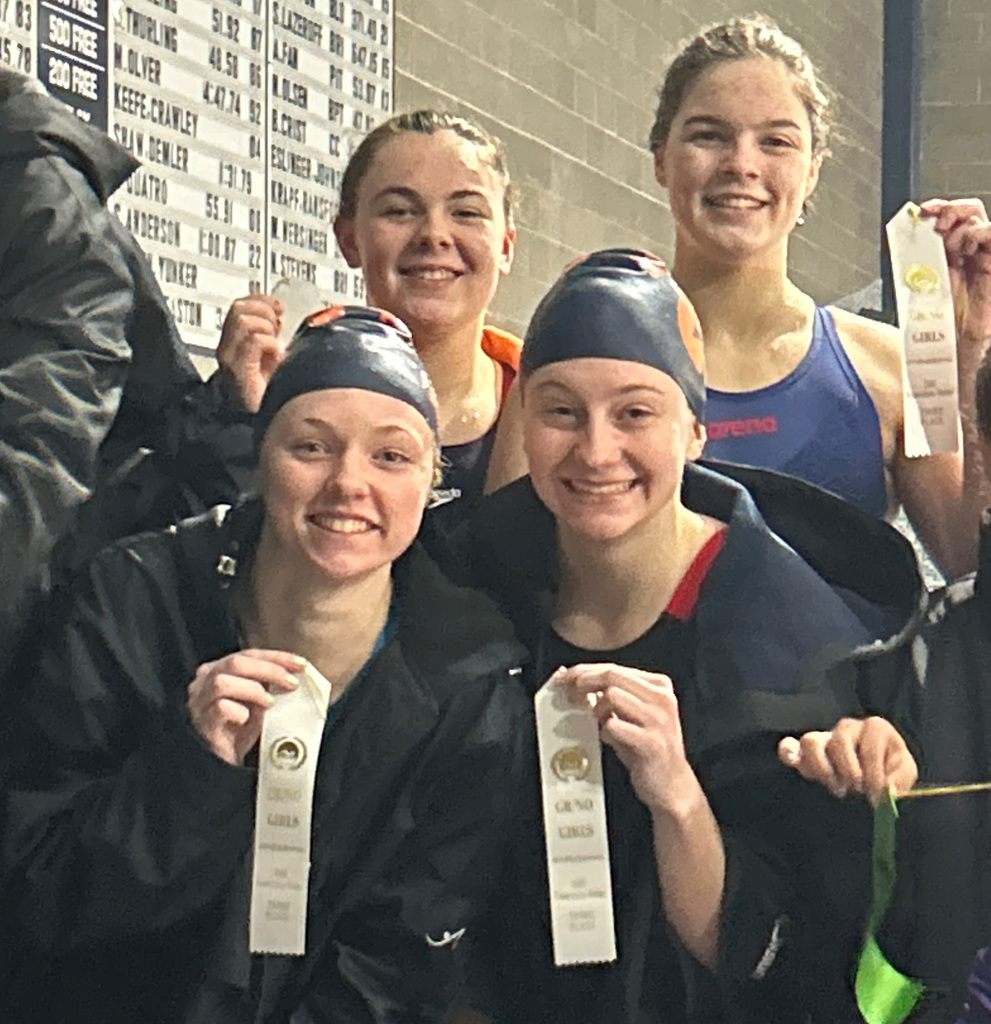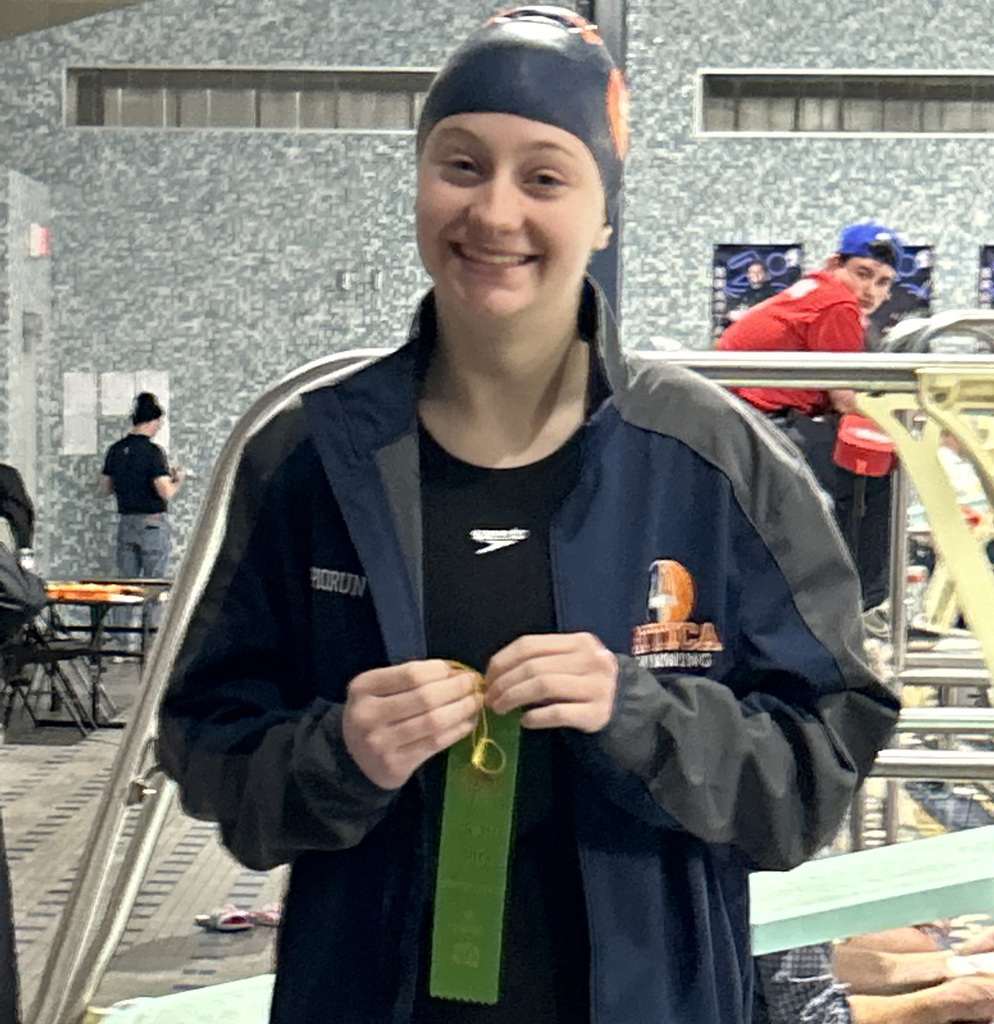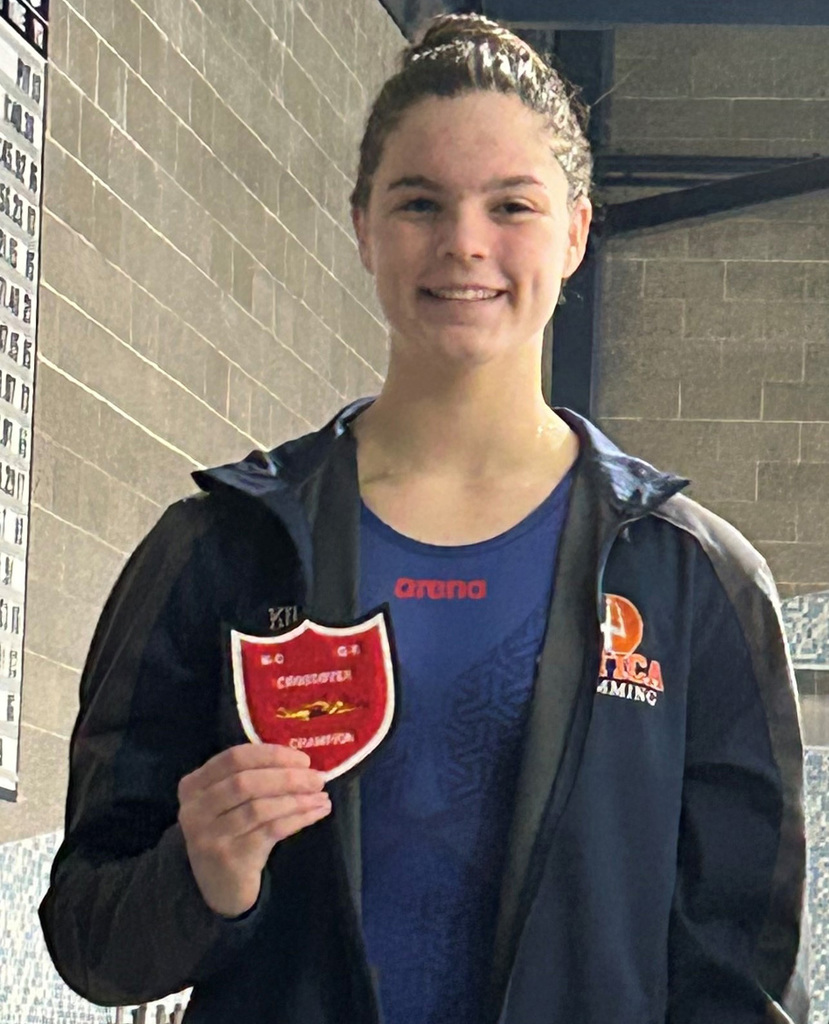 Congrats to the Attica/Batavia varsity wrestling team as they finished in 3rd place this weekend at the Section V Class A2 sectionals held at Monroe Community College. It was a tight team race as the Blue Devils only finished 13 points behind sectional champions - Churchville-Chili. The squad put 5 guys in the finals and came away with 3 champions. Titles were won by Casper Stewart (Batavia), Colin Bannister, & Wyatt Kauffman. Finishing in second place was Preston Bannister & Wyatt Bryman. In all, the Blue Devils will send 11 wrestlers onto next weekend's state qualifiers! Good luck to all of our grapplers!