Congratulations to Attica's Winter Competitive Cheer squad as they came home with first place honors from yesterday's Gates - Chili Invitational. The Lady Blue Devils, fresh off Tuesday night's winning performance at the Genesee Region League Championships, continued their dominance with a score of 78 and defeating second place LeRoy in the process. Attica is next in action this Saturday as they will be hosting their very own Attica Winter Wonderland Cheer competition at the high school. There will be 30 teams competing with action starting at 9:00 am. Come on down and support our cheer squad as they prepare for an end of the season title run!
Seniors Libby Kibler and Jacob Amey are our physical education students of the month for January! Libby and Jacob were selected for displaying positive behavior during physical education classes, showing a desire to learn new skills and putting forward their best effort 100 percent of the time. They were presented with certificates (and Dunkin' Donuts gift cards) in recognition of their selection. Congratulations!
Congratulations goes out to our Winter Competitive Cheer Squad as they brought home another GR League cheer championship last night. The Blue Devils recorded the highest score of the event with a 77. Great job ladies and we can't wait for sectionals!
Attica swimmers competed in the Genesee Region League Swimming and Diving Championships Friday at Gates-Chili High School. Our girls team came away with a third place overall finish while our boys team took fifth. On the girls side, Libby Kibler was a two-time winner for the Blue Devils as she captured the 200-yard individual medley (2:22.25) and 100-yard backstroke (1:03.34). Libby's time in the 200-IM broke her own school school record. Our boys team was led by junior Joe Parkhurst, who was a two-time winner for the Blue Devils. He won the 100-yard breaststroke with a time of 1:00.52 and the 50-yard freestyle with a time of 21.44, setting new meet records in both events. Joe also swam lead-off in Attica's 400-yard freestyle relay and his 48.32-second swim set new meet and school records and qualified him for states. Joe was named Swimmer of the Meet. Other top finishers for Attica on the girls side were: • Kimberly Piorun took third in the 50-yard freestyle with a time of 28.19. • The 200-yard freestyle relay team of Libby Kibler, Samantha Alfiero, Kimberley Piorun and Kathryn Metzger took second with a time of 1:51.80. The quartet teamed up again to capture third in the 400-yard freestyle relay with a time of 4:23.25. Other top finishers for Attica on the boys side were: • The 200-yard medley relay team of Samuel Dunlap, Joe Parkhurst, Ethan Houghton and Matthew Kingswell took second with a time of 1:50.44. • Ethan Houghton took third in the 100-yard butterfly with a 1:01.23 and third in the 100-yard breaststroke (1:07.89). • The 200-yard freestyle relay team of Thomas Strzelec, Samuel Dunlap, Nolan Rzepka and Matthew Kingswell took third place with a 1:50.36. • Samuel Dunlap took third in the 100-yard backstroke (1:04.82). • The team of Joe Parkhurst, Samuel Dunlap, Ethan Houghton and Thomas Strzelec took second in the 400-yard freestyle relay with a time of 4:43.58. (Photos courtesy of Anthony Ianni and Attica Central Booster Club)
It was a banner day for our indoor track and field program Saturday at the Rochester Winter Track League Championships at Houghton College as our girls team topped 18 other teams to capture first place in the southern district while our boys team took second, only 2 points away from first. Skylar Savage led the way for the girls team as she won the 55-meter dash and 55-meter hurdles with times of 7.67 and 9.42 seconds, respectively. Skylar also took third in the long jump (16 feet). On the boys side, Simon Lamparelli was a three-time winner as he captured the 55-meter dash and the 300-meter dash with times of 6.63 and 36.25, respectively, and was part of the winning 4x200-meter relay. Other top finishers for Attica on the girls' side were: • Attica's 4x200-meter relay team of Mackenzie McLeod, Lily Wheeler, Annalyn Calmes and Blakely Pratt took third with a time of 2:04.26 • Attica's 4x400-meter relay team of Mia Ficarella, Nichole Leitten, Annalyn Calmes and Elizabeth Gouinlock took second with a time of 4:43.10. • Elizabeth Gouinlock took third in the high jump, clearing a height of 8 feet. • Mackenzie McLeod took third in the pole vault, clearing a height of 8 feet, 6 inches. • Kaylie Bugajski took second place in the shot put with a 28-foot, 10.5-inch throw. Other top finishers for Attica on the boys' side were: • Geoffrie Eisensmith took third in the 600-meter run with a time of 1:29.53 and third in the triple jump (38 feet, 6 inches). • Attica's 4x200-meter relay team of Simon Lamparelli, Colin Bannister, Taylor Zimmerman and Noah Wheeler won the event with a time of 1:40.92. • Attica's 4x800-meter relay team of Colin Bannister, Ryan Meides, Hunter Meyers and Geoffrie Eisensmith took second with a time of 9:48.78. • Noah Wheeler won the long jump with 20 feet, 5.5 inches and took second in the triple jump with 38 feet, 7 inches. • Noah Attebery took second in the long jump with 19 feet, 10 inches. Congratulations, athletes! (Photos courtesy of Luke George)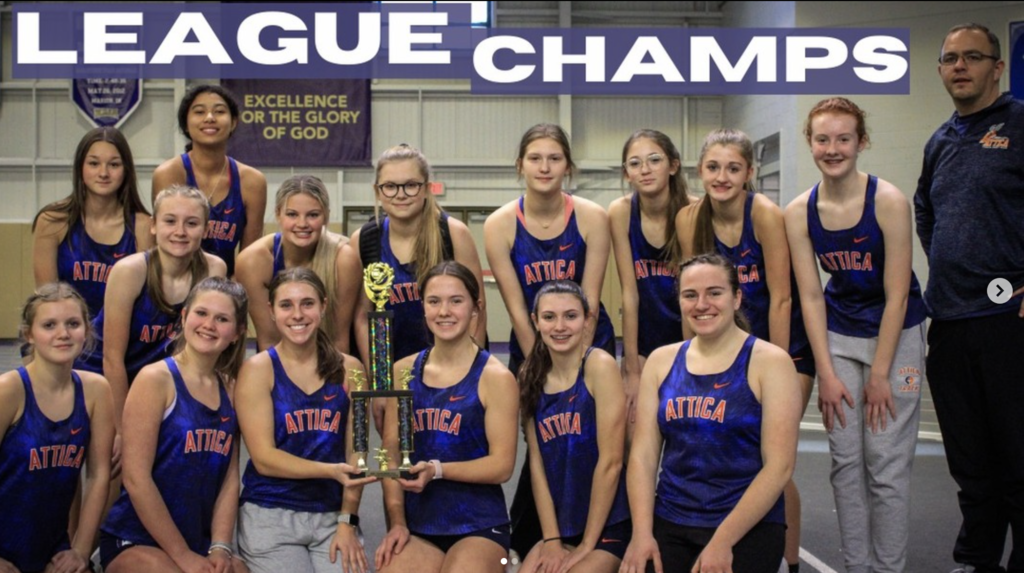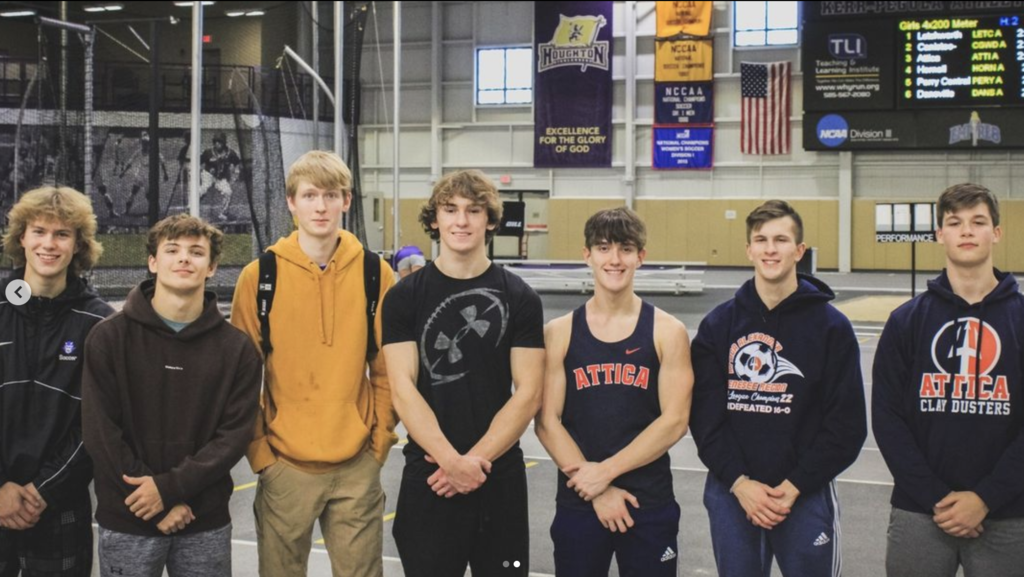 Attention all cheer fans: I would like to invite everyone to attend tomorrow night's (1/31) Genesee Region Cheer Championships to be held at the Attica High School. Doors open at 5:00 with the event getting underway at 6:00. All school age students are free, with adults being charged $5.00. Let's go Blue Devils!
Students in Alison Zybczynski's accelerated earth science class and Jenna Linsey's local outdoor sciences elective put their orienteering skills to the test this afternoon at the Genesee County Park and Forest in East Bethany. Shannon Lyaski, conservation education program coordinator at the park's Interpretive Nature Center, led students in a quick lesson on orienteering, the practice of successfully traversing unfamiliar terrain using a map. After the crash course, students were broken into groups, given a map marked with a handful of locations known as control points marked by orange and white flags and tasked with finding as many as they could within the park's 430 acres. Our students did a great job tracking down control points and kept the wipeouts to a minimum, even with all the fresh-fallen snow! Many thanks to Shannon Lyaski for teaching our students about orienteering and to ACORNS, the Association for the Conservation of Recreational and Natural Spaces, a non-profit that supports the park and its educational programming, whose volunteers accompanied our student groups through the park.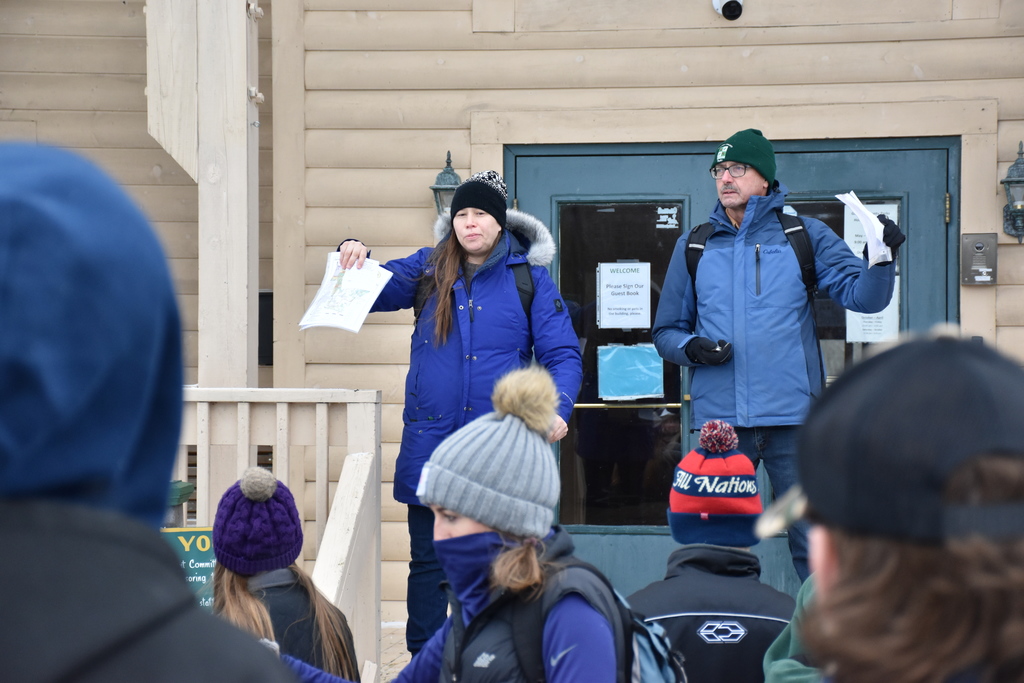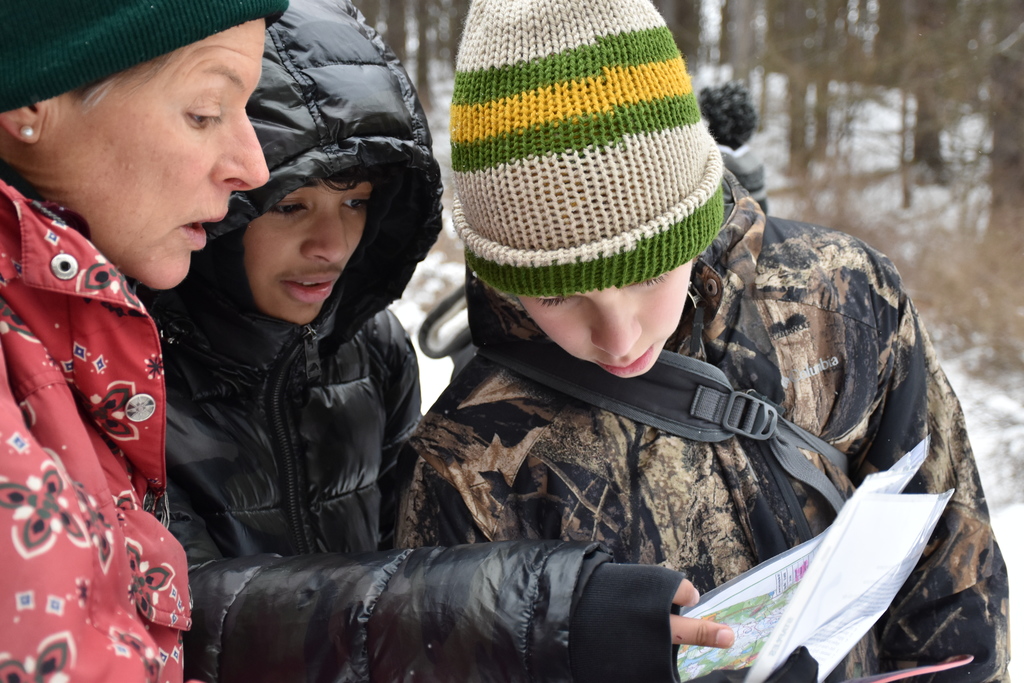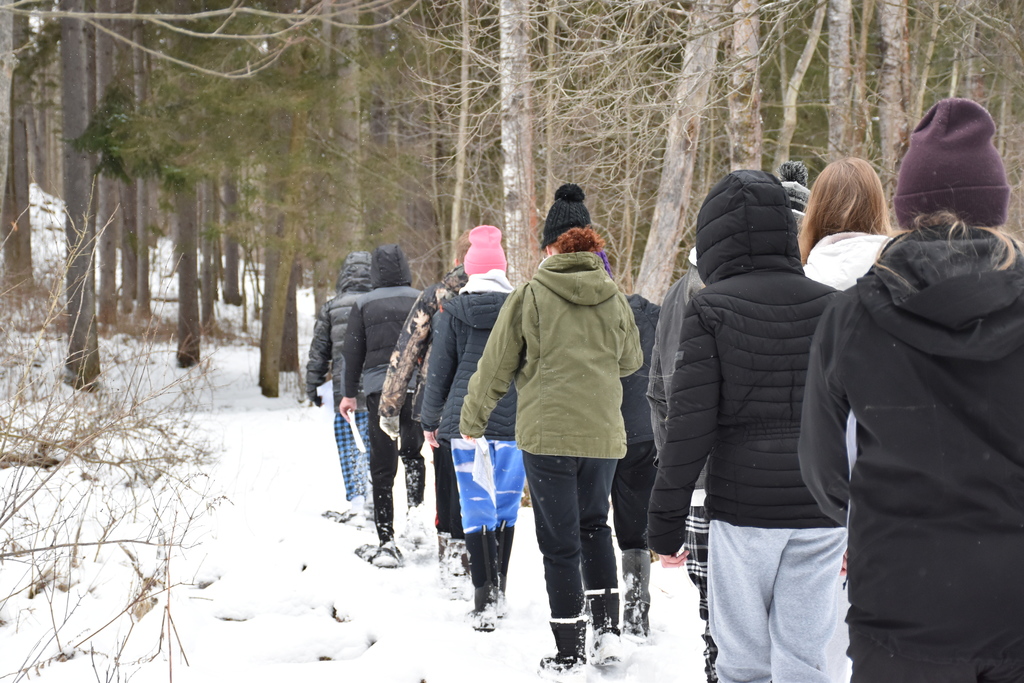 Attica Central has cancelled all after-school activities for tonight (1/25). The fitness center in the evenings (adults) is closed as well.

All afterschool activities are cancelled today, Wednesday, 1/25/23, due to the inclement weather.
Shout out to junior guard Jack Janes, who was named Genesee Region Player of the Week last week for his performance during Attica's recent basketball games against Holley and Notre Dame. Jack had an excellent game against Holley, going nine of 10 from behind the arc to finish with 33 points. Then, battling foul trouble against Notre Dame, Jack finished with nine points, eight rebounds and two steals. Congratulations, Jack!
A few of our middle school students assembled in Mrs. Susie Baker's classroom after school last week for the first meeting of Attica's PenPal Club. "At our first meeting, we googled other states that had Attica as a city or town," said Baker, the club advisor. "We found schools within those towns and wrote letters to them." Students gave a bit of information about Attica - like our school colors and mascot and how Wyoming County has more cows than people. "Then we asked about things that are unique to their school and town," said Baker. "We're looking forward to getting responses for our next club date in February." The PenPal Club is funded by the $2.8 million School Climate Grant awarded to the district by the U.S. Department of Education in 2019. (Photos courtesy of Erin Holt)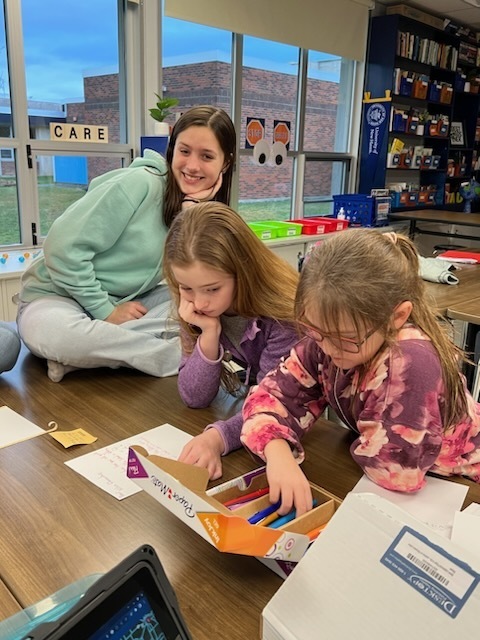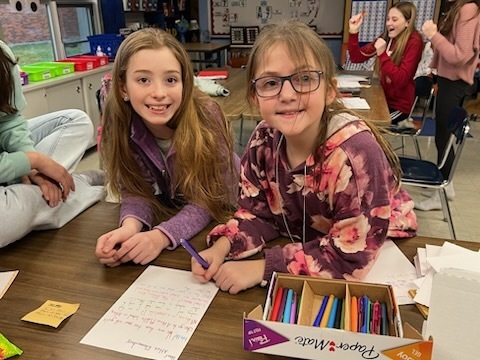 Shoutout to senior Skylar Savage, who recently committed to further her education and track career at D'Youville University in Buffalo! Congrats, Skylar - we can't wait to see what you achieve at the next level! (Graphic courtesy of Luke George)
Congratulations goes out to the Attica Winter Competitive Cheer squad as they brought home first place honors at the annual Hilton Pride & Spirit Invitational on Saturday. The Lady Blue Devils tabulated 81.5 points for their performance (their highest total to memory) while besting Canandaigua and LeRoy who finished 2nd / 3rd place respectively…Great job ladies!!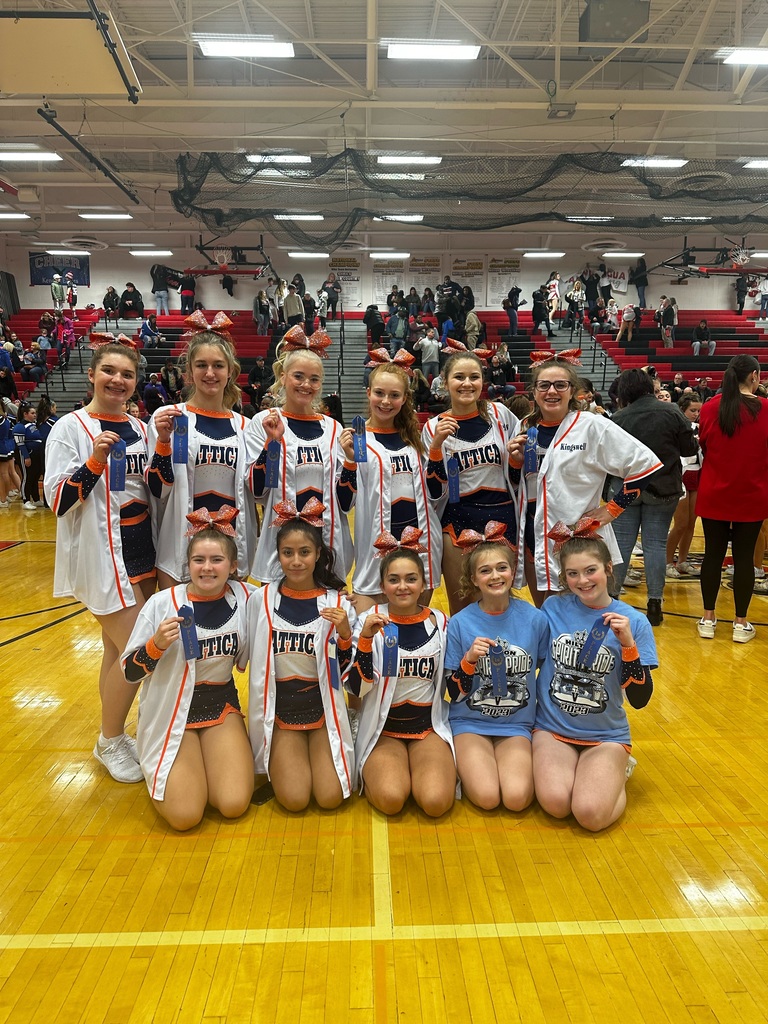 Congratulations goes out to the Attica/Batavia wrestling team for finishing in 3rd place in the Section V Division 1 (large schools) Dual-Meet Championships. After upsetting Pittsford HS in the quarter-finals, Attica/Batavia was defeated by #1 ranked Hilton HS. Hilton then moved on to defeat Fairport HS in the finals to secure their berth into the State Dual Meet Championships. In the consolation match for 3rd place, the Blue Devils upset Brockport by a score of 39-36. This victory avenged a loss to Brockport earlier this season. Great job by our local grapplers!
We would like to give a shout-out to the Attica/Batavia varsity wrestling team as they will be competing tomorrow morning (at Fairport HS) in the semi-finals of the Section V dual meet championships vs. Hilton HS. The Blue Devils advanced with a big quarterfinal victory over state-ranked Pittsford on Wednesday. Tomorrow's match is slated to kick off at 10:15 a.m. Go Blue Devils!
Congratulations goes out to Attica senior Libby Kibler for being voted the top female swimmer at today's HAC Swim Invitational in Rochester. Libby won the 100 meter breaststroke and was also a member of the championship 200 meter free relay team. Joining her on that first place relay squad was Samantha Alfiero, Kim Piorun, and Kate Metzger.
Congratulations to Attica junior swimmer Joe Parkhurst. At today's HAC Invitational, he broke 2 meet records in the 50 free and 100 breaststroke. In the 50 free, he also broke the school record with a time of 21.44 - the 5th fastest recorded time this year in NYS. Joe also broke the school record in the 100 breaststroke and hit the state standard time. He will now represent Attica Central in both events at the State championships next month!!
Congratulations to Coach Cusmano for being recognized and honored as the Buffalo Bills Section V Coach of the Year at halftime of today's Bills vs. Patriots football game at HighMark Stadium. Coach Cusmano led the Blue Devils to the school's first football sectional title this past fall.
Attica Central is still looking for a second modified girls basketball coach. The season will start on January 17th. Practices will run from 3:30 - 5:30. If interested, please get in touch with their Athletic Director at
eromeseer@atticacsd.org
.