Dear Attica Central School District Families, Governor Hochul has announced that the "Statewide mask requirement in schools will be lifted effective Wednesday, March 2. Since the Governor's announcement, we have consulted with the Wyoming County Department of Health (WCDOH) regarding the use of masks in schools. The Wyoming County School Districts and WCDOH have determined it is appropriate to follow NYS and CDC guidance on mask usage in schools, and not impose additional requirements. This determination is based on the COVID-19 data from Wyoming County. With this information in mind, the following is in effect for the Attica Central School District: As of March 2, 2022, face coverings will be optional in all buildings for all events. One exception to being mask optional is that any individual who has isolated for five days due to being COVID-19 positive, must wear a mask for days six through ten upon returning to school. For any individuals who choose to wear a mask, we will make N95 masks available in all of our school buildings. This includes smaller masks for students. Whether to wear a mask or not is a personal and/or family decision. All choices will be honored and accepted. I ask all to be considerate of each individual's personal choice. As is always the case at Attica Central, we will proceed with grace toward all. Sincerely, Tim Hayes, Interim Superintendent

Announcement: All afterschool and evening activities have been cancelled today, Tuesday, March 1st, due to a power outage in the village.

Reminder: the Board of Education Meeting tonight will be held at 7:00pm at the North Java Firehall located at 4272 Route 98, North Java, NY 14113.

On Thursday, Attica Central will be sending home COVID-19 test kits with all of our students and staff. New York State has provided these tests so that all students and staff can be tested prior to returning to school following our Winter Break. Directions for the use of the tests will be sent home with the tests. Please be on the lookout for your child's test when they get home from school on Thursday. Thank you.

Reminder: For MSHS parent pickup at dismissal time, please pull forward as far as possible and continue to do so while waiting in your vehicle. This helps to keep things moving and avoids congestion. Thank you for your cooperation.

***Tomorrow***Monday, February 7, will be School Spirit Day! Join us in celebrating our Blue Devil Pride by wearing orange & blue!!

School is closed today, Friday, February 4th, due to the current weather situation.

Due to the current weather situation, all afterschool activities and events are cancelled today, Thursday, February 3rd.

The letter below represents the opinion of the superintendents in the Genesee Valley BOCES based on our experiences in our own districts and counties. It was sent to Governor Hochul and our elected state legislators. We are hopeful that decision making for our districts regarding mitigation practices for COVID-19 will return to the local level.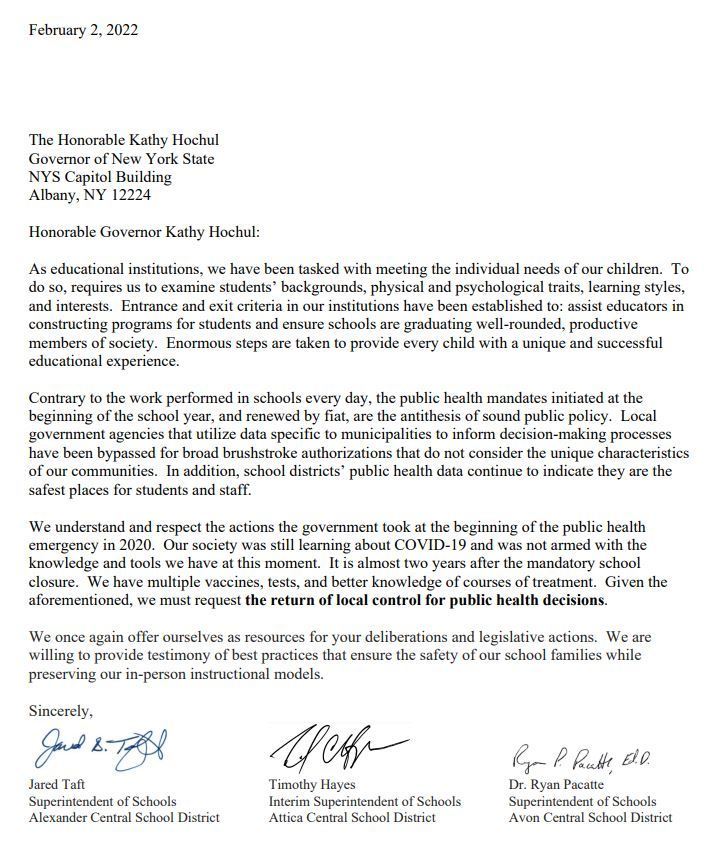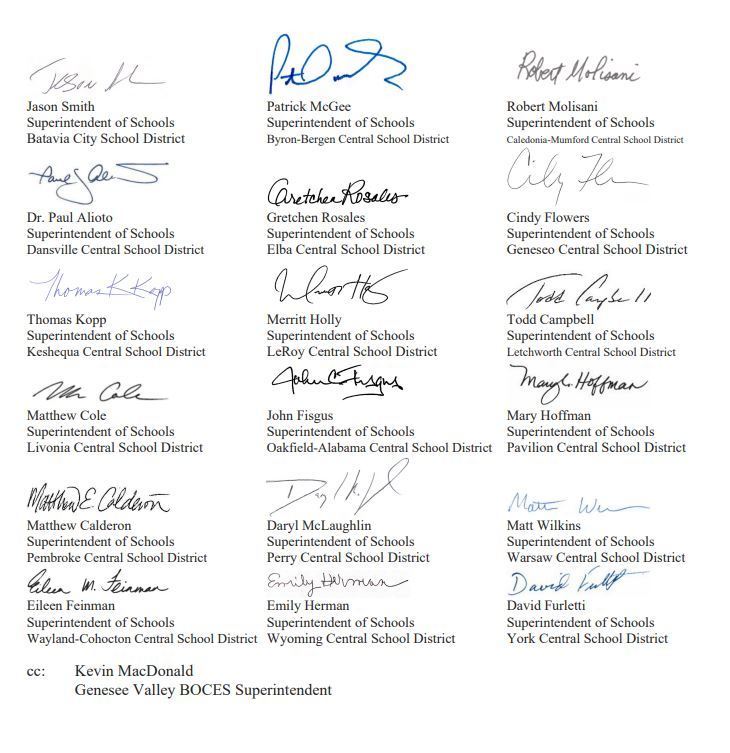 Please see the following message from the Superintendent: An appellate court issued a stay yesterday on Monday's mask mandate ruling from Nassau County. This stay keeps the mask mandate for schools in place at least through this coming Friday. Therefore, please continue to follow our current requirement that all individuals be masked during indoor school activities. If new guidance is issued by the New York State Education Department, we will communicate that guidance as quickly as possible. The continued patience and grace of our school community is valued and appreciated as we deal with all of the issues that surround COVID-19.

Reminder: the Board of Education Meeting on Thursday, January 27, 2022 at 7:00pm will be held at the ***Bennington Town Hall***, 905 Old Alleghany Road, Bennington, NY 14011

Yesterday, a state court in Nassau County ruled that the New York State Department of Health exceeded its authority by requiring that masks be worn in school settings. The Governor and the New York State Department of Health have appealed this decision and we anticipate this issue moving forward to the New York State Court of Appeals which is our state's highest court. The Attica Central School District has received notification from the New York State Department of Education to continue the requirement that all individuals in school settings wear masks under our current regulations. Specifically, here is the directive we received from our governing education agency: "It is the New York State Education Department's understanding that the Department of Health will appeal the Nassau County Supreme Court decision, which will result in an automatic stay that will unambiguously restore the mask rule until such time as an appellate court issues a further ruling. Therefore, schools must continue to follow the mask rule." As we've done throughout the pandemic, we will continue to closely monitor this issue and keep you informed throughout the coming days as this matter moves forward and clarified guidance is issued. For today – and until further notice - we are following the directive of the New York State Education Department and continuing to require that all individuals within school buildings wear masks while indoors. We will keep you informed when, and if, this requirement changes for schools. We understand that this issue has the potential to divide our community. There are good people who have different opinions on many issues surrounding COVID-19. The District thanks our school community in advance for your continued support, patience, and understanding as we all work our way through the challenges that the pandemic consistently presents to each of us.


The District would like to remind our community that New York State continues to require universal masking for all public school settings and events. This includes our School Board Meetings. The Board of Education prefers to hold in-person meetings in a public setting. However, if attendees do not adhere to the masking requirement, the Board will be forced to move future meetings to a remote or zoom-style format. We appreciate our community's support in helping to keep our meetings and events open to public attendance. Thank you!

A letter from the Superintendent about updates regarding COVID-19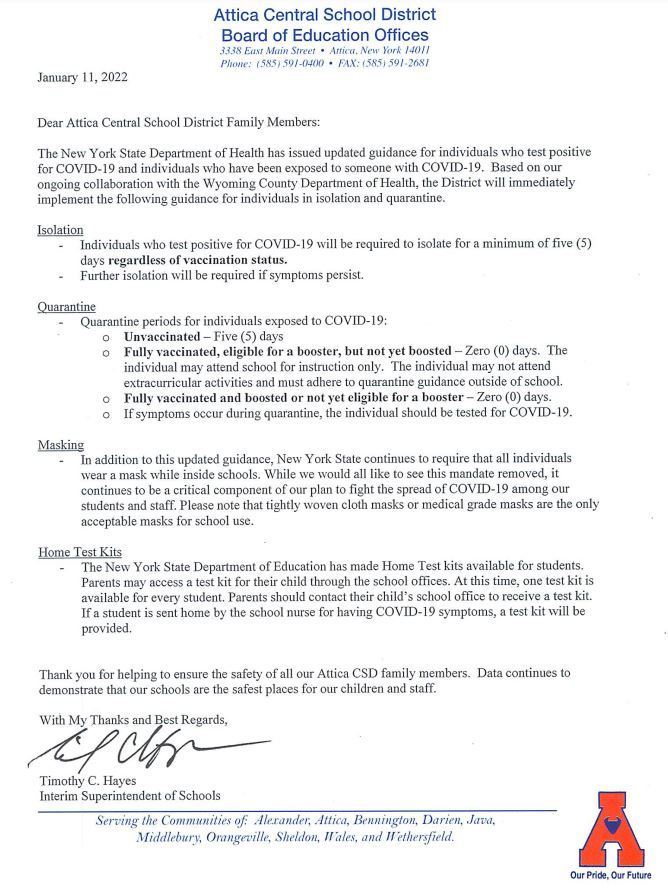 School is closed today, Monday, January 10th, due to a water main break.

School is closed today, Thursday, January 6th, due to current weather situation.

The Attica School District is looking for a certified lifeguard to be able to cover the middle school (grades 5-8) physical education swim classes. Services would be needed for roughly 10 weeks and would run from January 3rd through mid-March from 8:15 - 3:15 on Monday through Friday. If interested, please contact our Athletic Director - Eric Romesser asap @ 585-591-0400 ext. 1176.